After reporting earnings slightly below market expectations on August 27, SeaDrill Limited (NYSE:SDRL) stock fell 2.76% in the same trading day (SDRL reported before the market open). That drop in the stock price came despite SeaDrill's commitment to pay its quarterly $1.00 per share dividend (yielding 10.74%) through 2016. Moreover, SDRL's stock price has declined 22.0% from its September 2013, peak value of $47.78, and since the beginning of the year SDRL's stock has already lost 9.3%, while the S&P 500 index has risen 8.4%, and the Nasdaq Composite Index has increased 9.7%. However, in my opinion, after the retreat in its stock price, it is now an excellent opportunity for a long-term investment in SDRL's stock at a cheap price.
SeaDrill is the world's largest offshore drilling company by market cap (SDRL market cap at $17.47 billion compared to $14.00 billion for Transocean Ltd. (NYSE:RIG) and $11.83 billion for Ensco plc (NYSE:ESV)). All offshore drilling companies have experienced weaker demand partly driven by a reduction in exploration drilling as major oil companies are cutting spending due to lower crude oil prices. As results, all major offshore drilling companies have suffered a significant decline in their stocks' price as shown in the chart below.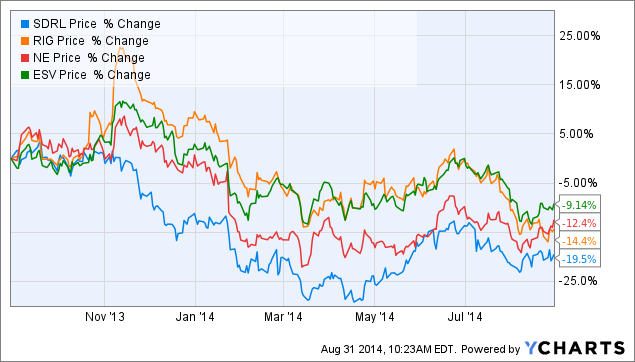 SDRL data by YCharts
However, according to SeaDrill, there is evidence of positive developments in the number of tenders that have materialized for 2015 and 2016 projects
Since crude oil price is the primary growth driver for the offshore exploration demand, let's examine oil price trend.
WTI crude price has declined 8.5% from its peak of $104.90 per barrel on June 20, 2014, to $95.96 per barrel on August 31. However, WTI crude price has risen 8.2% from its low of $88.69 per barrel on January 13, 2014.
WTI crude October 2014 leading contract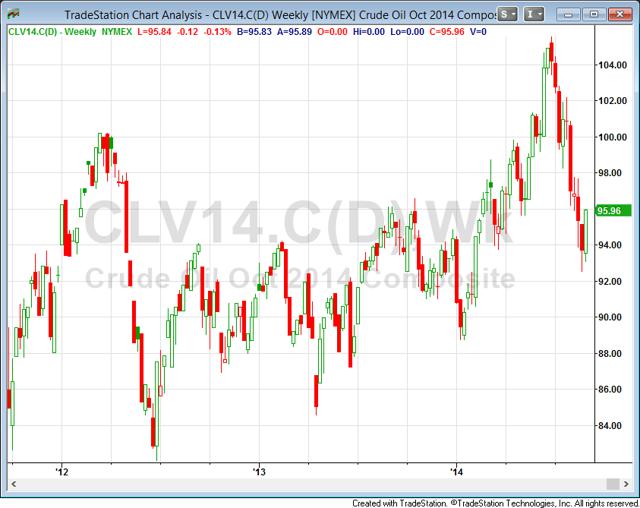 Chart: TradeStation Group, Inc.
In a statement included in its second-quarter report, SeaDrill gave a valuable description of the current oil market:
The oil market fundamentals continue to be strong with high and stable oil prices. Except for very brief periods the oil price has remained above US$100 for the last 3.5 years and the global economy continues along its growth path following the financial crisis. Even with these strong macro fundamentals oil companies seem to be unable to generate free cash flow to grow their businesses and have entered into a period of selectivity on projects as costs escalated across their entire portfolio of projects. The current situation has some similarities to the situation in 2002-2003 when oil companies had limited free cash flow to develop new reserves. This led to an increase in oil price between 2003-2008 when Brent moved from approximately US$40 to US$100 and resulted in increased investment by the oil companies. Today, the majority of low cost inventory has been produced and oil companies are entering a new phase in which recently discovered oil must be developed in order to grow production. These reserves are in the deep and ultra-deepwater and are far more complex than reserves discovered in prior periods. We can thereby assume that the amount of rig capacity which is needed to produce a barrel of offshore oil in the future will increase.
In my opinion, crude oil price will rise in the near future. On one hand, the growth in the global economy will generate increasing demand for oil. On the other hand, there is a danger of a significant reduction in supply of crude oil to the global market because of the civil war that is taking place in Iraq these days. Iraq is a large oil producer, exporting about 2.5 million barrels of crude oil a day. Moreover, the Ukraine crisis and possible sanctions on Russia, the world largest oil producer, might cause a shortage and, as a result, a price increase.
Since a greater percentage of oil is being discovered in extremely deep waters, where SeaDrill thrives, this will cause an increase in the demand for SeaDrill's ultra-deepwater rigs where the rental price is the highest.
According to the company, Seadrill has the highest percentage of its assets in premium classes amongst all drillers. 93% of its floater fleet is 6th generation ultra-deepwater and 100% of its jack-up fleet is high specification.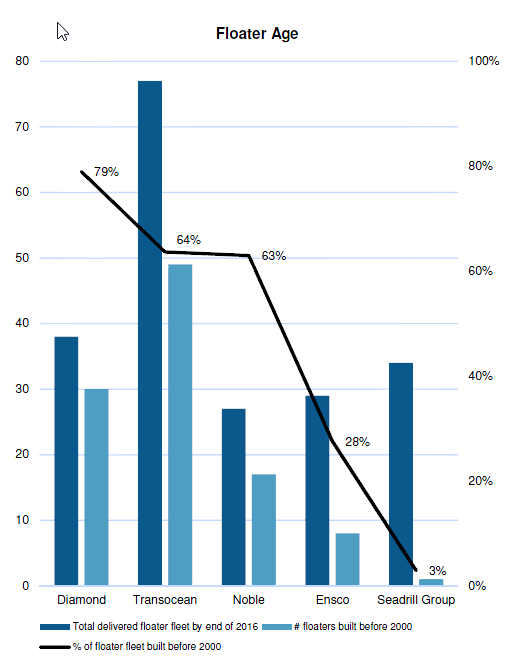 Source: SDRL Conference Call 2Q 2014
According to the company, the economic utilization for the Seadrill Group floaters on a consolidated basis was 94%, a material improvement over the 88% utilization in the first quarter. Operational issues have been addressed and the Seadrill Group operated within the Board's targets during the second quarter.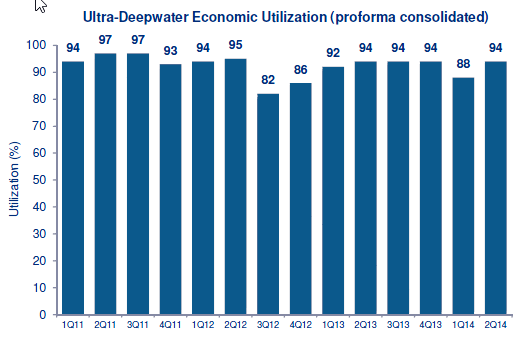 Source: SDRL Conference Call 2Q 2014
Valuation Metrics
The table below presents the valuation metrics of SDRL, the data were taken from Yahoo Finance and finviz.com.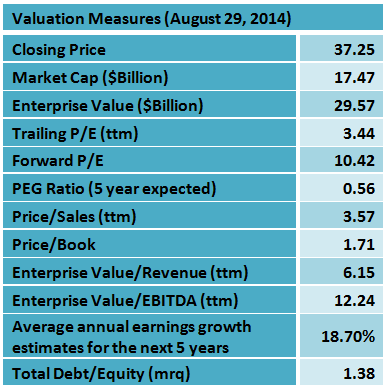 SeaDrill's valuation metrics are extremely advantageous; the forward P/E is very low at 10.42, and the enterprise value-to-EBITDA ratio is also low at 12.24. The PEG ratio is exceptionally low at 0.56. The PEG Ratio -- price/earnings to growth ratio is a widely used indicator of a stock's potential value. It is favored by many investors over the P/E ratio because it also accounts for growth. A lower PEG means that the stock is more undervalued.
Dividend
SeaDrill has been paying uninterrupted dividends since 2008. The forward annual dividend yield is extremely high at 10.74% and the payout ratio only 33.9%. The annual rate of dividend growth over the past three years was high at 13.6%, and over the past five years was very high at 25.4%. I consider that besides dividend yield, the consistency and the rate of raising dividend payments are the most crucial factors for dividend-seeking investors, and SDRL's performance has been very good in this respect.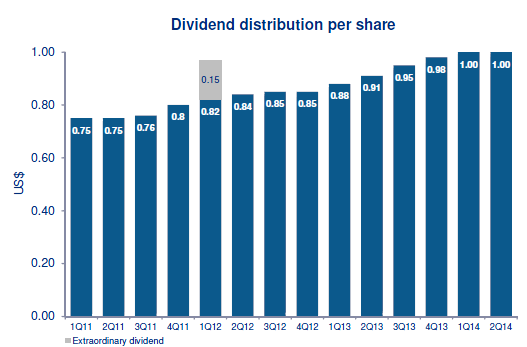 Source: SDRL Conference Call 2Q 2014
In a statement included in its second-quarter report, SeaDrill committed to maintain its dividend level at least the end of 2015:
The Board has in connection with the disclosure of second quarter results evaluated the current dividend level. Particular emphasis has been put on financial position, order backlog and future prospects. The Board has resolved to maintain the regular quarterly dividend at US$1.00 per share. The Board had communicated earlier that this dividend level is sustainable until at least the end of 2015.
Competitors and Group Comparison
The offshore contract drilling industry is highly competitive. Drilling contracts are, for the most part, awarded on a competitive bid basis. Price competition is often the primary factor in determining which contractor is awarded a contract, although quality of service, operational and safety performance, equipment suitability and availability, location of equipment, reputation and technical expertise also are factors.
A comparison of key fundamental data between SeaDrill and its main competitors is shown in the table below.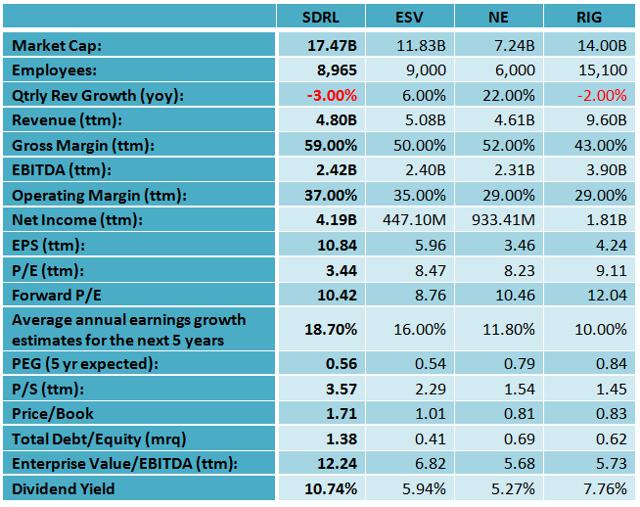 Source: Yahoo Finance, finviz.com
SeaDrill has the highest dividend yield and the lowest trailing P/E among the stocks in the group. However, it has the highest EV/EBITDA ratio.
SeaDrill's Margins and Return on Capital parameters have been much better than its industry median, its sector median and the S&P 500 median, as shown in the tables below.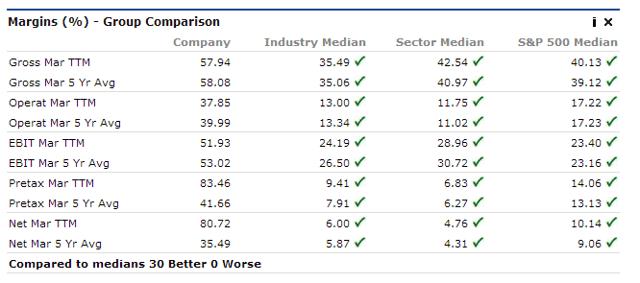 Source: Portfolio123
Technical Analysis
The charts below give some technical analysis information.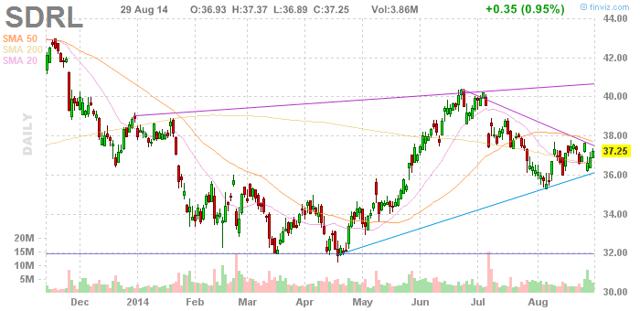 Chart: finviz.com
The SDRL stock price is 1.42% above its 20-day simple moving average, 1.43% below its 50-day simple moving average and 1.86% above its 200-day simple moving average. That indicate that the stock is in a trading range.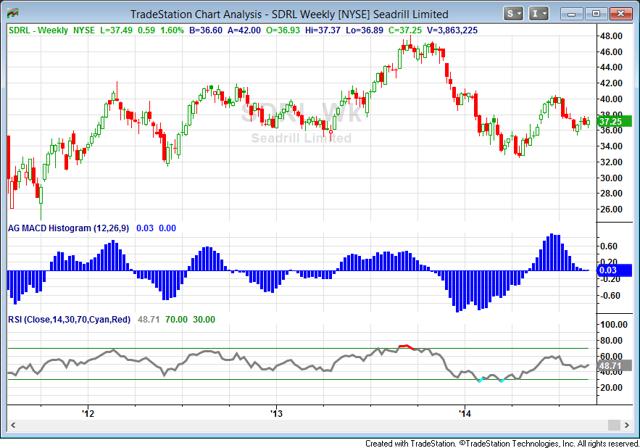 Chart: TradeStation Group, Inc.
The weekly MACD histogram, a particularly valuable indicator by technicians, is at 0.03 and flat, which is a neutral signal (a rising MACD histogram and crossing the zero line from below is considered an extremely bullish signal). The RSI oscillator is at 48.71 which do not indicate oversold or overbought conditions.
Analyst Opinion
Analysts' opinion is divided. Among the fourteen analysts covering the stock, one analyst rates it as a Strong Buy, five rate it as a Buy, seven rate it as a Hold, and one analyst rates it as an Underperform.
Risk
According to SeaDrill, its business in the offshore drilling sector depends on the level of activity in the offshore oil and gas industry, which is significantly affected by, among other things, volatile oil and gas prices, and may be materially and adversely affected by a decline in the offshore oil and gas industry. An over-supply of offshore drilling units may lead to a reduction in day rates and therefore may materially impact the company's revenues and profitability. The market value of SeaDrill's current drilling units and those it acquires in the future may decrease, which could cause it to incur losses if the company decides to sell them following a decline in their market values.
Conclusion
SeaDrill has the most modern fleet of all the major offshore drillers with exposure to premium segments. The company has compelling valuation metrics and strong earnings growth prospects; its PEG ratio is extremely low at 0.56. Furthermore, it has the highest dividend yield, the lowest trailing P/E and the strongest earnings growth prospects among its peers. All these factors lead me to the conclusion that SDRL stock is a smart investment right now. Furthermore, the very rich growing dividend represents a gratifying income.
Disclosure: The author is long SDRL, ESV.
The author wrote this article themselves, and it expresses their own opinions. The author is not receiving compensation for it (other than from Seeking Alpha). The author has no business relationship with any company whose stock is mentioned in this article.