Digital Realty Trust (NYSE:DLR) is a real estate investment trust (REIT) that specializes in owning technology-related real estate. Digital Realty's property portfolio consists of Internet gateway properties, corporate datacenter properties, technology manufacturing properties, and offices of technology companies. The company has done an excellent job capitalizing on the growing data center and cloud movement as companies expand their IT infrastructure and move towards open technology.
Despite the company's stock price advancing over 30% since the beginning of the year, investors are still able to lock in yields in excess of 5%. Using our REIT dividend safety analysis, let's see if there are any warning signs about Digital's ability to continue to pay its current dividend.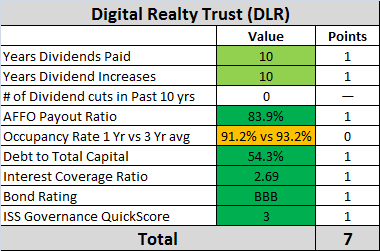 Sources: Morningstar and Digital Realty Q2'14 Earnings Conference Call Presentation
Although Digital Realty is a fairly new REIT, the company has still managed to pay a dividend and raise its dividend since it began trading in 2004. The company has achieved an impressive five-year dividend growth rate of 20%, an enviable number for a REIT. For FY13, Digital's adjusted funds from operations [AFFO] payout ratio was 84%, easily beating our maximum safe level of 90%.
The company also appears to be well-capitalized, as its debt to total capital is a manageable 54%, its interest on outstanding debt is well covered with an interest coverage ratio of 2.7, and the company retains an Investment Grade bond rating of BBB with a stable outlook. The company's governance has also been rated well by the independent Institutional Shareholder Services.
The only metric we found in our analysis that needs to be watched closely is the company's declining occupancy rate over the past three years. The occupancy rates for 2011, 2012, and 2013, respectively, were 94.6%, 93.8%, and 91.2%. The decline in rates was primarily attributed to the move-out of various non-data center tenants, along with the delivery of new inventory that the company has been absorbing. In the most recent conference call, though, management stated that occupancy rates have seen an uptick and that they foresee rates to continue to improve in the second half. The chart below displays the reduction in inventory since the company's Investor Day last November.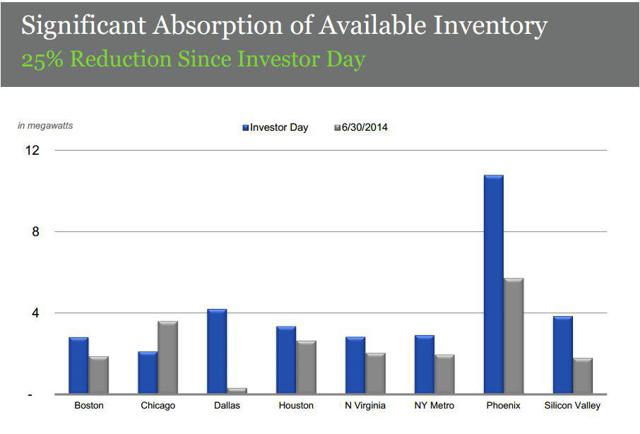 Source: Digital Realty Q2'14 Earnings Conference Call Presentation page 10.
Digital Realty has been a hidden gem for income and growth investors for the past decade. Investors who stuck it out through a turbulent Q3 2014 that was influenced by the vocal, high-profile short seller Highfields Capital have been handsomely rewarded in the past 9 months. Using management's FFO guidance midpoint for FY14 of $4.90 per share, Digital is currently trading at a Price/FFO multiple of 13. Using the current annual dividend payment of $3.32 and management's current FFO guidance, Digital's dividend payout ratio in regards to FFO ($3.32/$4.90) is only 68%.
We believe current prices present a solid value for a REIT currently yielding over 5%, and we continue to recommend DLR to our subscribers.
Disclosure: The author is long DLR.
The author wrote this article themselves, and it expresses their own opinions. The author is not receiving compensation for it (other than from Seeking Alpha). The author has no business relationship with any company whose stock is mentioned in this article.
Additional disclosure: The 4% Portfolio Retirement Service currently recommends DLR.