Like many other large cap offshore rig lessors, Ensco (NYSE:ESV) had a difficult second quarter, at least in the market's eyes. When the company reported earnings at the end of July, shares were over $51. Today shares sit just above $48.
On the previous earnings call, Ensco announced it had nine rigs in its fleet that required action. Five of those nine are now being marketed to sell, and the company took a write-down on the other four because projected cashflows were not commensurate with the stated value of the ships. This bad news was joined by management's belief that weakness in the jackup and floater market will continue due to a slowdown in capital spending matched with an increase in supply coming onto the market.
However, the last quarter was not without good news. The company got a good dayrate on its latest floater deal. After the company's sale of five ships, it will have the second-youngest floater fleet among the major offshore rig lessors. And thanks to a drop in share price, Ensco now yields a very generous 6.1%. With one of the safest dividends in the industry (by coverage ratio), Ensco represents a great value for income-minded investors at this price.
A coming slowdown?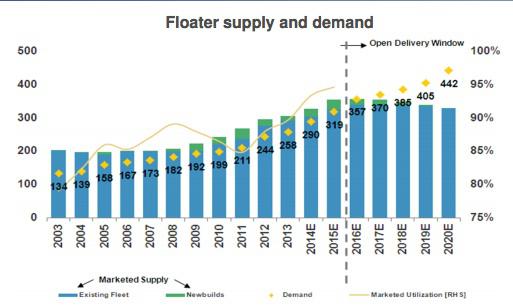 Courtesy of Seadrill Investor Relations
This above chart shows in a nutshell what companies such as Ensco are relying on for future growth. You can see that while supply for rigs is greater than is demand at this point, within a few years demand is expected to outstrip supply. Supply could shrink as a large number of decades-old floaters are retired.
However, the above forecast for greater demand is just that; a forecast. At the moment, E&P companies are reducing capital expenditure for offshore drilling, appraisal and exploration. At the same time, many new ships will soon be delivered and will enter the market. This is what has the markets worried.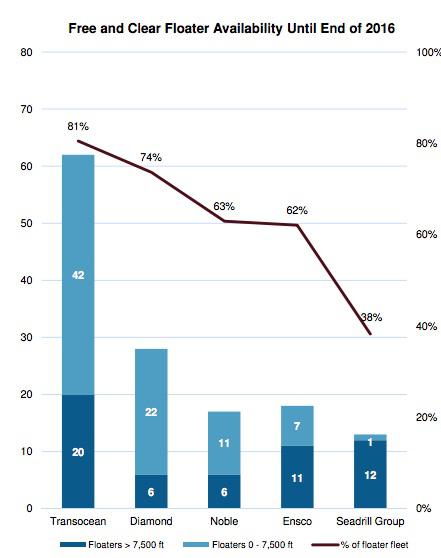 Courtesy of Seadrill Investor Relations
This chart shows each of the five major rig lessors and their relative proportion of uncontracted floater rigs until the end of 2016. Seadrill (NYSE:SDRL) had a definite advantage over the other four, and Ensco sits at 62%. This means that, if this weakness continues and the market remains oversupplied, Ensco will be significantly affected.
Operational strengths
Although Ensco would be exposed to a slowdown, the company has some operational strengths that would help it weather the storm. For example, after Ensco sells its five existing ships, the company's average floater will be only nine years old. Ensco will easily have the second-youngest fleet in the industry. The chart below shows just how well ahead Seadrill and Ensco are when compared to their peers.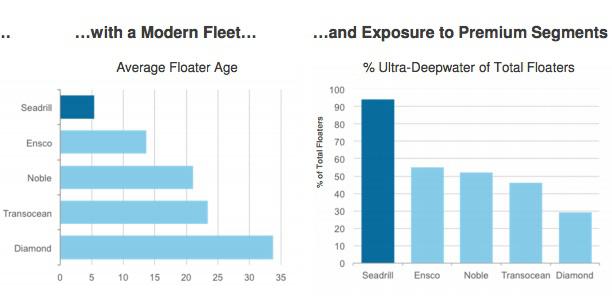 Courtesy of Seadrill Investor Relations
Having a young, ultra-deepwater focused fleet is important for two reasons. First, most offshore discoveries these days are occurring in "ultra deepwater" depths of 7,500 feet or greater. Second, after the Macondo Incident in 2010, offshore operators are increasingly demanding newer ships with state-of-the-art safety technology. If only one part of the offshore leasing industry will do well in the coming few years, that one part would be in the ultra-deepwater space. Ensco occupies a solid second place in both metrics.
Evidence of a "bifurcated" offshore rig market showed clearly in the case of Ensco's DS8 rig, which was recently leased by Shell (RDS) for use off the coast of Africa. Shell contracted the rig for five years and paid $1.2 billion, which implies a dayrate of over $700,000. Many believe that the average floater will soon fetch a dayrate of under $500,000. As you might guess, DS8 is a brand new rig meant for drilling at ultra deepwater depths. This shows just what kind of a premium the newer, deepwater ships can achieve.
Overall, Ensco did quite well this quarter when we factor out the $900 million non-cash write-down. Adjusted earnings went from $1.48 per share to $1.58 per share. Operational utilization recovered to 95%, with a 99% operational utilization for jackup rigs.
Valuation and dividend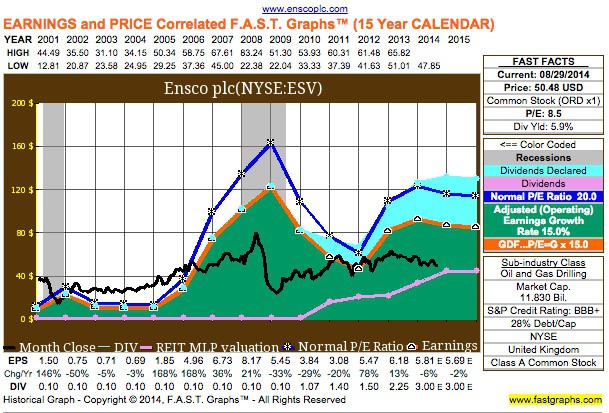 FAST Graphs
The above chart from FAST Graphs shows that, based on its P/E ratio, Ensco has been undervalued for awhile. A few caveats should be explained, however: First, the P/E ratio is not especially relevant in this case because Ensco is in a fairly cyclical industry. Second, earnings are significantly boosted by high depreciation. Ensco experiences high depreciation because it is in a very capital-intensive business.
That said, we can see that Ensco now trades well below even its 15-year average price to earnings ratio. Shares currently yield a generous 6.1%, which is historically quite high for the company. Going by average P/E ratio and dividend yield, Ensco is a great buy right here.
Ensco's dividend is one of the most well-covered in the industry. Despite such a high yield, Ensco's dividend is only some 53% of earnings per share and is less than a third of operational cash flow. Compare that with Seadrill, which pays nearly all of its operational cash flow to shareholders. Ensco's cushy coverage ratio should give income-minded investors peace of mind.
Conclusion
When adjusting for the write-down, Ensco's second quarter was actually quite good, with both earnings and operational utilization trending modestly higher. Overall, Ensco is a strong operator with a very conservative dividend strategy. For those looking for a solid income, right now is a good time to add shares of Ensco.
Disclosure: The author is long ESV.
The author wrote this article themselves, and it expresses their own opinions. The author is not receiving compensation for it (other than from Seeking Alpha). The author has no business relationship with any company whose stock is mentioned in this article.
Additional disclosure: Added within last 72 hours