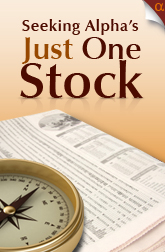 Several times a week, Seeking Alpha's Jason Aycock asks money managers about their single highest-conviction position - what they would own (or short) if they could choose just one stock or ETF.
---
Adam Seessel, founder of New York-based Gravity Capital Management, runs RiverPark Funds' RiverPark/Gravity Long-Biased Fund. Previously he worked as an analyst for Davis Selected Advisors, Baron Capital and Sanford Bernstein.
If you could only hold one stock position in your portfolio (long or short), what would it be?
Yahoo (YHOO) – it is my largest position.
Tell us more about the company behind the stock.
Yahoo is a classic value investment and resembles Apple (NASDAQ:AAPL) in 2002 and 2003 - an unloved company with a good but undermanaged business that is essentially selling for liquidation value. Everyone hates Yahoo now, just as they hated Apple back then. It's hard to believe, but in 2002-2003 Apple was such a castoff that it was selling for the cash, net of debt, on its balance sheet - $3 billion. It was worth as much dead as alive, and thus anything good that happened with Steve Jobs and his history of innovation was gravy. And what gravy it was.
Yahoo finds itself in a similar position today. Its core Internet portal business is widely used, but little monetized - while its search business is widely and rightly ridiculed as an also-ran behind Google. Because of this, Yahoo's market cap is roughly $22 billion, far behind Google's (NASDAQ:GOOG) $200 billion, Microsoft's (NASDAQ:MSFT) $240 billion and Apple's now-staggering $320 billion. Add up the assets Yahoo owns on its balance sheet, however, and you get a value that approaches this $22 billion. This means, as with Apple in 2002-2003, you are getting Yahoo's undermanaged - but potentially potent - core business for free.
Counting up Yahoo's assets is fairly easy. Begin with the $3.5 billion of cash (no debt), then add the $7 billion of value attributable to Yahoo's 35% interest in Yahoo Japan (OTCPK:YAHOY), a separately traded public entity. In contrast to its American cousin, Yahoo Japan is the Godzilla of Japanese search; with 60% share, it is the "Google of Japan," and at 20 times earnings, its mark-to-market valuation seems reasonable. Yahoo owns another publicly traded company, a fast-growing Chinese business-to-business Internet commerce platform. This business is profitable and growing profits quickly; however, at 80 times earnings it is probably overpriced, so Yahoo's balance-sheet value needs to take a haircut here. But that's OK, because the security accounts for only $3.5 billion of value at market; let's cut it in half to $1.75 billion.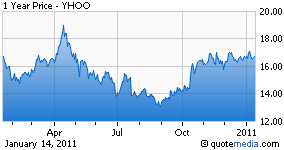 All these assets add up to more than $12 billion, or 55-60% of Yahoo's entire market cap. But as the game show hosts say, "Wait, there's more." Yahoo's most valuable assets, in fact, have no public mark because they remain privately held - but have enormous value. These are two Chinese Internet businesses contained within Alibaba Group, a holding company of which Yahoo owns 39%.
In 2005, Yahoo threw in its lot in China with Alibaba Group, a huge Chinese Internet power led by the brilliant and Buffett-like Chinese billionaire Jack Ma. Ma is one of those rare managers who knows how to both build and then manage a business for the long term; his two principal companies, Taobao and Alipay, are absolute juggernauts that have wide moats and tremendous growth ahead of them. Taobao is the Chinese version of Amazon (NASDAQ:AMZN) and Ebay (NASDAQ:EBAY); if you're in Shanghai and want to sell your golf clubs to someone in Beijing, or if you've got a small cosmetics retail business in Hong Kong and want to sell into the western provinces, you use Taobao. Ma drove Ebay out of the market by not charging commissions to customers and merchants; like Google and Amazon, he figured if he got the customers, the money would eventually follow.
As for Alipay, as the name suggests, it is the PayPal of China, and it is rapidly becoming the payment backbone of Internet commerce and banking for the entire nation. Late in 2010, Alipay actually surpassed Paypal in terms of gross merchandise volume annually transacted over their site - an incredible achievement for a company only a few years old. But we have to remember, China is only in the second inning of its Internet revolution - think Google in 1998, and that's about where they are. Meanwhile, there are more computer users in China than there are human beings in America – and they're just getting started.
What about valuing these parts?
It is difficult to value these businesses. They are private, they are rapidly growing and thus far have put customer growth ahead of profitability. What we do know, however, are several very important things. First, Jack Ma has built absolute castles on the Chinese Internet that seem destined to be the Amazon, Ebay and potentially the Google of China. Taobao has an amazing 80% market share of China's Ebay marketplace; if reports are to be believed, more than 50% of all packages moved around China's postal service every day are generated from sales from this website. As for Alipay, its market share is a "measly" 50% - and with JVs with major Chinese banks and expansionist moves into Vietnam, Thailand and other Southeast nations, its future is bright as well.
My own estimates of value for these two businesses are roughly $10-15 billion today. This has recently been "confirmed" - hard to tell - by price talk in the private-equity/IPO markets. But one has to remember that Jack Ma, as a Buffett-like businessman, is not going to bring these businesses public until they are as fat and ripe as a prize hog. He's in no hurry, because he knows that these businesses a) have moats around them, and b) are growing at 80-100% top-line/year. Profits should grow even faster as in time he allows incremental revenues to flow to the bottom line, as Google and Amazon eventually did. So $10-15 billion is today's rough valuation; intrinsic value should grow by double digits for many years to come; and Yahoo's 39% stake will only grow in value.
To tie it all together, recall that $12 billion of Yahoo's $22 billion market cap is accounted for via cash and its stake in two publicly traded Asian Internet companies. That leaves $10 billion, which as the above discussion shows seems a modest price to pay for Taobao and Alipay. If this is so, then you are getting the core Yahoo business for free - and free is a good place to start.
So let's talk about the more familiar core of Yahoo.
While the core business is certainly challenged, it has several things going for it. First, it remains among the top websites visited in the U.S. for news, sports and finance. It has done a poor job monetizing that traffic, but new CEO Carol Bartz aims to change that. Second, while a distant second in search, it has recently thrown in its lots with Microsoft's Bing, which will both improve profitability and give advertisers a strong No. 2 to use as a foil for Google. There's no way P&G (NYSE:PG), Ford (NYSE:F) and the like are going to let Google have a search monopoly; they need the Yahoo/Microsoft JV as a stalking horse. Finally, for all the opprobrium rightly heaped on Yahoo, this business did $1 billion in free cash flow in 2009, a terrible recession year. If Bartz can get the top line moving, we could win in the core business, just as we did in Apple in 2002-2003.
Meanwhile, with all the assets on the balance sheet you're truly getting a free option on this core business, which strikes us as undermanaged but not broken. Yahoo thus strikes us as our favorite kind of investment and a very rare gem indeed - a Ben Graham-type asset play with an undermanaged but powerful business behind it. Usually the market gives you a choice between the former - the cheap but crappy business - or the latter, a great but expensive business. Rarely does it present you with both, and this is what we think we have with Yahoo.
Yahoo Japan is the "Google of Japan" in more than a figurative sense: It's now using Google technology to run its search. Isn't this a key asset just handing revenue to a Yahoo competitor? And could it affect the value of Yahoo Japan you've talked about here?
Yahoo Japan is "Google of Japan" in terms of its market share of search - it dominates Japan like Google dominates U.S. and the rest of the world. Thus most ad dollars flow to Yahoo Japan in Japan – the brand and the eyeballs dictate the economics.
In terms of using Google's search engine, the optics of that were certainly not good. On the other hand, the economics of it are trivial. The money is in the eyeball searches, and the fact is that core U.S. Yahoo no longer has a search engine… they JV'd that with Microsoft.
How does your choice reflect your investment approach? Tell us a little more about your approach and goals.
We want low-risk, high-reward investments. We are interested in finding great businesses selling at distressed prices. Because we are not long-only, we can hold lots of cash if we don't find these investments. This allows us the freedom to swing only when the pitches are fat. In this way we hope to provide investors with market-beating results over a long period of time.
How much is your selection based on Yahoo's industry, as opposed to a pure bottom-up pick?
We are mainly bottom-up, but we keep a good eye on the macro environment as well. In Yahoo's case, for example, it is valuable to know that currently in America today we spend 30% of our media time on the Internet. Advertisers, however, spend only 10% of their ad dollars there. Thus we have a twofold macro industry tailwind with Yahoo - Internet media consumption seems destined to continue to rise, and the current 30/10 gap between consumption and ad spending seems destined to close.
How is Yahoo positioned with regard to competitors?
Yahoo has strong viewership in news, sports and finance but has thus far done a poor job of monetizing those eyeballs. It was wise to throw in its search business with Microsoft, creating a strong No. 2 to Google in search that advertisers will use, if only to prevent Google from becoming a monopoly.
How does YHOO's valuation compare?
No other Internet company even comes close to the "getting $1 billion in free cash flow for free" investment case that currently exists with Yahoo. Apple was like this in 2002-2003, but now possesses the second-biggest market capitalization on Earth, after ExxonMobil but before PetroChina (NYSE:PTR).
Does your view differ from the consensus sentiment on Yahoo?
Everyone hates Yahoo. There was some buzz this fall about their Chinese Internet assets, but that has died down. To the extent people are interested in the stock, they see some sort of break-up, LBO or JV with AOL and so forth. We see it quite differently: We think CEO Carol Bartz has a strong hand to play, with 39% stakes in two huge Chinese Internet companies and an undermanaged but potentially powerful core business, and we think she is going to play the hand out.
Does Yahoo management play a role in your selection? If so, how?
Bartz was a huge upgrade 18 months ago from founder Jerry Yang, whose title was literally Chief Yahoo. That should give you some idea of what a great visionary - but poor operator - Yang was. He was a half-decade late bringing in "the adults" to run things (again trailing Google), but better late than never. Bartz is a proven turnaround expert; her last stint at Autodesk (NASDAQ:ADSK) yielded a ten-bagger in the stock. We think she's the kind of tough cookie to turn things around at Yahoo and play the good cards she was dealt.
What catalysts, near-term or long-term, could move YHOO significantly?
Bartz has cut costs, improving profitability, but has yet to get Yahoo's top line moving; any improvement there would signal to Wall Street that Yahoo's business was no longer anemic. IPOs of Jack Ma's two Internet businesses are huge and obvious catalysts but could be years away as Ma lets intrinsic value grow over time. We would view any breakup/LBO as short-term positive but long-term negative: It would create some near-term value but leave a lot of long-term value on the table.
What could go wrong with your pick?
Just as China and the core business turnaround are the keys to Yahoo's success, they are also the biggest risks. In terms of the core business, we could be misjudging its latent potential; perhaps this franchise, which generated $1 billion in free cash flow in 2009 thanks to large portal viewership and decent search, will wither away and die.
We are comforted by the fact that even if this occurs we have recourse to Yahoo's asset-rich balance sheet. But this could be impaired if a nationalistic Chinese government somehow manipulates the situation and deprives Yahoo of full economic rights to its 39% ownership of Taobao and Alipay. We think this is a remote possibility, given China's ambitions to be a world player and Jack Ma's love of capitalism and fair play - but it could happen.
We've talked about Bartz playing out the thread, but it seems like takeover talk is never too far away from discussions of this company. Is a big takeover still likely? And wouldn't a suitor like Microsoft have to offer a heavy premium if they're seeing the same value here? Doug Kass even thinks that News Corp (NASDAQ:NWS) will come in with a bid for Yahoo this year.
The short answer is, who knows? It's definitely a short-term positive to have this takeover talk - we ain't going to lose money in such a scenario. MSFT offered $33/share - two times today's price - in 2008. In terms of playing for big money, however, I'd rather see Bartz play out the hand. The core biz could turn around, and those Chinese assets are going to keep getting more and more enormously valuable.
Thanks, Adam, for sharing your choice with us.
Disclosure: Long position in YHOO.
Read more Just One Stock interviews »
If you are a fund manager and interested in doing an interview with us on just one stock or ETF position you'd hold, please email us at Just One Stock.