China's official non-manufacturing August PMI was 54.5 (source in Chinese), higher than the 54.2 consensus estimate and a slight rebound vs. last month's 54.2. Key takeaways included a marginally improving employment outlook and a relatively robust business activity index; however, other indicators (new orders, prices) were weaker than last month. Again troubles in the real estate sector were evident in the data, something which shouldn't come as a surprise considering recent data on continuing price declines.
The market may interpret the new orders index dropping to neutral territory as somewhat worrisome, particularly when considering that the reading is the lowest in recent memory. But, in a similar fashion to the manufacturing PMI released earlier in the month, one possible interpretation could be that along with weakness comes hope…of a stimulus.
Additionally, the HSBC/Markit Services PMI was released today, which came in at a hot 54.1, up from 50 last month, and cruising past the 51.2 forecast from tradingeconomics.com. This month's reading showed the fastest pace of growth since March 2013, driven by strong expansion in new orders, with a slight expansion in employment and higher input and output prices. HSBC/Markit's data showed an improvement in the future outlook, with sentiment strengthening to 5-month high.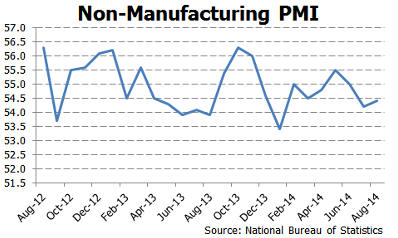 In the official release, the service industry PMI was 53.6, up 0.4 from last month, with most sub-sectors showing growth (not surprisingly, the real estate related sub-components were showing contraction, as was warehousing/logistics). The construction index was 57.7, down 0.5 vs. July, which although still showing expansion was continuing the previous months' gradual deceleration.
The new order index was a neutral 50, down about 0.7 vs. month, the lowest reading for about the last two years. Again the majority of sub-components were showing growth, and real estate-related services were showing contraction. The new orders index for construction was a dismal 47.5, -4.1 from last month, suggesting further weakness ahead in the housing sector.
Intermediate prices were 52.2, down vs. 53.4 last month and a fraction above the lows of the year (52.1 in February). By industry group, most were showing continued expansion (i.e. over 50), with wholesale intermediate prices the only sub-sector showing contraction.
The price index was a cool 48.3, down from 49.5 last month and a low for the year. This month's data suggests that pricing pressure has accelerated vs. July and doesn't bode well for the future. The price index has been in contraction territory for most of the year, but poked above water in June, ostensibly in response to a positive outlook related to the government's stimulus efforts. With those effects quickly fading, it seems that the optimism for pricing power has also evaporated.
The employment index was 49.6, up vs. 49.3 last month, but still signaling a negative outlook for staffing needs in the service sector. Sub-sectors showing growth included Internet/software/IT, air and rail transportation, telecom/communications services; warehousing/logistics, water transportation, hospitality, and postal services were all lower. The construction sub-index was 51.8, a marked improvement of 2.3 vs. last month and transitioning back into expansion territory.
The business activity index remained a relatively robust 61.2, down from 61.5 last month, but still sounding a relatively more positive note than the 60-ish range recorded for the first half of the year.
| | | | | | | | | | | | | | |
| --- | --- | --- | --- | --- | --- | --- | --- | --- | --- | --- | --- | --- | --- |
| Non-Manufacturing PMI | Aug-13 | Sep-13 | Oct-13 | Nov-13 | Dec-13 | Jan-14 | Feb-14 | Mar-14 | Apr-14 | May-14 | Jun-14 | Jul-14 | Aug-14 |
| Source: National Bureau of Statistics | | | | | | | | | | | | | |
| New orders | 50.9 | 53.4 | 51.6 | 51 | 51 | 50.9 | 51.4 | 50.8 | 50.8 | 52.7 | 50.7 | 50.7 | 50 |
| Intermediate prices | 57.1 | 56.7 | 56.1 | 54.8 | 56.9 | 54.5 | 52.1 | 52.8 | 52.4 | 54.5 | 56 | 53.4 | 52.2 |
| Price index | 51.2 | 50.6 | 51.4 | 49.5 | 52 | 50.1 | 49 | 49.5 | 49.4 | 49 | 50.8 | 49.5 | 48.3 |
| Employment | 52.5 | 51.3 | 51.5 | 51.9 | 51.1 | 49.7 | 50.9 | 51.4 | 50.2 | 50.9 | 50.4 | 49.3 | 49.6 |
| Business activity | 62.9 | 60.1 | 60.5 | 61.3 | 58.7 | 58.1 | 59.9 | 61.5 | 61.5 | 60.7 | 60.4 | 61.5 | 61.2 |
| | | | | | | | | | | | | | |
| Non-manufacturing PMI | 53.9 | 55.4 | 56.3 | 56 | 54.6 | 53.4 | 55 | 54.5 | 54.8 | 55.5 | 55 | 54.2 | 54.4 |