Significant amounts of money can be made for the fortunate investors who are able to purchase shares in large well-known growth companies when they first become publicly traded. A few recent examples include Facebook (NASDAQ:FB), Visa (NYSE:V), and MasterCard (NYSE:MA). Those who had the foresight to purchase shares and hold them for a few years have significantly outperformed the market. With the above backdrop in mind, I suspect the coming Alibaba (NYSE:BABA) IPO offers the same type of opportunity for the patient long-term investor.
BABA is tentatively expected to come public on September 19th according to a recent Bloomberg article. The IPO is expected to price at $154 billion, roughly 22% less than the $198 billion projection by analysts. I have a hard time believing the company will purposely float the IPO at such a steep discount, however for a measure of safety in the model I illustrate below; I will use a broad range of figures starting at $130 billion.
What makes the BABA IPO even more unique is the role of Yahoo (YHOO) and its 22.6% ownership stake in the company. YHOO controls 524 million shares of BABA, of which it will sell 140 million of them at the IPO price. The funds will be subject to a roughly 35% tax rate which will reduce the net quite a bit. The remaining shares will be held with no public proclamations as to what YHOO management plans on doing with them.
| | | | | | | |
| --- | --- | --- | --- | --- | --- | --- |
| BABA market cap in billions | 130 | 150 | 170 | 190 | 210 | 230 |
| 540 million BABA shares | 29.38 | 33.9 | 38.42 | 42.94 | 47.46 | 51.98 |
| 140 million shares sold | 7.61 | 8.79 | 9.96 | 11.13 | 12.30 | 13.47 |
| After tax net proceeds | 4.95 | 5.71 | 6.47 | 7.23 | 7.99 | 8.76 |
| Value of remaining portion | 21.77 | 25.11 | 28.46 | 31.81 | 35.16 | 38.51 |
All figures are in Billions.
At a current price of $39.2, YHOO sports a market cap of $38 billion which makes the above calculations quite interesting. At a $150 billion price for BABA, YHOO stake is worth 81% of its current market cap. Let's examine the other components of YHOO to determine if YHOO offers a unique way of capitalizing on BABA.
YHOO currently holds roughly $3.2 billion in cash and debt instruments on its balance sheet as of its latest 10-Q. If we use the $150 billion IPO figure, the BABA stake plus YHOO cash equates to $34 billion. YHOO also owns a 35% stake in Yahoo Japan (OTCPK:YAHOY) which sports a market cap of $23 billion. YHOO stake is worth an additional $8 billion of its current market cap. If we sum up all the parts we arrive at a value of $42 billion without placing a value on the core company.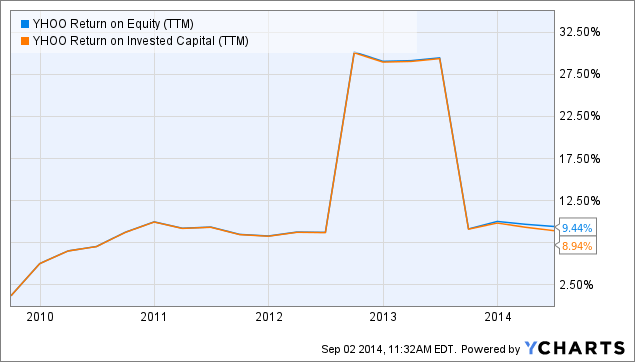 YHOO Return on Equity (TTM) data by YCharts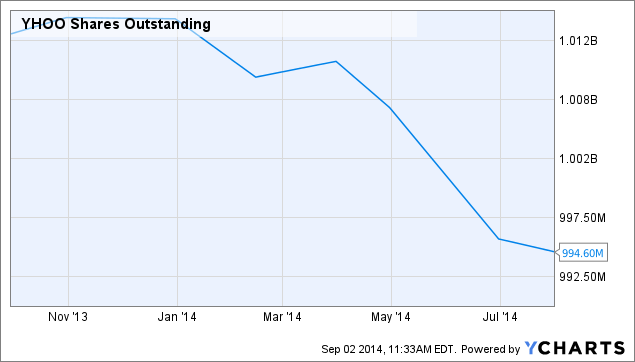 YHOO Shares Outstanding data by YCharts
Let's examine the core company a bit to determine its fair value. YHOO current metrics are hardly appealing with a sub-10% ROE and ROTC. The core business is profitable yet revenue can be best described as stagnant with a slight downward bias. Earnings came in at $1.20 per share which is lower than the previous year. Book value of YHOO is currently $13.55, which we need to reduce since we have already accounted for the cash on its balance sheet. The reduction leaves us with a book value of roughly $10.30 which is worth roughly $10.3 billion based on the amount of shares currently outstanding on YHOO.
If we sum up the various parts of YHOO we arrive at a value of $52.3 billion which is significantly lower than YHOO current market cap. I am very comfortable with the numbers and have initiated a position in YHOO at roughly $37 per share. I plan on holding the position for at least a year to allow time for the value of YHOO to be fully reflected in its share price.
I have read numerous comments concerning YHOO, with many mentioning the purchase of short dated calls in anticipation of a pop in the share price of YHOO. I suspect most will make money depending on the strike price and the amount of time premium paid. The major risk with this strategy is if the company decided to delay the IPO. I prefer to take a more conservative approach with an equity purchase. Even if the IPO goes off as planned, the real value here is in a few years. If BABA does indeed grow into a dominant force akin to what was seen with Google (NASDAQ:GOOG) (NASDAQ:GOOGL) from 2004-2009, the bulk of the money was made in a few years by those who simply bought and held. There are no guarantees past history will repeat itself, yet I have a strong suspicion BABA is a special company. I would like to thank you for reading and I look forward to your comments.
Disclosure: The author is long YHOO, V.
The author wrote this article themselves, and it expresses their own opinions. The author is not receiving compensation for it (other than from Seeking Alpha). The author has no business relationship with any company whose stock is mentioned in this article.
Additional disclosure: Investors are always reminded that before making any investment, you should do your own proper due diligence on any name directly or indirectly mentioned in this article. Investors should also consider seeking advice from a broker or financial adviser before making any investment decisions. Any material in this article should be considered general information, and not relied on as a formal investment recommendation.