GoPro: The Must-Have Holiday Gift (Stock?) for 2014
GoPro (NASDAQ:GPRO) is my "special situation" selection for the 2014 holiday season. GPRO's Hero3, ranging from $199-$399, and related accessories (like the GoPro Fetch Dog Harness), will be among the "must haves" for teens, and really everyone in the under-30 set this 2014 holiday season. The Hero3 and the new iPhone6 from Apple (NASDAQ:AAPL). Why? It is new (unless you are an extreme sports fanatic, you probably don't have one). It is cool. It is useable technology. It is not derivative or a minor variant. It is everywhere (in the media).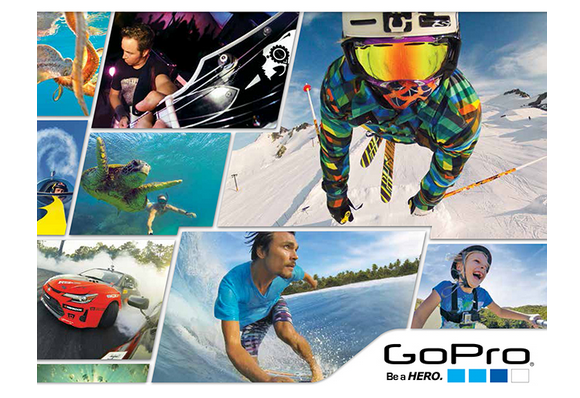 Source: GoPro 10-K
The Stock Has Been Doing Extreme Stunts
GPRO went public June 26 at an IPO price of $24/share and closed on August 29 at a new high of $51.80/share.

Source: Yahoo! (the chart reflects day 1 price close of $31.34 as "0"%)
GPRO trades at a whopping 53x 2015 forecasts (there are four) and a more modest PEG (PE/Growth) of 1.55. I do expect earnings estimates to increase as we get closer to the holiday season, with 2015 estimates approaching $1.20/share.
Crazy numbers for a consumer-product company, right? Except, the Hero3 is not just a consumer product, it is one of the first, consumer-meets-internet-meets-it is a unique experience for everyone product.
But Maybe Not So Extreme With A Little Perspective
Let's look at some paradigm changing companies, such as AAPL, Facebook (NASDAQ:FB), Netflix (NASDAQ:NFLX) and Tesla (NASDAQ:TSLA) and compare valuations (see chart below). Maybe GPRO's valuation is not so crazy when put in context with technology or technology-inspired companies that changed their respective paradigms.

Source: Yahoo!
My thesis is GPRO will be to 2014, as NFLX and TSLA were to 2013, but priced for normal people (see chart above for valuation and below for 2013 stock prices).

Source: Yahoo!
It Is A YouTube World And We Are Just Living In It
GPRO captures the zeitgeist of a world where everything seems like it is shared on YouTube, where Millenial's perpetually quest to be unique and where there is increasing "real-time" platform inter-operability. If you are of a "certain age" or have been hiding under a rock for the last few years, let me draw your attention to the "proof" of how crazy YouTube has become- take a look at this week's Bloomberg BusinessWeek.
In 2013, GPRO's customers uploaded approximately 2.8 years worth of video to YouTube featuring "GoPro" in the title. In the first quarter of 2014, there was an average of 6,000 daily uploads and more than 1.0 billion views representing over 50.0 million watched hours of videos with "GoPro" in the title, filename, tags or description. (Source: GoPro 10-K)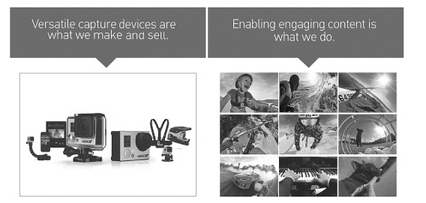 Source: GoPro 10-K
Everyone Wants To Be Cool
First used by skiers, surfers and skateboarders, to show the world their tricks. GPRO is the outlet for the uniqueness and coolness of the common teen (and young adult and more. I want one for scuba diving, my son wants one for capturing his driving "moves", and my wife wants one for the dog . . . where does it end?).
Even NPR?
When you hear NPR profiling a new pet attachment for the GoPro, you know you have a cultural phenomenon. When you hear Jim Cramer on CNBC raving about how everyone he knows wants one, you know you have a cultural phenomenon (and a wee bit of self-serving hype). When you type "GoPro" on Google and you get 109 million results, you know you have a cultural phenomenon (the Islamic state gets a paltry 71 million and Tesla gets 119 million).

Source: GoPro website
0 to 45% in Four Years
GPRO's first HD camera was launched in July 2009, since that time, the company has sold more than 8.5 million HD cameras, including more than 3.8 million in 2013. GPRO sells in over 100 countries and through more than 25,000 retail stores (including, small retailers and extreme outlets like, Amazon (NASDAQ:AMZN), Wal-Mart (NYSE:WMT) and Dick's (NYSE:DKS)). GoPro was the #1 selling camcorder, with a 45% market share (up from 11% in 2011) and #6 in accessories in the United States during 2013 (Source: GPRO and The NPD Group as reported in GPRO 10-K).
Patents and Cool
GoPro, has 42 issued patents and 72 patent applications (Source: GoPro 10-K). Will that protect them from knock-offs in China? Not likely, but it does imply a decent time interval to establish, and lock in its brand before the me-too's swarm the market. However, as this is a "cool" product, me-too's will not cut it. For example, AAPL's iPhone has held its own over seven cycles in the face of numerous competitors in the high and low end of the phone market. GPRO has that same opportunity.
Innovation and Cool Expected to Continue
The current model, the Hero3, introduced in late 2013 is anticipated to be replaced with a new model (presumably the Hero4) in March 2015 (Source: breathecast.com. The interval, longer than initially expected, should allow for an excellent holiday season and continued momentum into 2015.
As I have mentioned the iPhone a couple of times in this article, I would ask readers to consider both the product as a potential proxy for the GPRO hero. APPL has maintained high margins over a sustained period of time by maintaining cutting-edge look and feel and by maintaining the "cool" factor. I think both of these aspects are important to consider with respect to GPRO. Buyers want both a great product and a "cool" product. Today, GPRO has the quality, the cool and the momentum. Tomorrow (metaphorically speaking), assuming it continues to innovate as it has the last several years, there is no reason to think consumers will not continue to gravitate towards the mobile, sharing, adventure experience GPRO offers.
My First "Story"
This is the first "story stock" I have recommended. I see the right combination of product, hype, uniqueness and cool in GPRO. It looks like this year's NFLX or TSLA. I am recommending it as a "Buy" for this holiday season. As my articles are a function of my research, I don't have a GPRO position as of yet. Given the "melt-up" on August 29, when GPRO closed up 5.9%, I am hoping for a bit of a pull-back before initiating a position.
This article reflects the author's opinions and is not meant to be the basis of an investors' buy or sell decisions. All investors should conduct their own due diligence and make investment decisions solely on their research.
BUY REMOVED
Due to the speculation we have seen in GPRO this week, I am removing my "Buy" recommendation at this time. My ideas revolve around an investment thesis that, in my mind, provides a reward greater than the risk. The speculative environment we witnessed this week is not investing, it is speculating.
At Friday's close, GPRO traded at $58.75, substantially higher than the $51.80 close on August 29 (the last price when I completed the article) and $53.94 on September 2 (the last close prior to the article's publication). For more information, see the comment I posted at approximately 10:30 PM on September 5.
Disclosure: The author has no positions in any stocks mentioned, and no plans to initiate any positions within the next 72 hours.
The author wrote this article themselves, and it expresses their own opinions. The author is not receiving compensation for it (other than from Seeking Alpha). The author has no business relationship with any company whose stock is mentioned in this article.