For my first company-specific post on this website, I am going to shed some light on my favorite stock. It is the largest position in my portfolio (and has been for years), it has a market cap of nearly $2 billion (a decent size in the Canadian real estate market), it has delivered strong returns for years, but yet hardly anyone knows about it.
Morguard Corporation (OTC:MRCBF) owns and manages real estate. The company's website describes its business as follows:
Morguard Corporation is a real estate investment company whose principal activities include the acquisition and ownership of commercial and multi-unit residential properties in North America. Morguard also offers real estate advisory and management services representing major institutional and private investors through its wholly owned subsidiary Morguard Investments Limited. Morguard's owned and managed real estate portfolio is valued at more than $15 Billion (as of June 30, 2014).
In addition, it is useful to know that:
Morguard owns approximately 44.5% of the Units of the Canadian-focused Morguard REIT (TSX: MRT.UN), and approximately 48.8% of the Units of the Morguard North American Residential REIT (TSX: MRG.UN).
Morguard Corporation has historically been a very strong performer, its share price having doubled over the last 3 years: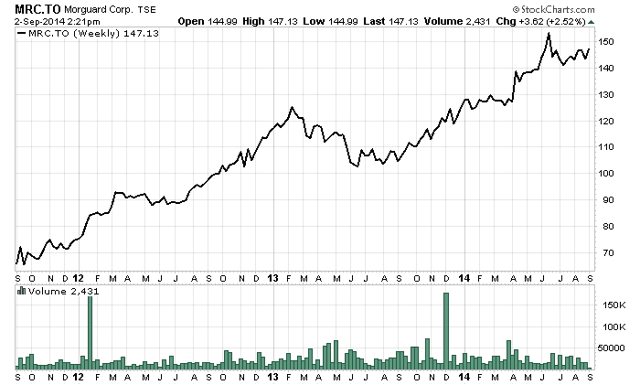 So why am I still so positive on Morguard shares (which are currently trading at around $145 per share), despite this exceptional performance? Simple - the book value of each share (as of June 30, 2014) is $192. This is easy to calculate - looking at the company's 2014 Q2 results, we take the book value of equity ($2.4 billion) and divide it by the number of shares outstanding (approximately 12.489 million). The shares, despite their strong performance over the last number of years, are still trading at only 75% of book value.
An obvious question here then becomes: why do the shares trade at such a significant discount to book value? There are a pair of reasons that go a long way toward explaining this. First, unlike most Canadian real estate stocks, Morguard pays a tiny dividend ($0.60 per year for a yield of 0.4%). The company has shown an ability to successfully reinvest its profits to generate strong returns, but many investors like the idea of collecting a juicy 4-6% dividend or distribution yield and invest in Canadian REITs (real estate investment trusts) instead. I do not believe that Morguard's long term shareholders (who have seen the stock price double in the last 3 years) are overly concerned about the minimal dividend, but it helps explain the discount the shares trade at relative to their book value.
The second reason is simple: liquidity. Morguard's shares often trade by appointment. Sometimes only a few hundred shares change hands each day and the bid/ask spread is often a dollar or more. This is a function of the fact that the company is still relatively unknown to most retail investors and because the firm's Chairman and CEO (Mr. K Rai Sahi) owns nearly 6.7 million Morguard shares (54% of the total shares outstanding). Now I would venture that investing alongside Mr. Sahi is a rather smart idea given his background and history, but his majority ownership is one of the reasons for the lack of liquidity. One other issue is the lack of analyst coverage. Unlike many REITs in Canada, Morguard does not need to come to the market to finance its operations. This results in little incentive for the large banks to promote the stock using analysts and as a result, RBC is the only large financial institution currently providing research on the company. The lack of liquidity explains a portion of the discount and is a significant problem if you wish to buy or sell a large amount of Morguard stock in a hurry. However, for the retail investor looking to invest in the company over the long term, liquidity is not usually a significant concern.
In a perfect world, we would all have millions of dollars available to go out and purchase real estate properties all over North America. But for those of us who are not that fortunate, Morguard is a way to purchase a collection of diversified (office, industrial, retail, apartment and hotel) real estate properties at 25% below market value.
Now I do not expect this 25% discount to immediately disappear (although this would likely mean a significant increase in the share price, which would be just fine with me). But I do believe that Morguard will continue to increase the book value of its shares consistently over time. Therefore, even if the shares continue to trade at only 75% of book value, the share price will rise over time. Just as a way of comparison, we already calculated that as of Q2 2014, Morguard shares have a book value of $192. Looking back three years:
Q2 2013: $173 per share
Q2 2012: $141 per share
Q2 2011: $115 per share
In the investment world, nothing is certain. But I have faith that Morguard Corporation will continue to slowly and consistently increase the book value per share by both increasing the value of shareholder's equity and by repurchasing its shares on the open market (as it has been doing over the last number of years). And as that happens, I expect the market to continue to bid up the price of the shares. Do not try to trade Morguard shares - the incredibly thin volume makes this nearly impossible. View them as a core, long term part of a balanced portfolio, ignore the daily volatility and I believe that you will be well rewarded for your patience.
Disclosure: The author is long MRCBF.
The author wrote this article themselves, and it expresses their own opinions. The author is not receiving compensation for it. The author has no business relationship with any company whose stock is mentioned in this article.
Editor's Note: This article discusses one or more securities that do not trade on a major U.S. exchange. Please be aware of the risks associated with these stocks.