A few weeks ago, I wrote an article that detailed the defensive dividend attributes that are so appealing for many REIT investors. While many REITs have cut dividends during tough economic times, the Triple Net REITs have appeared to be more time-tested, such that they respond more favorably when faced with adversity. The most recent recession proved that longer-term leases provide more predictable revenue as the contractual lease characteristics are most durable. As I explained:
During the Great Recession, most major commercial real estate asset classes were hammered by exposure to a variety of economic conditions such as high unemployment and poor underwriting fundamentals. The assets with shorter lease terms and non-credit tenants were hit even harder with higher vacancy rates and a higher percentage of troubled and distressed loans.
It's true, superior risk-adjusted returns drove investors to well-tenanted net lease assets during the Great Recession; however, the outlook today is not as attractive since the fear of rising interest rates seems to detract from the cushy yields that are common in the bond-like sub-sector. The apprehension for investors in the Triple Net space has to do with the reduced spread (profit margins) that will soon to develop when debt costs increase and margins shrink.

Of course, that's somewhat of a misconception since many Triple Net REITs have already been preparing for the eventual rate increases. While the leases - or contracts - are fixed for longer period, most have rent increases built in that provide some hedge against increased costs. In addition, many of the REITs have reduced their reliance on debt by fixing their maturities to match fund the longer term rental arrangements. In other words, the spreads (profit margins) are protected such that the impact to sudden rate increases is muted.

Another defensive attribute for Triple Net REITs is quality of income. Many of the larger names - Realty Income (NYSE:O) and American Realty Capital Properties (ARCP) maintain a healthy composition of investment grade rated tenants. It's well-established that credit underwriting is an essential risk management tool and that's the reason that Herbert Spencer created the phrase - survival of the fittest - to draw parallels between economic theories and Darwin's concept of evolution (source: Wikipedia).
Comparatively speaking, Realty Income has 44% of its portfolio contracts (or leases) with investment grade rated tenants. The top four tenants are Walgreens (WAG) (5.4% of revenue), FedEx (NYSE:FDX)(5.2% of revenue), Dollar General (NYSE:DG) (5% of revenue), and Family Dollar (NYSE:FDO) (4.7% of revenue). American Realty Capital has 46% of its portfolio contracts with investment grade rated tenants. The top four tenants are Red Lobster (11.3% of revenue), Walgreens (3.4% of revenue), CVS (2.7% of revenue), and Dollar General (2.4% of revenue).
As I have written on multiple occasions (here, here, and here), American Realty Capital Properties shares have seen trading at a discount and a significant reason for the overhang has to do with the higher concentration of Red Lobster revenues. It stands to reason that cap rates provide meaningful information that provides valuable clues as to an investments risk-adjusted return. In other words, buying a Red Lobster at an 8% cap rate (net income divided by purchase price) is riskier than buying a Walgreens at a 6.5% cap rate. Let's compare the dividend yields for the broader Triple Net REITs:

So while most of the Triple Net REITs are focused on credit underwriting, few of them are in the trenches looking at unit-level economics. It's simple to understand that the big boys - like Walgreens, Home Depot (NYSE:HD), and FedEx - don't provide granular property level data because they don't need to. Because of their fortress balance sheets and substantial corporate guarantees, investment grade companies offer landlords very little in terms of lease negotiations and they offer more of a rubber stamp policy known as the "golden rule" - he who has the gold, makes the rules.
As some of you know, I used to develop stores for companies like Advance Auto Parts, CVS, and Sherwin Williams. When it comes to lease negotiations, the better-the-credit, the better-the-attorney - in other words - the closer you get to an A-rated credit tenant, the harder it is to negotiate lease points. Many of them offer a "take it or leave it" approach and that's why companies like Walgreens offer a 25 year flat lease deal. Yes, you get a flat lease with absolutely no rental increase for 25 years.
So clearly, there's a tradeoff that exists and while you may get better credit behind the lease contract, the leases become more difficult with little long-term protection in a rising interest rate environment. So that's a fundamental reason that none of the Triple Net REITs have 100% investment grade rated tenants. It wouldn't make any sense to own a portfolio of Walgreens that have no rent growth to offset rising rates.

A New Opportunity for Triple Net REIT Investors
Last week STORE Capital Corporation (proposed: STRE) filed a Form S-11 with the SEC to register a maximum of $500 million in stock on the New York Stock Exchange. For those who aren't familiar with STORE, I interviewed the CEO, Chris Volk, a few weeks ago and you can view the interview below:
STORE is currently a privately-owned REIT with a few institutional investors, primarily a company affiliated with Oaktree Capital (NYSE:OAK). STORE has a well-diversified portfolio that consists of 767 locations operated by 190 customers in 43 states. Since its founding in 2011, STORE has grown its asset pool to around $2.3 billion.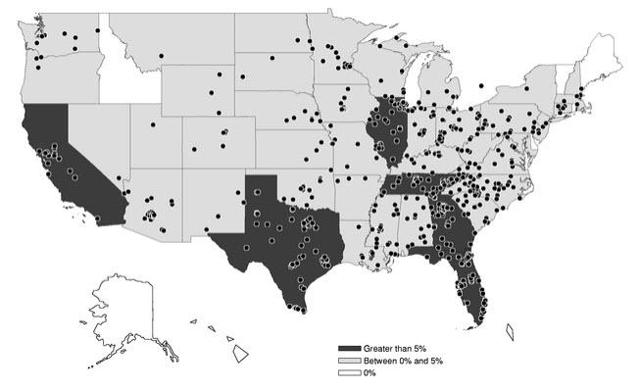 The snapshot below illustrates STORE's diverse geographic footprint:

One key differentiator for STORE is that the company is more focused on granular property-level investments. With an experienced management team that is accomplished at providing real estate financing solutions to middle-market and larger businesses, STORE operates in the service, retail and industrial sectors in the US.
So while many of the bigger Triple Net REITs focus on traditional credit-based fundamentals, STORE's tenants typically don't have credit ratings. Most of these unrated companies either prefer to be unrated or are simply too small to issue debt rated by a nationally recognized rating agency in a cost-efficient manner.
While the Triple Net industry has enormous size, STORE focuses on the highly fragmented sub-sector with few participants addressing the long-term capital needs of middle-market and larger unrated companies. STORE believes that "the largest underserved market and, therefore, the greatest opportunity is bank-dependent, middle-market and larger companies that generally have less access to efficient sources of long-term capital" (source: S-11). This is how STORE explains its value proposition:
STORE was formed to capitalize on this market opportunity to address the capital needs of middle-market and larger unrated companies by offering them a superior alternative to financing their profit-center real estate with traditional mortgage or bank debt and their own equity. We believe our opportunities include both gaining market share from the fragmented network of net-lease capital providers and growing the market by creating demand for net-lease solutions that meet the long-term real estate capital needs of these companies.
The following chart depicts the target market of STORE Properties, divided into three primary sectors and 14 sub-sectors.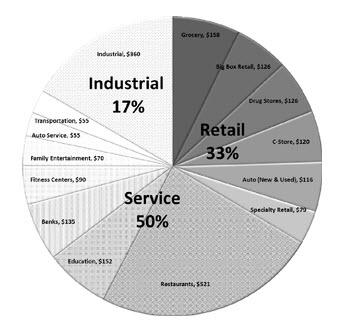 Within the 14 sub-sectors, the market for STORE Properties is further subdivided into a wide variety of industries within the service, retail and industrial sectors, such as: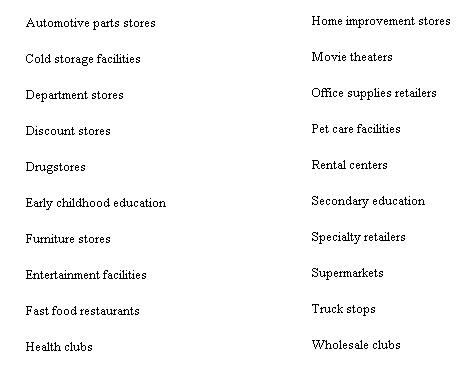 STORE's 767 property locations are operated by 190 customers. The following table details the ten largest customers as of June 30, 2014 (dollars in thousands):

STORE's customers operate their businesses across 170 concepts. The following table details those concepts as of June 30, 2014 (dollars in thousands):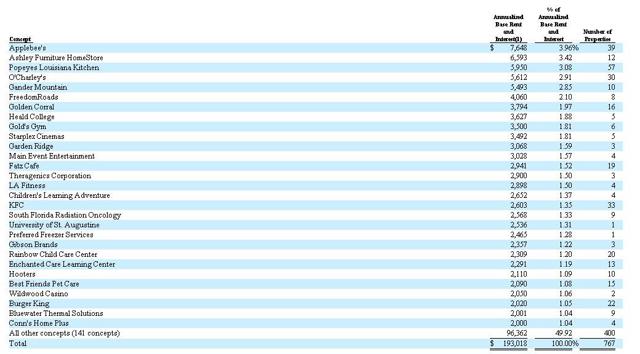 STORE's customers' business concepts are diversified across various industries within the service, retail and industrial sectors. The following table summarizes those industries as of June 30, 2014 (dollars in thousands):

It All Boils Down to the Contract
As explained above, STORE does not focus on investment-grade rated tenants that's just not their business model. To date, more than 75% of the company's investments (by dollar volume) have been originated by the internal origination team through direct customer relationships using a standard form financing documents.
By focusing on direct originations, STORE can offer custom-tailored financing solutions and greater certainty of execution that result in a higher lease rate. The result has been that, since founding (2011), STORE has realized average initial lease and loan rates measurably higher than those available in the broad broker, or auction, marketplace.
For example, STORE's weighted average net-lease capitalization rate (around 8.5%) exceeded the weighted average net-lease capitalization rate on leases of various national restaurant franchise concepts for each of the quarters shown in the table below. STORE's senior leadership team believes the difference in capitalization rate represents the value many of its restaurant customers paid for its custom-tailored financing solution and greater certainty of execution.

As I learned in the first day of business school, higher risk means higher returns. So while most of the Triple Net REIT peers have been moving down the credit curve, STORE has been moving up it. Naturally, that means that the returns are more robust…
But why would a new Triple Net REIT go against the herd and follow a risk profile that is seemingly more speculative than the rest? Think ARCP and Red Lobster?
STORE Capital: The Secret Sauce
STORE is an acronym that stands for Single-Tenant-Operational-Real-Estate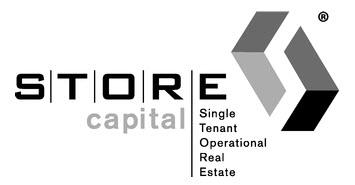 So the fact that this REIT invests in store-level profit centers is a key differentiator to understand. Unlike most other Triple-Net REITs that focus more on portfolios of larger, rated investment-grade tenants, STORE provides a unique platform with favorable risk-adjusted returns. Many key executives at STORE were previously affiliated with Franchise Finance Corporation of America and Spirit Finance Corporation (now Spirit Realty Capital, Inc.), or Spirit (NYSE:SRC) - both listed on the New York Stock Exchange until they were sold in 2001 and 2007, respectively.
Over the past 20 years, these executives have consistently made investments with average lease rates priced attractively relative to comparable 10-year U.S. Treasury yields. While lease rates have shown periodic sensitivity to Treasury yields, they have tended to be more predictable and less volatile. Over the past 10 years, lease rates have averaged between 8.0% and 9.0%; over that same period, the 10-year U.S. Treasury yield has varied significantly.
Despite the volatility of Treasury yields over the past 20 years, STORE's senior leadership team has been able to achieve lease spreads (representing the difference between lease rates and the 10-year U.S. Treasury yield) averaging in excess of 450 basis points, with an overall improvement in the spread over time.
The chart below depicts the average annual lease rate on new investments made at S|T|O|R|E since inception, and at FFCA and Spirit during the times when they were public companies, compared with the 10-year U.S. Treasury yield over the same period.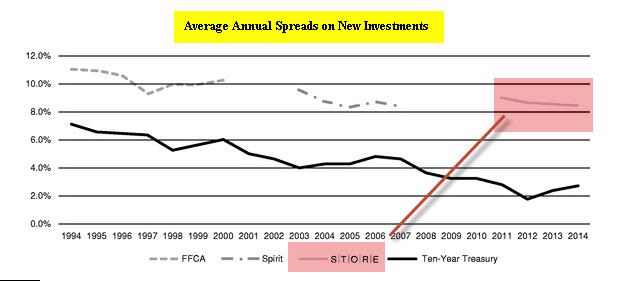 So what's the secret formula for STORE?
After digging through the 150+ page S-11 document today, I uncovered what I consider to be the "secret sauce" for the new STORE Capital REIT. Having invested in free-standing real estate for over 25 years, I needed to drill down and understand the reasoning behind the higher risk net lease offering.
On page 97 STORE has provided a Moody's Default Rating chart. This is a standard risk investment tool that provides probabilities for default (or insolvency) during a one year period. As part of STORE's investment processes, the company obtains default probabilities for most every prospective tenant. So as you can see below, there's an 8.35% probability that a B3-rated tenant could commit an act of default within the next 12 months.

Remember that lease contracts are different than debt contracts when it comes to bankruptcy. When most companies default in their debt obligations and seek bankruptcy protection, leases are handled in the court system differently.
In the event of tenant or company insolvency, the credit risk is that the landlord "takes back" a property due to rejection of the lease in bankruptcy. The profitability of the business operating on the property is typically the primary factor for a tenant in determining whether to keep a property operating or to vacate and turn over the premises (give back the keys).
With respect to a lease, STORE has created a proprietary model in which it estimates the probability of lease rejection based on the unit fixed charge coverage ratio (or Unit FCCR) at the property or properties leased by the customer/tenant. The Unit FCCR is the ratio of cash flow generated by a unit (after deducting an allocation for corporate overhead) to the aggregate of debt service and operating lease payments for such unit, which is a more conservative method of calculating Unit FCCR than a "four-wall" Unit FCCR calculation that does not factor in corporate overhead.
As of June 30, 2014, STORE's weighted average Unit FCCR was 2.91x, and the median Unit FCCR was 2.08x. The table below shows the estimated probabilities of lease rejection STORE has assigned to various ranges of Unit FCCR values:

The next step in the STORE risk assessment model is to quantify the probability of lease rejection of any lease in the portfolio by multiplying (I) the tenant's EDF percentage, which STORE refers to as Tenant Risk, by (ii) the estimate of the probability of lease rejection (based on the tenant's Unit FCCR).
The resultant percentage, which STORE refers to as Contract Risk, represents the assessment of the credit risk of the lease contract (or loan) with that tenant or company. STORE then maps the Contract Risk percentage to the implied credit rating on the Moody's Analytics RiskCalc rating scale to arrive at the STORE Score, which is the overall assessment of the long-term credit risk of the investment.
The following is an example of the calculation of the STORE Score for a lease on a property with a Unit FCCR between 1.5x and 2.0x where the tenant has a Moody's 1-year EDF percentage of 1.2%, which equates to a Moody's RiskCalc rating of Ba2:

In the example above, STORE's estimated credit risk, or STORE Score, is Baa2, which is determined by multiplying the Tenant Risk of 1.2% by the estimated lease rejection probability of 25%, resulting in a Contract Risk of 0.30% corresponding to a Baa2 implied credit rating.
STORE performs this analysis for each lease and loan in the portfolio. As the table below shows, the tenants-denoted by the light-colored (gray) bars-have a weighted average tenant credit profile (as measured by Moody's RiskCalc) of approximately Ba2, as of June 30, 2014.
However, the credit quality of the lease contracts - denoted by the dark (black) bars-is enhanced to a weighted average of Baa2 (as of June 30, 2014) based on the assessment of the likelihood of tenants choosing to continue to operate at properties in the event of their insolvency.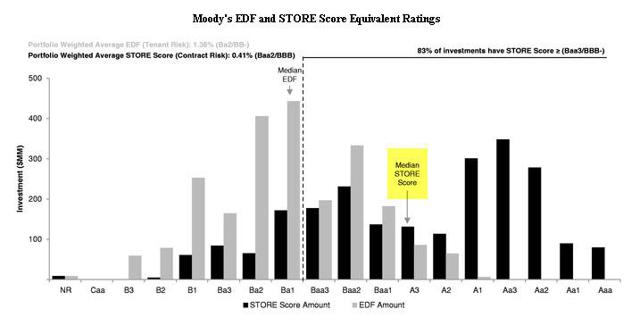 Now, take a look at the left side of the graph (above) and you can see that STORE's customized risk management tool indicates that the face value of the credit (gray bars) backing STORE's leases are B1 are below; however, when you consider the unit-level underwriting, the risk profile for the lease contracts are assigned a higher rating (lower default profile) with a higher score (black bars) on the right side of the chart (Baa3 or higher).
Take a real life example: ABC REIT can buy a Home Depot (rated A) or an Ashley Furniture Store (not rated) in the same parking lot. The Ashley deal can be purchased at a higher cap rate (lower cost) than the Home Depot and the Ashley lease has cross-defaults, a master lease, and requirements for unit-level sales numbers. Home Depot's lease is flat for 20 years with none of these lease terms.
What will Home Depot look like in 20 years? Will the credit rating be the same as it is today? How will the landlord prepare for uncertainty since the company doesn't provide unit-level sales?
Here's the point: STORE is more of bank than a REIT. The company underwrites its investments based more on contract risk than credit risk; other REITs don't offer the same unit-level analysis and risk management tools. Also, this is not a new company, STORE has a vetted management team with decades of experience in underwriting franchise-based credits. Here's a snapshot of the board of directors (5 seats are Oaktree executives):

STORE will likely list shares in 30 to 60 days. I will update you when the company discloses more details on pricing. I do consider unit-level sales to be a valuable tool for managing risk and the question that (potential) investors must ask is whether contract quality (STORE's platform) is important as tenant quality. In other words, do you want to invest in a REIT that "thinks like a banker" would or one who "thinks like an aggregator" would? As you ponder these alternatives, I'll leave you with these parting words from Howard Marks (his company Oaktree is an investor in STORE with over $1 billion invested in the company) in his book, The Most Important Thing:
When you boil it all down it's the investor's job to intelligently bear risk for profit. Doing it well is what separates the best from the rest.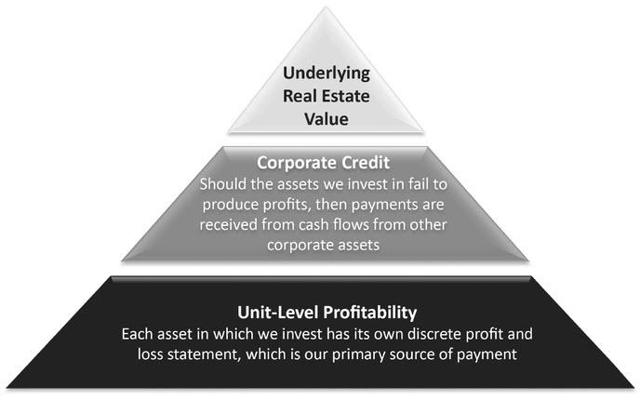 My REIT Newsletter: You can subscribe HERE.
Other REITs mentioned: (NYSE:EPR), (NYSE:GPT), (NYSE:NNN), (NYSE:WPC), (NYSE:ADC), (NYSE:LXP), (NYSE:CSG), (NYSE:OLP), (NYSE:GOV), (NYSE:STAG), and (NYSE:MNR).
Sources: SNL Financial and STORE S-11.
Disclaimer: This article is intended to provide information to interested parties. As I have no knowledge of individual investor circumstances, goals, and/or portfolio concentration or diversification, readers are expected to complete their own due diligence before purchasing any stocks mentioned or recommended.
Disclosure: The author is long O, DLR, VTR, HTA, STAG, UMH, CSG, GPT, ARCP, ROIC, HCN, OHI, LXP, KIM, WPC, DOC, UDF, EXR.
The author wrote this article themselves, and it expresses their own opinions. The author is not receiving compensation for it (other than from Seeking Alpha). The author has no business relationship with any company whose stock is mentioned in this article.