(Editor's Note: Investors should be mindful of the risks of transacting in illiquid securities such as HLLOF. Holloway's Canadian listing, HLC.TO, offers stronger liquidity.)
All currencies are in Canadian dollars
Holloway Lodging Corporation (OTC:HLLOF) is an idea that was suggested by a reader. Unlike my other investment in the hospitality space Sotherly Hotels (NASDAQ:SOHO), which runs urban upscale hotels; Holloway is "focused on owning and operating select and limited service hotels in secondary, tertiary and suburban markets".
At the current price of ~$5, shares are arguably undervalued on current earnings (7.5x trailing AFFO) and investors are effectively getting free options on future growth and cost reductions at Royal Host. And I will show that even modest top line and margin growth can lead to significant upside in future NAV.
Royal Host Acquisition
The core of the investment thesis centers around the Royal Host acquisition that Holloway just completed. The deal was done at an implied 10.8% cap rate. In addition, the company also received an attractive Travelodge franchise business as well as development assets.
After the acquisition the portfolio consists of the following brands: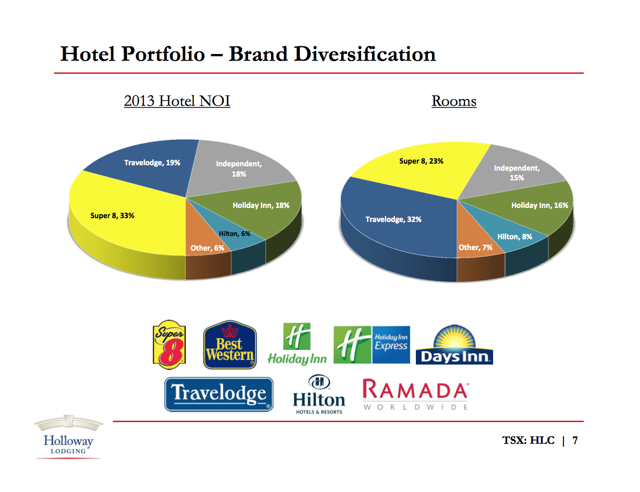 Royal Host also added corporate markets near Toronto and Ottawa to Holloway's portfolio, which was predominantly in O&G and forestry markets in B.C. and Alberta. Post acquisition, Alberta, Ontario and B.C. accounts for 41%, 29%, and 11% of 2013 NOI respectively. Overall, Royal Host seems to be quite complementary to Holloway's portfolio.
Royal Host Improvements
In 2013, Royal Host's hotel EBITDA margin was 21% compared to 36% at Holloway. Commenting on the integration of Royal Host, the company states in the Q2 MDA that: "We believe there are many operational improvements that can be made at our hotels, including supplier consolidation, energy efficiencies, property tax reductions, labour productivity improvements and general margin enhancement." If Holloway can narrow the gap by half to around 28% - 29%, this should add around $5 million to NOI going forward.
The improvement should be quite achievable considering:
Royal Host's EBITDA margin is ALREADY at 31.5% and 24.1% in Q2 and H1 respectively (this is before the acquisition and any synergies).
Elimination of public company costs alone should save $1 million.
Valuation
Even without Royal Host, Holloway has steadily increased its FFO and AFFO: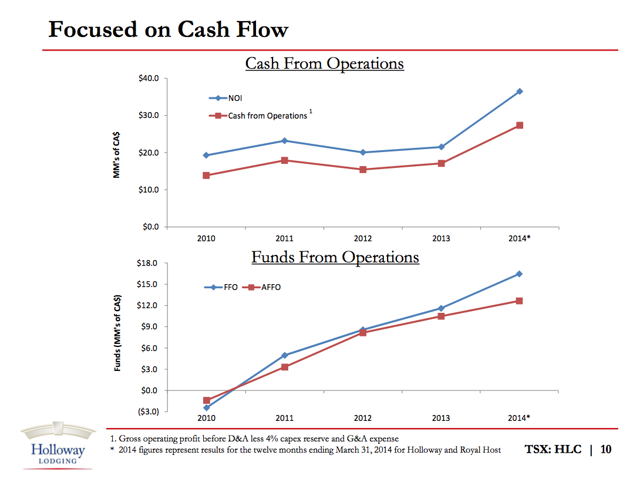 Going forward, my assumption for organic NOI growth is only 5.9% over 2 years. Management believes RevPAR in Canada should grow 4.1% in 2014 with demand growth of 2.2% outstripping supply growth of 1.1%. So far in the first half, Holloway has grown in line with the industry. Keep in mind, hospitality is a fixed cost industry where top line growth should lead to large incremental NOI margins.
To add everything up, here's my forward looking model:
| | |
| --- | --- |
| 2015E NAV | ($ in millions) |
| PF 2013 NOI: | $34 |
| + Organic growth: | $2 |
| + Travelodge royalties: | $2 |
| + Royal Host efficiencies: | $5 |
| 2015E NOI: | $43 |
| EV at 10% cap rate: | $430 |
| (- Net debt): | ($253) |
| + FCF: | $7 |
| NAV: | $184 |
| NAV per share: | $9.4 |
Note: the 10% cap rate compares to average 2013 cap rate of 9.5% in the limited-service segment according to Colliers (source)
Board and Management
The current management/board came after a proxy battle when Holloway was still a REIT. (A short article about it here). Right now, Clarke Inc., one of activist George Armoyan's investment vehicles, holds a 31% equity interest in Holloway as well as investments in convertible debentures.
Since the change, Holloway has markedly improved its FFO/AFFO as shown above. Management appears to be adept at enhancing NAV by recycling capital. For example, the company recently sold a hotel at 7.6% cap rate and bought another for 11% at the same price.
Returning capital to shareholders is also a top priority at Holloway. During 2013, recognizing that the shares were undervalued, the company opportunistically repurchased 681,600 shares at $3.55/share, totaling $2.5 million (rounding issue? the math doesn't quite add up). Given the track record, I am confident that the company will continue to allocate capital in a manner that maximizes shareholder return.
Risks
Exposure to oil and gas activity in Western Canada
Conflicts of interest: Armoyan's interest may lie first with Geosam Capital (his private investment vehicle) or Clarke before Holloway. Royal Host is in fact another one of his investments. While minority shareholders are at the mercy of insiders, there could be benefits as well. In the case of Royal Host/Holloway, the acquisition makes a lot of sense for both companies and shareholders clearly benefited from the sourcing capabilities of Geosam/Clarke/Armoyan.
Leverage
Conclusion
The investment case is pretty straight forward here. You have favorable industry tailwind, cost reduction opportunities, smart management, and cheap valuation. Usually that is a good recipe for capital appreciation.
Disclosure: The author is long HLLOF.
The author wrote this article themselves, and it expresses their own opinions. The author is not receiving compensation for it (other than from Seeking Alpha). The author has no business relationship with any company whose stock is mentioned in this article.
Additional disclosure: I purchased HLC on the TSX