By Thom Lachenmann
When I think about pair trades, sometimes life just hands them to you. Often when we prepare pair trades, we usually try and find two equities that are somewhat inverse, with one using the other as a hedge. In this case, we think we have a perfect pair trade for two companies that have partnered, but would otherwise be fine in and of themselves and without each other.
American Express (NYSE:AXP) and Apple (NASDAQ:AAPL) are companies with very similar styles. They're both arguably the best and most exclusive with what they do, they're both extremely well-respected, they both have stocks that have outperformed, and they're both prestigious names. Often when I compare Apple to other brands in other sectors, I think about upper scale names like Audi (cars), Coach (retail), and Cannondale (bikes).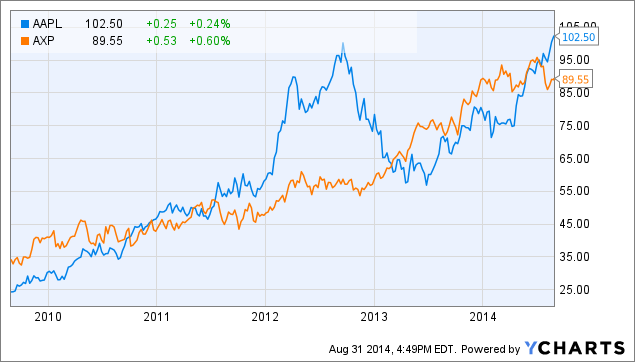 So, it comes as no surprise to us that American Express would be one of the choices of credit card companies that Apple would seek out for help developing its mobile payments system. Re/code was the first to cite that the two companies would be working together on such a platform.
How is Apple's mobile payment platform going to work and monetize itself? Read Kyle Spencer's fantastic article out on Sunday for the skinny.
Apple has had the means to create a mobile wallet for a while now, with plenty of stored names and credit card information as a result of the enormously successful iTunes store.
It's said that mobile payments are going to be one of the major features revealed in the upcoming Apple event on September 9th. We've previously written that we would never try and stand in Apple's way and go short leading up to an event like there, where we feel the company is likely going to impress both Wall Street and Main Street.
There have also been reports of Visa and MasterCard working with Apple. Although the deal isn't exclusive to American Express, we like the fact that Apple has brought them on board.
We find it amazing the similarities we find behind how the market looks at both of these stocks. It's as if they're kindred spirits.
Both companies trade with relatively low beta, both can be considered "semi-defensive" stocks as we head into a shaky geopolitical climate.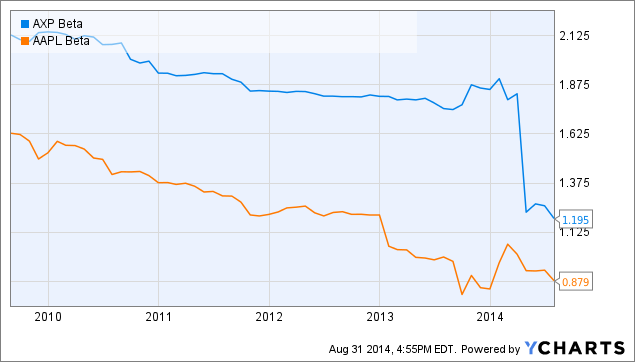 The market also values these companies in a similar fashion. Both at around 17x ttm P/E means the markets have not been shy about applying a multiple that's indicative of coming growth.
Even with the market due for a correction (as we believe), these are two stocks that we believe to still be good buys at these levels. If this mobile wallet finds success, a 20x ttm P/E shouldn't be out of the question for either company. It could result in a whole new monetization stream for Apple and expose new customers to American Express.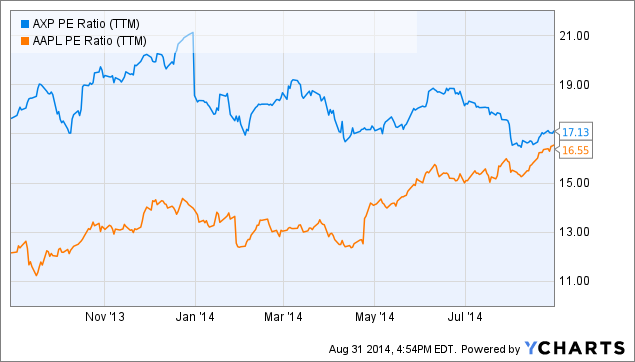 AXP PE Ratio (TTM) data by YCharts
Just as Apple is our preferred technology company to invest in, American Express would be our staple in the credit card field.
We believe that Apple is pioneering something here too. It's only a matter of time before the whole world switches to digital wallets. Facebook (NASDAQ:FB) has been said to have been working on it for the past couple of quarters. Google (NASDAQ:GOOG) is working on it, as well. Anyone that has waited on line at a Starbucks (NASDAQ:SBUX) in Manhattan knows that a lot of customers have switched to having their Starbucks cards on their phones. Some people even scan their phone themselves when the time to pay approached.
We like that Apple looks like it'll be one of the first to implement this, and we like its partnership with American Express. This is the direction we're heading in, and Apple and American Express are on the forefront. We like both names here.
Disclosure: The author has no positions in any stocks mentioned, and no plans to initiate any positions within the next 72 hours.
The author wrote this article themselves, and it expresses their own opinions. The author is not receiving compensation for it (other than from Seeking Alpha). The author has no business relationship with any company whose stock is mentioned in this article.