European shares were surging this morning after Ukrainian President Petro Poroshenko announced that he had reached a ceasefire agreement with Russian President Vladimir Putin. The news sounded questionable to us as Putin had until then denied Russia having any involvement with the events in Ukraine. Our first thought was to question how one can reach a ceasefire agreement with someone that allegedly has no military presence within their borders or has taken part in any military intervention. Apparently, this was how Mr. Putin felt and he came out and denied news of the ceasefire, causing investors to pause somewhat.
This week we would focus less upon potential news such as this ceasefire and instead pay attention to economic data points due out and the ECB meeting on Thursday.
Chart of the Day:
Chinese equities have continued to show strength after building a base above the 2,200 point level on the Shanghai Composite. The focus now is upon the two-year highs and whether a move through the 2,450 level can be sustained long-term.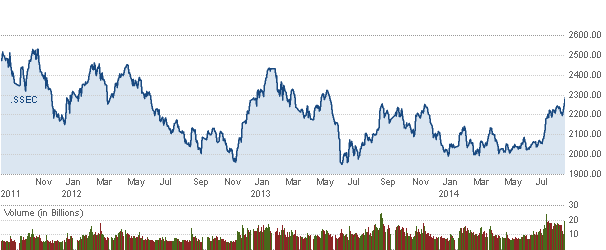 Source: CNBC
We have economic news today, and it is as follows:
MBA Mortgage Index (7:00 a.m. EST): Est.: N/A Act.: 0.2%
Factory Orders (10:00 a.m. EST): Est.: 11.0%
Fed's Beige Book (2:00 p.m. EST): Est.: N/A
Auto Sales (2:00 p.m. EST): Est.: N/A
Truck Sales (2:00 p.m. EST): Est.: N/A
The Asian markets are mostly higher today:
All Ordinaries - down 0.04%
Shanghai Composite - up 1.00%
Nikkei 225 - up 0.38%
NZSE 50 - up 0.05%
Seoul Composite - down 0.02%
In Europe, the markets are higher this morning:
CAC 40 - up 1.04%
DAX - up 1.19%
FTSE 100 - up 0.76%
OSE - up 0.78%
Investors Focus On Data Breaches
While most of the attention yesterday, in regards to the data breaches, was focused upon the celebrity community and the leaks of certain photos from Apple (NASDAQ:AAPL) accounts, investors may have missed the bigger news from Home Depot (NYSE:HD). The home improvement chain reported yesterday that they were investigating suspicious activity and there is talk that the scale of this possible data breach could rival, or exceed, that of Target (NYSE:TGT). Readers will remember that Target's breach affected over 40 million accounts and cost the retailer $20 million above and beyond what their insurance policy covered.
While we generally place little faith in rumors, the early reports of a large scale breach at Home Depot appear to be coming from solid industry sources which are citing large banks discussing the scale of suspicious activity on their own customer accounts. If this does happen to exceed the size of the Target breach, then Home Depot shareholders should expect multi-million dollar charges, lost sales and damage to the brand moving forward. That is what happened to Target, and we see little reason to believe that consumers will react any differently towards Home Depot, even if commercial clients make up a large portion of business.
Investors rang the register on Home Depot shares a bit yesterday, but with large gains recently and this data breach now hanging over shares, we have to wonder how far this one could retreat if investors are faced with a data breach on the scale of Target's.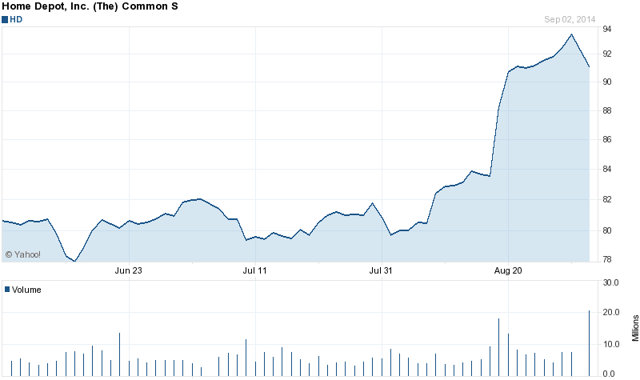 Source: Yahoo Finance
Not Buying Security Firms Just Yet
There is an awful lot of attention and coverage focused on what could have been done to better protect the personal Apple IDs, passwords and account data from hackers. In our view, those who saw their accounts hacked were negligent as there are numerous security products out there which enable accounts to be encrypted or generate codes/passwords to be sent to a personal device that ensures a second level of security. Symantec (NASDAQ:SYMC) has a product for this that we have used, Symantec Validation & ID Protection for VIP Access. Investors did not get excited about Symantec's stock, but two other companies did get rewarded.
Both Palo Alto Networks (NYSE:PANW) and FireEye (NASDAQ:FEYE) were strong during trading Tuesday, as investors flocked to security firms that help companies protect their systems from hackers while also identifying breaches early on. We would be quite weary of these firms if the only breach had been the targeted hacks Apple experienced, but with the potential for a large scale data breach at Home Depot, we are only comfortable going neutral at this time.
Disclosure: The author has no positions in any stocks mentioned, and no plans to initiate any positions within the next 72 hours.
The author wrote this article themselves, and it expresses their own opinions. The author is not receiving compensation for it (other than from Seeking Alpha). The author has no business relationship with any company whose stock is mentioned in this article.