Overview:
Investing in defined term closed end funds while they are trading at a discount can be very rewarding. A defined term fund has a targeted date for liquidation. The pending liquidation is a known catalyst that will help close the discount to NAV as the liquidation date nears. When a defined term fund invests in an attractive area of the market there are real opportunities to profit over time. The Nuveen Preferred and Income Term Fund (NYSE:JPI) caught my attention while I was writing an article reviewing preferred stock closed end funds. JPI is a 12-year term closed end fund that invests in preferred stocks. JPI was launched 7/26/2012. Due to its term nature JPI intends to liquidate its portfolio and distribute its net assets to shareholders on or before 8/31/2024.
JPI invests in a portfolio of preferred stocks. Preferred stocks offer an attractive pick up in income above treasuries but investors have been avoiding them due to concerns over higher interest rates. Many preferred stocks are either perpetual or have very long dated maturities increasing the principal risk if interest rates rise. This perceived risk has caused many preferred stock CEFs to trade at wide discounts to NAV. Currently JPI offers an 8.09% distribution, paid monthly, and trades at an 8.51% discount. The term nature of the fund will provide a catalyst to close the discount over time. This catalyst combined with the wide discount and high distribution makes JPI an attractive investment.
Key Investment Highlights:
12-Year Term Fund Trading at a Discount to NAV: JPI closed 8/29/2014 trading at an 8.51% discount. The current discount is slightly wider than its 52-week average discount of 8.41%. JPI is a 12-year term fund and intends to liquidate and distribute its then current assets to shareholders on or before 8/31/2024. The term nature of the fund is a catalyst for the fund's discount to narrow over time as the liquidation date approaches. The narrowing discount will drive market price appreciation for JPI if underlying asset values hold steady.
High Current Distribution: JPI reduced its distribution earlier this year but still offers an 8.09% distribution. Based on the most recent report the new distribution is well covered by investment income and JPI has $0.0897 of UNII. The new distribution looks sustainable and extra income and capital gains could be paid out at the end of the year.
Credit Quality: The fund's portfolio is expected to invest at least 60% of assets in investment grade rated securities. The fund is allowed to hold securities below investment grade but the average rating should be investment quality.
Key Investment Risks:
Concentration in Financial Sector: JPI targets investments in the financial sector and currently holds 96% of its portfolio in financials. Financial institutions have improved their balance sheets and regulators have increased capital requirements reducing some of the risk. However, if there is another banking crisis, this amount of exposure to financial institutions would be a major concern.
Default Risk: 36% of JPI's holdings are rated below investment grade or unrated. These securities have a higher risk of default and loss of principal. Another factor that increases the risk is preferred stock's position in the capital structure behind bonds. If a company were to default, bond holders would have to be paid before preferred stock holders would recover their principal.
Interest Rate Risk: JPI's portfolio has a leverage adjusted effective duration of 6.10. The duration is fairly high for investors concerned about rising interest rates. However, based on the most recent quarterly commentary, management is watching the duration closely. Management will act to lower the fund's effective duration if rising interest rates becomes a concern for them. If interest rates increase substantially, before management is able to adjust the portfolio, it could have a meaningful negative effect on the portfolio's value.
Key Portfolio Metrics:
Premium/Discount: -8.51%
Z-Statistic -0.09
Market Distribution Rate: 8.09%
Current Monthly Distribution: $0.1580
Average Earnings/Share: $0.1680
Average Earnings/Distribution: 106.3%
UNII Per Share: $0.0897
Effective Leverage: 27.93%
Leverage Adjusted Effective Duration:6.10
Performance:
Using ETFs with a similar investment objective can give a good comparison to evaluate management's performance. JPI's short history makes it difficult to evaluate performance. The iShares US Preferred Stock ETF (NYSEARCA:PFF) looks like the most used ETF to add preferred stocks to a portfolio and offers an appropriate performance hurdle. JPI has shown performance in-line with PFF during 2014 and has outperformed the 1 year time frame. The narrow performance gap is a little concerning because JPI is able to leverage the portfolio while PFF is not. JPI has underperformed when leverage is taken into account. Performance should be watched closely as continued underperformance by management could negate the benefit of the discount closing.

Data as of 8/31/2014 Source: Morningstar
Premium/Discount: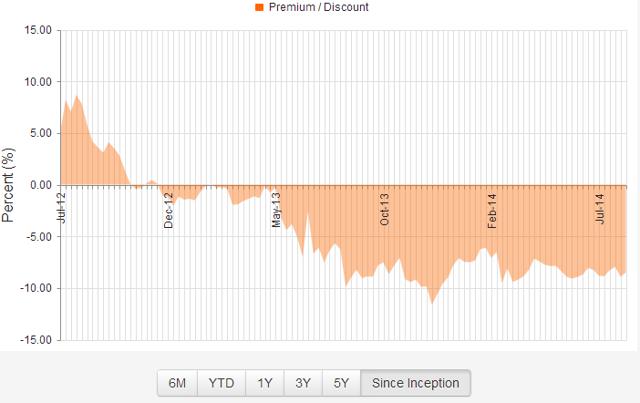 Source: CEFConnect
The fund closed 8/28/2014 at an 8.51% discount to the NAV, or underlying value of the portfolio. This is below the 52-week average discount of 8.41%. The discount started widening in May of 2013 when concerns about fed tapering and higher interest rates entered the market. Continued concerns about interest rates as well as the lack of strong performance likely continue to contribute to the discount. The term nature, high yield, and investment grade portfolio should help the discount narrow over time. Stronger investment performance would also help narrow the discount.
Expense Ratio:
JPI has both a tiered fund-level fee for the fund itself and a tiered complex-level fee paid to the investment advisor based on daily managed assets of all Nuveen Funds. As of 1/31/2014, the complex-level fee was 0.1679%. The annual expense ratio for JPI as of 7/31/2014 was 1.73%. The expense ratio is made of 1.20% in management fees, 0.09% in other expenses, and 0.44% in interest expense from leverage. It is important to note that exposure to preferred stocks isn't cheap with ETFs charging close to 0.50% for passive exposure to preferred shares.
Distribution:
JPI pays a monthly distribution of $0.1580/share. This equates to an annual distribution yield of 8.09% based on current market prices. The distribution is 7.40% based on NAV. The fund is over earning its distribution and has $0.0897 of UNII/share indicating the distribution should be sustainable.
Leverage:
JPI employs leverage through a $250 million credit facility from BNP Paribas. The borrowing rate for the facility was 1-month LIBOR plus 0.85%. The facility also has a 0.50% commitment fee for the unused portion of the facility. For the six months ended 1/31/2014 the cost of leverage was 1.07%. As of 7/31/2014 the fund was 27.93% levered. The use of leverage can increase the volatility of the portfolio.
Liquidity:
JPI is a medium sized CEF with $808 million in managed assets. Trading volume is moderate with 75,000 shares traded on average. This represents $1.7 million in daily volume at current prices. This is moderate liquidity for a CEF but should allow individual investors to fill orders without problems. It is always wise to use limit orders to purchase or sell shares of closed-end funds, as the bid/ask spread can be wide.
Management:
JPI is managed by Nuveen Asset Management. Nuveen is a major player in closed end fund products. Nuveen manages several preferred stock CEF funds.
Portfolio:
Geographic Allocation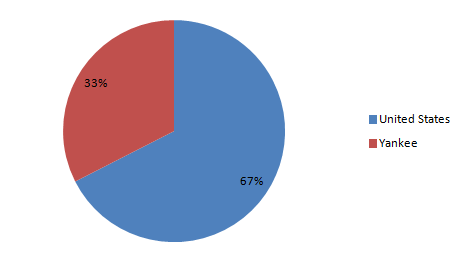 Source: Nuveen as of 7/31/2014
JPI is mostly invested in United States based firms. The rest of the assets are dollar denominated preferred stocks from other companies around the globe, also known as Yankee assets. The international investments are important as interest rate cycles in other countries appear to be different than the US interest rate cycle. This could provide some protection if rates in the United States begin to rise.
Sector Allocation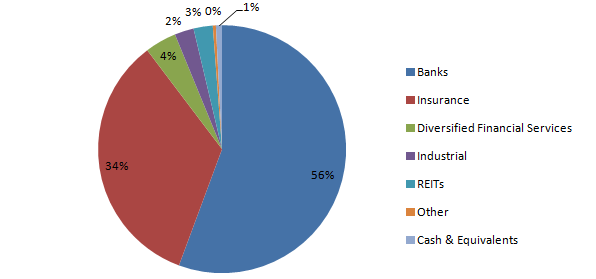 Source: Nuveen as of 7/31/2014
A vast majority of JPI's preferred stocks are issued by banks and other financial institutions. Nuveen likely used a term structure fund to invest in financial preferred stocks due to a perceived opportunity at the time of launch that would likely close over time. Financial sector securities trade at wider spreads than many other sectors. Financial companies are also among the largest users of preferred stocks in public markets. The financial exposure is an area to monitor closely as a financial collapse like 2008 would devastate the portfolio. However, financial institutions seem to be in much better shape today. Companies do not want to relive the crisis and regulators have required higher capital levels. These constraints should help limit risk going forward.
Credit Ratings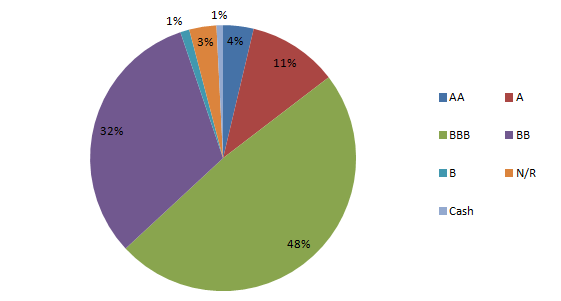 Source: Nuveen as of 7/31/2014
The majority of the portfolio is invested in investment grade securities. The investment grade portfolio should provide some security if the economy stumbles.
Top 10 Issuers
Source: Nuveen as of 7/31/2014
JPI has a diversified portfolio with 99 total securities. However, there are several securities that are related to the same issuer reducing some of the diversification. The top ten issuers represent 38.1% of the portfolio. Turnover has been moderate with a 21% turnover as of 1/31/2014. 2013 was the highest turnover year in the portfolio with 57% turnover.
Strategy:
JPI's investment objective is to provide a high current income and total return. The fund will invest at least 80% of the portfolio in preferred and other income producing securities. JPI may invest 40% of the portfolio in securities rated below investment grade but at least 60% of assets are to be investment grade quality. JPI targets securities issued by companies in the financial sector. Up to 40% of securities can be issued by non U.S. domiciled companies but all investments will be denominated in U.S. dollars.
Tax Issues:
As of January 31, 2014, the fund had 13,164,558 of unrealized gains on the portfolio. The fund had no tax loss carry forwards to offset these gains. Approximately 50% of JPI's 2013 distributions were qualified dividend income, which could offer lower tax rates for high income taxable investors.
Conclusion:
Preferred stocks have been out of favor due to the perception that they have higher interest rate risk. JPI's discount started widening when preferred stocks and other income producing securities were losing value due to QE taper talks. The fact that JPI cut its distribution at the beginning of 2014 hasn't helped the discount, which has remained wide. However, JIP has a defined term structure, which will provide a catalyst for the discount to narrow. The investment case is bolstered by the investment grade portfolio and the 8.09% distribution, which appears well covered. JPI's current discount of 8.51% appears to offer an attractive opportunity to purchase shares.
Disclosure: The author has no positions in any stocks mentioned, and no plans to initiate any positions within the next 72 hours.
The author wrote this article themselves, and it expresses their own opinions. The author is not receiving compensation for it (other than from Seeking Alpha). The author has no business relationship with any company whose stock is mentioned in this article.