On January 10, 2011 we sat down with Glenn Oclassen, CEO and Tom Soloway, CFO, for an update on the current business plans at Transcept Pharmaceuticals (TSPT). Management reiterated its previous guidance that the re-filing of the Intermezzo NDA will take place in the first quarter 2011. We are tentatively modeling the re-file in February, which would put potential FDA action based on a class-2 response in August 2011. The proposed indication for approval will be:
Intermezzo is indicated for use as needed for the treatment of insomnia when a middle of the night awakening is followed by difficulty returning to sleep.
Approval in August 2011 will result in a $6 million milestone from Purdue Pharma. Approval will also finalize the IP transfer to Purdue, resulting in an additional $10 million milestone payment. We've accounted for a total of $16 million in milestones in the third quarter 2011. Transcept will receive a double-digit royalty up to mid 20% on net sales in the U.S. There is an additional $80 million in sale-related milestones that Transcept can earn during commercialization. Transcept also has a co-promotion option where the company can earn an additional double digit royalty on sales into the psychiatric market. The option to co-promote Intermezzo becomes available on the first anniversary after the primary care launch by Purdue. We fully expect Transcept to exercise this option in August / September 2012.
Driving Study Confirms Safety
In October 2010, Transcept released results from its highway driving study. The study was a double-blind, randomized, placebo-controlled, four-way crossover study of 40 healthy volunteers designed to evaluate the safety profile of Intermezzo with regard to next morning driving. The study evaluated standard deviation of lateral position (SDLP) in a highway driving lane, a surrogate measure for driving performance. Subjects drove an automobile 100 km, or 62 miles, on a public highway under normal traffic conditions for approximately one hour. This took place at the Maastricht University in The Netherlands, a leading center of research on the effects of drugs and alcohol on driving performance.
Subjects performed test drives on a placebo, 7.5mg zopiclone as a positive control taken at bedtime 9 hours before driving, on a 3.5mg of Intermezzo taken 3 hours before driving, and then 3.5 mg Intermezzo taken 4 hours before driving. The 4 hours post dose is the proposed label for the commercial product. Management included data from patients at 3 hours post-dose to characterize the risk profile of Intermezzo, and provide both physicians and patients with important safety information regarding next day driving ability. Below is a graphical representation of the data comparing Transcept's driving study to positive controls and other approved hypnotic drugs known to cause next-day residual driving issues:
Click to enlarge: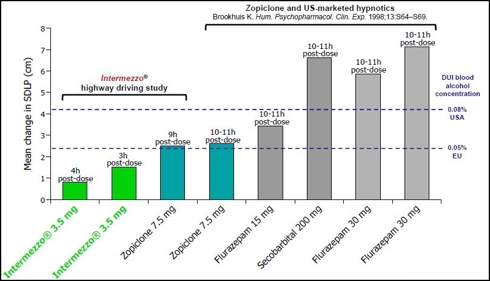 Based on a review of the published literature, an SDLP change of 2.5 cm was specified in the protocol as the primary threshold of impairment for the purpose of performing the statistical analyses. For reference, a 0.05% blood alcohol concentration has been associated with a change in SDLP of 2.4 cm, and a blood level of 0.08% has been associated with a mean change in SDLP of 4.2 cm (Brookhuis, Human Psychopharmacology: Clinical and Experimental, Vol. 13, 1998).
Our Conclusion: In a practical sense, 3.5mg Intermezzo at 4 hours post dose behaved statistically non-inferior to the placebo, and was statistically superior to 7.5mg zopiclone. The significant effects of other approved medications such as zopiclone, flurazepam, and secobarbital are clearly evident in these types of studies.
We believe Transcept has run a well-designed trial that answers the key question addressed by the U.S. FDA in the complete response letter from October 2009, in reference to next day driving ability. Further analysis of the highway driving study will be presented and/or published most likely following FDA action. However, based on these preliminary results, we are confident in Intermezzo's safety when used on the label.
We note that in past approvals for CNS-active drugs, including hypnotics, opiates, anxiolytics, antidepressants and antihistamines, the FDA has acknowledged potential effects on driving and typically agreed to labeling language that relies upon a patient's self-assessment of how they react to a particular drug and their ability to drive safely.
Additional Concerns Previously Addressed
The complete response letter received in October 2009 addresses two additional concerns: The first involved inadvertent re-dosing in a single night, where a patient might awaken, take a dose of Intermezzo to help them return to sleep, and then reawaken later in the night and re-dose, having forgotten that they took the first dose. The second concern involved inadvertent dosing error, e.g. dosing with less than four hours of bedtime remaining.
To address the re-dosing or inadvertent dosing issue, management has proposed to the U.S. FDA that the company employ a bedside unit-dose packaging system that includes large well-defined instructions for use. Below is a depiction of the new prototype packaging for Intermezzo.
Click to enlarge: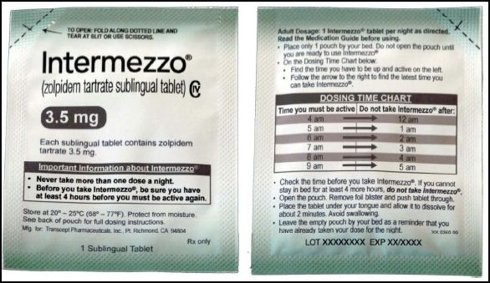 Patients will be instructed to keep their box of 30 pouches in the medicine cabinet, but at night, prior to bedtime, place a single pouch by their bedside. If they need Intermezzo in the middle of the night, they tear open the pouch, take a dose and leave the emptied pouch by their bed. The used package then serves as a strong reminder to patients, if they should reawaken, that they have already taken their medication. The package also includes clear dosing instructions that advises the patient on when it is safe to take Intermezzo, based on the time they plan to be awake and active.
Management has discussed this revised packaging strategy with the FDA and we believe all signs point to decrease concerns about the risk of inadvertently re-dosing or misdosing Intermezzo. On an interesting side note, inadvertent double-dosing never occurred during the 82-patient phase III clinical trial.
Intermezzo Looks To Fill A Much Needed Void
Insomnia remains a significant problem in the U.S. and Europe, and as such, there exists an attractive market opportunity for the launch of a new pharmaceutical product with differentiating characteristics. We estimate that nearly 70 million American adults (35% prevalence rate) are affected by some form of insomnia or sleep disorder. This can be characterized as difficulty falling asleep, waking frequently during the night and not being able to return to sleep, waking up not feeling refreshed, or a combination of all three.
Approximately a third of insomnia patients report nocturnal awakenings with difficulty returning to sleep. In greater than 75% of these patients, there is no observed difficulty in falling asleep. Thus, existing medications that offer only sleep onset claims do little to solve the problem. Research shows that 35% of the general population reports awakening at least 3 nights per week.
We see a significant void in the insomnia market for that 35% of the adult population that suffer from nocturnal awakenings. In fact, according to the Stanford Sleep Epidemiology Research Center, only around 11% of these patients seek physician consultation about their insomnia. Perhaps this is due to the lack of effective treatment options.
Ambien and Lunesta are recommended for use only when the patient can devote 7 to 8 hours to sleep. The current labels preclude middle-of-the-night (MOTN) dosing. Despite this, epidemiology studies show significant off-label use of these drugs as MOTN therapeutics. Market research shows that physicians are even prescribing and recommending Ambien and Lunesta for this potentially dangerous use. We view the approval of Intermezzo as an excellent opportunity for the FDA to offer physicians an approved and safer alternative.
We think this presents a meaningful opportunity for Transcept and its commercialization partner, Purdue Pharma. From a sales standpoint, we think peak U.S. sales are around $500 million. We arrive at this figure as follows:
225 million adult Americans…35% with nocturnal awakenings…75% without onset issues…

11% currently seek Rx…10% eventually turn into Intermezzo users…

Intermezzo costs $5 per pill, with average 3 pills per week…

225 million * 35% * 75% * 11% * 10% * 150 pills/year * $5 per pill ~ $500 million
By 2014, we think Intermezzo can capture about 1/2 of this peak sales opportunity. Upside to this $500 million peak U.S. sales figure could come from increasing any of the above components, with the most likely being penetration and market share. Heavy marketing and promotion by Purdue in the primary care market should help expand the 11% that currently seek Rx help for nocturnal awakenings upwards to 15%, or greater closure on turning these Rx seekers into actual users of Intermezzo.
Purdue has commercial rights to Intermezzo in the U.S. only, with the right to negotiate for commercial rights in Mexico and Canada. We think the European market is probably about similar in size in terms of prescriptions of the U.S. market; however, pricing in Europe is only 15% to 20% of U.S. pricing. We expect an Ex-N.A. partnership for Intermezzo following U.S. approval.
Setrodon Phase II To Start Soon
Transcept is currently preparing to start a phase II trial with Setrodon, an ultra low-dose ondansetron for potential use as an adjunctive therapy in adult patients with treatment-resistant obsessive compulsive disorder (TR-OCD). Ondansetron, a 5-HT3 antagonist, was approved in January 1991 under the brand name Zofran at GlaxoSmithKline (NYSE:GSK) for the treatment and prevention of chemotherapy-induced nausea and vomiting. It is now available as a generic. Similar to SSRIs, ondansetron affects serotonin pathways and may enhance SSRI effects on OCD symptoms. The drug also reduces dopaminergic activity, similar to atypical antipsychotics, and may inhibit repetitive behavior by down-regulating dopamine.
TR-OCD is an area where there are no FDA-approved treatment options for patients. OCD affects about 1% to 2% of the U.S. adult population. Only about half seek treatment. First-line therapy for OCD includes treatment with selective serotonin reuptake inhibitors (SSRI), including Prozac, Luvox, Paxil, or Zoloft. Unfortunately, 40% to 60% of patients will fail this within the first few months. When a patient fails first-line SSRI therapy, psychiatrists often look to augment therapy with off-label atypical antipsychotics. This is a rather poor option. Nearly 70% show no improvement signs with atypicals. In fact, most only see added adverse side-effects, including weight gain and metabolic disorder commonly associated with these drugs.
Transcept has conducted pilot studies characterizing the potential of low-dose ondansetron in TR-OCD. Results show that patients resistant to multiple treatments improved when ondansetron was added. Ondansetron augmentation in SSRI treatment-resistant patients produced clinically meaningful improvement in OCD symptoms. Ondansetron improved the symptoms in >50% of patients who responded poorly to SSRI treatment.
Transcept will follow a 505(b)(2) pathway for Setrodon, relying on the substantial preclinical safety data on Zofran by GlaxoSmithKline. Typical doses of Zofran for CINV are 16mg to 24mg per day. The doses that Transcept plans to test in the double-blind, placebo-control phase II program will be 0.5mg BID and 0.75mg BID. The trial will seek to enroll up to 150 patients at 20 sites around the U.S. We estimate the program will take 9 months to enroll because management will institute rigorous entry criteria to confirm the subjects are indeed treatment-resistant. Thus, we are not expecting data until the second half of 2012. The program should cost around $10 million all-in.
Commercializing Setrodon presents an attractive opportunity to leverage the co-promotional agreement with Purdue pharma on Intermezzo to psychiatrist. We estimate there are roughly 1 million TR-OCD patients in the U.S. Even if only 50% seek treatment, the potential market opportunity to Transcept, assuming $5 per pill, is enormous:
225 million adult Americans…1.5% with OCD…

50% actively failing first-line SSRI…50% will seek physician Rx help…

25% market share for Setrodon…Setrodon costs $5 per day, taken daily…

225 million * 1.5% * 50% * 50% * 25% * 365 pills/year * $5 per pill ~ $400 million
By 2014, Transcept could be promoting both Intermezzo and Setrodon, with a relatively small specialty field force, directly into the psychiatry market. In our view, this is exactly the kind of leverage small biotech companies would love to take advantage of. It presents management with an opportunity to further expand the psychiatry pipeline in 2013 or beyond.

Stock Undervalued
We are maintaining our positive rating on Transcept Pharma. The stock is now trading with a market capitalization of $122 million. Over the past two months investors are clearly becoming more comfortable with the NDA resubmission and the approvability of Intermezzo. The stock is up 50% from the lows in early November 2010, since the company has completed the driving study in October 2010.
Cash on the balance sheet stood at $74 million at the end of September 2010. The company should still hold cash over $70 million when they report full year 2010 results. With the potential for an additional $16 million coming from Purdue in the third quarter 2011, Transcept's financial position remains very strong.
Our rating is Outperform with a $12 price target.

Disclosure: I have no positions in any stocks mentioned, and no plans to initiate any positions within the next 72 hours.

Additional disclosure: This is a summary of our full research report published on January 13, 2011.