For the very first time in more than 75 years, Mexico will allow private investment in the oil industry. President Enrique Peña Nieto has convinced the congress to finally approve an energy reform that opens Mexico's oil sector to both domestic and foreign private capital. This is big news, and it's generating a lot of interest. The fact that the Mexican side of the Gulf of Mexico is one of the largest unexplored petroleum areas on the planet is not a minor thing, and could complement the growth in production that is already occurring in the U.S. and Canada. According to Exxon Mobil (NYSE:XOM) experts, in only two years, North American oil production could be ahead of every OPEC member except Saudi Arabia.
A bit of history
In 1938, the Mexican Government decided to expropriate all assets of almost every foreign oil company operating in the country. Four months later, the state-run oil company Petroleos Mexicanos, or Pemex, was created and has held a monopoly in Mexico's oil industry ever since. Several reasons were behind such a strong move: the domestic market was not big enough, most of the oil produced was exported, and the profits were taken overseas. Now the situation is quite different.
What changed?
First of all, the country's demographics have changed. Now Mexico has the 10th-largest GDP by purchasing power parity, with a population exceeding 118 million people. However, the Mexican oil industry has lately been seeing a strong downturn in production. From 3.6 million barrels a day back in 2004, it is at 2.5 million a day today. See it for yourselves.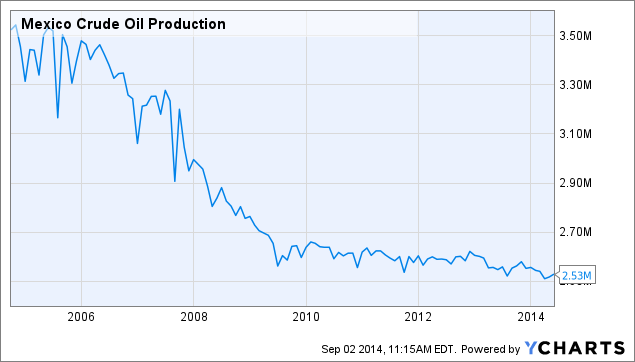 Mexico Crude Oil Production data by YCharts
This decline does not mean that there is something wrong with Mexico's rocks. The country, in fact, has abundant reserves, but many of them are located far beneath the Gulf of Mexico and trapped in shale deposits. In addition, Pemex does not have the technology required to extract them. With the new rules, the Mexican government hopes to receive about $50 billion in oil investment and duplicate the current barrel production over the next five years. That literally means that the chart above would turn upside down.
The new legislation will classify Pemex as a "productive state enterprise", making it less tied to the government, and providing it with greater autonomy over its budget and management. The company's main priority from now on will be to maximize profit, not meet public needs.
The potential
Since the 1950s, Pemex has been the only firm allowed to drill, refine, or sell hydrocarbons in Mexico. Now new juicy opportunities are opening up. Mexico holds 45 billion barrels of possible oil reserves, and private firms will now be allowed to tap them, as well as taking a slice of the $61 billion of hydrocarbons products that Pemex sold in 2013.
The good news is that Mexico's government is eager to receive investments from big oil companies, as it might encourage others to follow. Truth is most of these companies have experience in drilling and exploring in emerging markets, and they also have the financial resources needed to fund major campaigns. The great majority of them are hungry for more assets, especially in the Americas, where despite some violence and corruption issues, the environment is still more stable than in other regions where they operate.
Nonetheless, major investors will probably choose to be cautious for now. An Exxon Mobil spokesperson, for instance, stated: "We will pursue potential investment opportunities in Mexico that are competitive with other opportunities around the world." Indeed, Mexico will have to compete against the U.S. industry, which is currently quite profitable. But Exxon already has a history working with Pemex, as the two companies signed a technical collaboration agreement last year before the energy law was approved.
Other big companies, such as Chevron (NYSE:CVX) and Royal Dutch Shell (NYSE:RDS.A), will probably be very interested in placing a bid too, as they already have experience in deep-water drilling in the U.S. side of the Gulf of Mexico. Having this in mind, Ali Moshiri, Chevron's president of Latin America and Africa, declared: "We look for the opportunity that brings the most value to the Mexican government, the Mexican people, and our shareholders," and added: "We are a huge company. We can invest money in conventional, deep water, or shallow water. What drives our decision is really to see what is the best for everybody."
The opportunities
When it comes to drilling in shallow waters, Pemex is a very efficient driller. In those fields, it produces 1.9 million barrels of crude daily. Plus, according to Barclays, it has some of the lowest exploration and development costs in the world at $10.97 per barrel.
However, in development of deep water and unconventional basins, Pemex trails far behind the U.S. Just in 2012, 137 deep water wells were drilled in the American side of the Gulf of Mexico versus only six in Mexico's side. Pemex has not yet produced a single barrel of oil from deep water, and there is quite a bit to extract. Considering that Chevron has been drilling successfully in non-Mexican waters for several years, it remains a strong candidate for this task.
Mexico's shale resources are very interesting as well, as it holds the world's sixth-largest shale gas reserves, and shares the Eagle Ford basin with Texas. In the U.S., thousands of wells are drilled every year, but Mexico has drilled less than 25 exploratory wells in shale. The business is there.
Other opportunities could be seized in the refining and petrochemical business, which generate losses for Pemex. Here, domestic pricing and regulation will be key. In addition, Pemex might be willing to sell some of these business units, as it will no longer pursue them to meet public needs.
Timing
The overall impression that we should get is that the companies are interested, but not desperate to go to Mexico. Given that profitability has been pretty good in the U.S., these new ventures must at the very least match this growth level.
Foreign crude producers will have plenty of time to make up their minds, as they will not be allowed to bid on exploratory fields and start operations until late next year. Before granting the operating licenses, the Government has to determine the legal framework and Pemex must select the fields where it plans to continue to develop.
The most likely scenario is that the oil majors will begin working along with Pemex, through licensing or profit or production sharing schemes. According to Pemex chief executive, Emilio Lozoya, the firm could sign its first joint venture by the end of the year or early in 2015. These potential joint ventures will most likely be financed on a non-recourse basis, which was previously only an option for projects like pipelines. Talks with oil majors are already taking place.
Final words
Despite losing its monopoly, the role of Pemex within the new era will be highly important, as its market share will remain significant. In fact, the Energy Secretariat assigned 83% of Mexico's proved and probable reserves, and granted 21% of prospective resources to the state-run company. Hence, the initial projects will most likely require a joint venture with the company.
The opportunities are very interesting, and considering that the new regulation and the opening of new contracts will require some timing, keep your eyes open and think long term.
Disclosure: The author has no positions in any stocks mentioned, and no plans to initiate any positions within the next 72 hours.
The author wrote this article themselves, and it expresses their own opinions. The author is not receiving compensation for it (other than from Seeking Alpha). The author has no business relationship with any company whose stock is mentioned in this article.