Heart failure: still 15% upside on long-term EPS expectations
Heart failure drug LCZ696 was expected to be a major catalyst. It clearly delivered on expectations last week this week when Novartis (NYSE:NVS) unveiled details of phase III results. LCZ696 beat standard of care (enalapril) on all counts as it reduced the risk of death from cardiovascular disease by 20%, reduced heart failure hospitalizations by 21% and reduced the risk of all-cause mortality by 16%. Importantly, it also improved quality of life and safety.
Analysts have started raising their expectations for the drug which is now expected to be a blockbuster. We believe that consensus now stands around $6-7bn peak sales by 2020.
But we believe that consensus is still conservative and that expectations could rise further. First, most analysts retain a risk adjustment on LCZ696 as it has not yet been approved by the FDA (submission will be made by end 2014).
Second, the material reduction in hospitalizations suggests the drug could save billions for payers. This should drive fast uptake and potentially higher penetration and higher pricing.
Third, LCZ696 could have other indications such as diabetic nephropathy thanks to its kidney-protective effect. The drug could also be used for heart failure patients with preserved ejection fraction. Data are expected in 2019 and the risk is high but this could drive significantly higher peak sales.
In all, we believe that the product's peak sales could be well above $10bn in the long run, suggesting in our view EPS upside around 15% at least.
Newsflow likely to remain rich in coming quarters
There are many other product catalysts in coming months and quarters that could also spark consensus to revise upwards mid- and long-term sales projections. Notably RTH258 (phase II) in ophthalmology could improve Novartis' retinal franchise. AIN457 could be a blockbuster for psoriasis patients depending on its head-to-head results vs. Stelara (expected in Q4). And Gilenya (multiple sclerosis), which has been performing well in Europe lately, could benefit from increased peak sales if phase III trials for additional indications (notably PPMS) are successful.
Interestingly, the pipeline is expected to remain rich until 2016 at least, as illustrated by the chart below.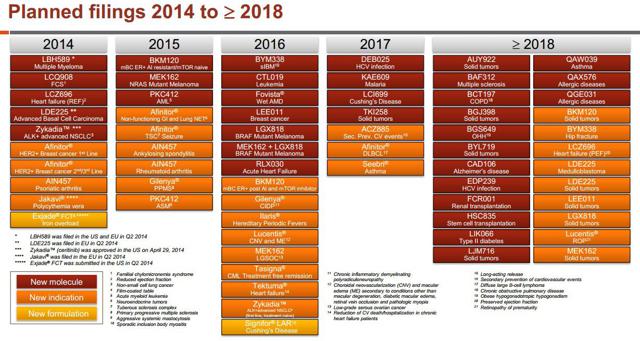 Source: Novartis
In all, Novartis' statement last year that consensus 2017 forecasts for Pharma were too low, roughly 15-20% below the company's estimate, is gradually being confirmed.
Increased confidence in the outlook, continued corporate action but still low valuation
This increasing confidence in the pipeline potential comes at a time when Gleevec U.S. generics have been delayed to 2016 from 2015, suggesting a higher than expected earnings leverage in 2015 and increased time for new products to take off. Going forward, we view margin upside as profitability should increase when new drugs lifecycles mature (lower R&D and marketing costs) and productivity improvements unfold.
Another major catalyst is corporate action/disposals: Novartis still has to divest its 6% Roche stake and is now likely to strengthen its positions in its 3 key business (Pharma, Ophthalmology and Generics) through M&A following the recent disposals of animal health and vaccines.
In conclusion, we believe that Novartis' valuation multiples (15.5x 2015 P/E), in line to slightly below the Pharma sector, are not justified given the accelerating growth profile and that the stock is likely to keep rerating as it delivers on its various pipeline products and expected corporate action.
Disclosure: The author has no positions in any stocks mentioned, and no plans to initiate any positions within the next 72 hours.
The author wrote this article themselves, and it expresses their own opinions. The author is not receiving compensation for it (other than from Seeking Alpha). The author has no business relationship with any company whose stock is mentioned in this article.