Samsung (OTC:SSNLF) jumped the queue to show off its new Galaxy Note at its "Unlocked" event today, upstaging Apple's (NASDAQ:AAPL) iPhone 6 launch expected to be announced at an event scheduled for next week. The new Note is a formidable smartphone and a serious competitor for anything Apple might have to offer.
One feature of the Note which sets it apart from many high end phablets is its stylus. Using the Note to take notes is a breeze and makes the device useful in many applications where taking handwritten notes or making hand drawn sketches has real value. The stylus neatly tucks into a convenient slot in the device.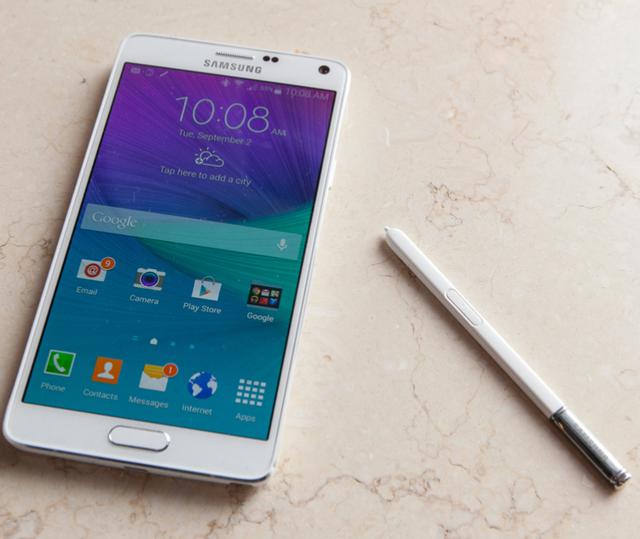 Source: The Verge
Samsung also released a new smartwatch model and a unique smartphone called the "Edge" which has a roll around flexible screen making it possible to read things like weather on the edge of the screen when the phone is laid flat. Cute but for my money not enough to make me want to run out and buy one.
Rather, I think the Note is the one Apple should watch carefully. It will no doubt be positioned directly opposite the larger screened version of the iPhone 6 Apple is expected to announce and with a powerful quad core processor; an outstanding screen resolution; and, of course, the stylus.
Samsung showed off a couple of higher end styluses designed by Mont Blanc. These are very pretty and offer an air of elegance to the Note.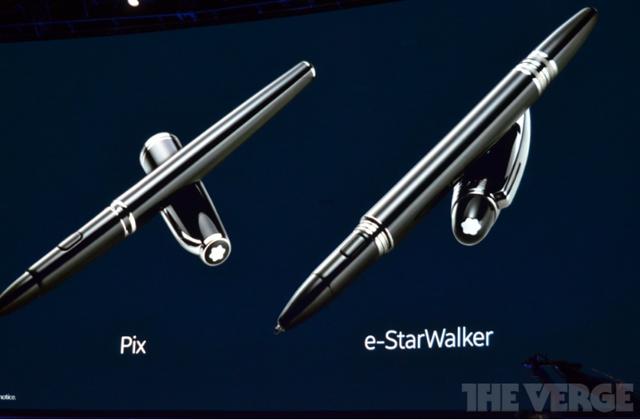 Source: The Verge
I think Samsung will sell a lot of its new Note. The previous models, the Note 2 and Note 3, sold some 40 million units according to reports. I would expect this one to be even more popular.
The emerging contest between juggernauts Apple and Samsung will be worth watching. In the midst of the battle, like a pack of wolves, the emerging Chinese smartphone makers are devouring market share from just about everyone else and are now a major factor in the smartphone world. Barely relevant in 2011, they now ship over 70 million smartphones quarterly and their combined market share dwarfs anyone but Samsung. While they have Samsung directly in their sights offering fully featured handsets with exceptional power and performance at rock bottom prices, they are also a clear and present danger to Apple as they remind users that you don't have to pay $600 or $700 for a terrific piece of hardware.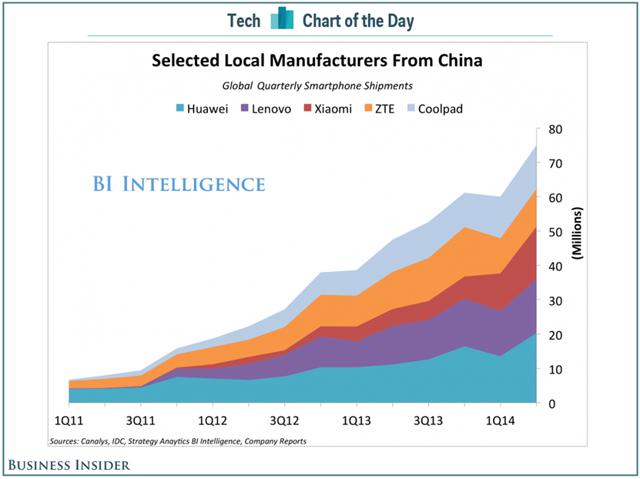 I think the industry will become subject to a fiercely competitive contest that will have casualties. Both Samsung and Apple may be among those suffering serious damage, since they coin the bulk of their money from the high end of the market which I see as shrinking in size, with users demanding more in terms of quality and features and expecting to get those for a lower price.
Somewhere between 15% and 46% of current iPhone users intend to upgrade their iPhones this year.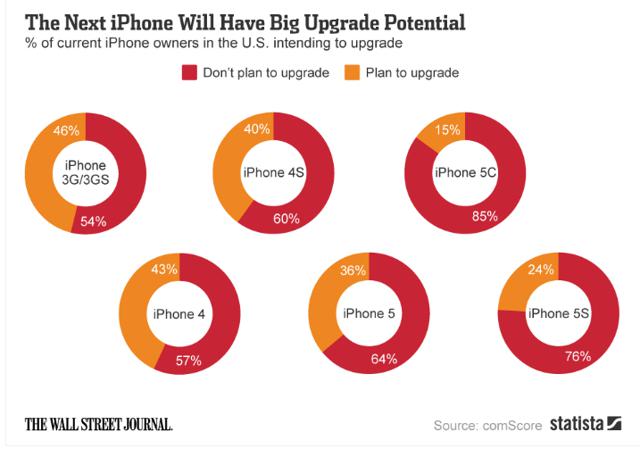 Samsung and the emerging Chinese vendors have it their way, many iPhone users will make it an upgrade to one of their smartphones. I believe many iPhone users will do just that.
If I am right, Apple's days of blistering growth and outsized profit margins are bygone days and its future will be one of limited growth and declining profit margins.
I am short Apple.
Disclosure: The author is short AAPL.
The author wrote this article themselves, and it expresses their own opinions. The author is not receiving compensation for it (other than from Seeking Alpha). The author has no business relationship with any company whose stock is mentioned in this article.
Editor's Note: This article discusses one or more securities that do not trade on a major U.S. exchange. Please be aware of the risks associated with these stocks.