The average U.S. gasoline price is still more than 25% below the 2008 levels; however, the newly minted above $3 a gallon average price tag at the pump, on top of the elevated unemployment rate, is enough to sap the consumer sentiment, as the Thomson Reuters/University of Michigan preliminary index for the month slipped to 72.7 from 74.5 in December.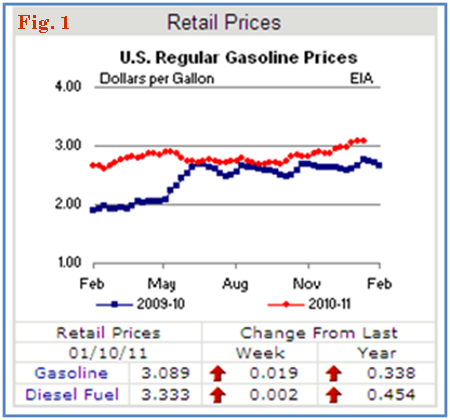 Gasoline Sibling Optimism
Indeed, the U.S. average retail price for gasoline has advanced for six straight weeks to $3.09 per gallon, which is $0.34 per gallon higher than last year at this time. (Fig. 1) However, aside from the overall liquidity-driven rally by the global QE, and expectations of an improving U.S. and world economy, retail gasoline and gasoline futures (RBOB) have also been benefiting from the optimism related to factors in its siblings within the petroleum family:
Winter demand of heating oil
A recovering industrial and strong export demand of diesel
Crude oil's supply concerns from the outages due to a fire at a Canadian oil sand upgrader, and the shutdown of Trans Alaska Pipeline due a leak repair.
Wrong Trend in Days of Supply
But if you take a look at the gasoline inventory, there has been a build in eight out of the last ten weeks, based on the EIA inventory data. Then, in terms of days-of-supply, gasoline (Fig. 2) is the one trending in the wrong direction as compared to crude oil and distillate (Fig. 3).
The latest gasoline demand forecast from the EIA does not instill a bright future prospect either. (Fig. 4)
images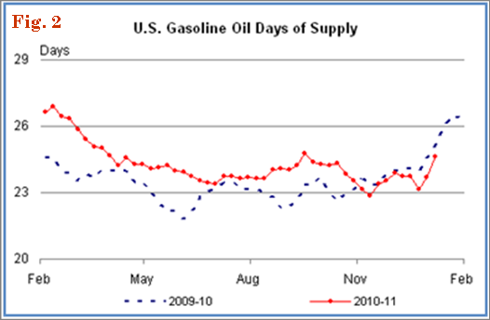 $100 Oil = Less Gasoline Demand
Furthermore, I think, in light of the year-long run-up in everything from stocks to commodities, there's almost a near certainty of oil busting through $100 this year—the trigger point of consumer behavior change (smaller cars, driving less, etc.). From that perspective, stocks could continue to build, which makes gasoline the weakest sister next to its siblings - distillate and crude.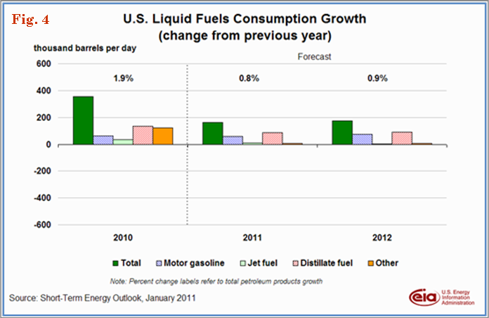 Expect a Gasoline Correction
In its Short-Term Energy Outlook released on Jan. 11, the EIA projects an 8%-10% probability that gasoline could exceed $4.00 per gallon in August and September 2011, but a 25% chance that the gasoline price average will exceed $3.50 from June through September.
Nevertheless, based on the market fundamentals discussed here and technical signals, I think RBOB could have some weakness in the next two weeks before more significant selloff - most likely between Jan. 24th and Feb. 25, as pressure rises with options and futures expirations - before gasoline could hit new highs truly supported by a strong global economic recovery.
Technically, RBOB is right up against a major resistance at around $2.50, with the next resistance at $2,60, and major support at $2.30 and $2.20 levels. (Fig. 5)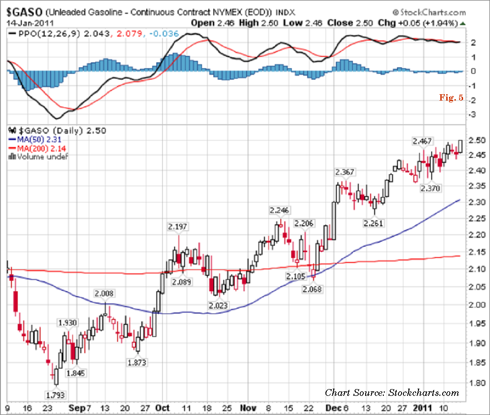 Refining Stocks Could Be Hit
This expected trend would make refining related stocks such as Valero (NYSE:VLO), Sunoco (NYSE:SUN), Tesoro (TSO), and to some extent, the integrated oil companies such as Exxon Mobil (NYSE:XOM) and Chevron (NYSE:CVX), vulnerable as well.
This pullback could present a good entry point for long term investors, or placing some short bets, depending on investment style and objective.
Valero – The Most Shorted Energy Stock in S&P 500
It is also worth noting that according to the data compiled by finviz.com, Valero is one of the three stocks in the S&P 500 with the highest short float (greater than 20%). The other two stocks with a high short float in the SP 500 are First Solar (NASDAQ:FSLR) and GameStop (NYSE:GME).
Disclosure: I have no positions in any stocks mentioned, and no plans to initiate any positions within the next 72 hours.