ARC Group Worldwide (NASDAQ:ARCW) specializes in the manufacturing and sale of precision components, flanges and other offerings in the continents of Europe and North America. Originally, the firm's main revenue segment has been the Precision Components Group, Flanges and Fittings Group and Wireless Group. Yet, ARC Group Worldwide added another revenue segment with the announcement of its 3D Material Technologies Division in December 2013.
ARC Group Worldwide CEO Jason Young rightfully capitalized on the great opportunity that arose from using 3D Printing technology as a compliment to the firm's world-renowned expertise in its core business of metal injection molding.
ARC Group Worldwide's metal injection molding business is represented in its Precision Components revenue segment. According to ARC Group Worldwide's latest 10-Q, the Precision Components Group revenue segment represented 85.4% and 84.1% of the firm's revenue for the first three months and nine months of its fiscal year respectively.
ARC Group Worldwide's 3D Material Technologies Division (3DMT) operates in a 40,000 square foot facility in Deland, Florida and touts itself as a forerunner in short production runs and rapid prototyping. Usually, it takes several weeks to go from prototype to part by taking the conventional route.
However, ARC Group Worldwide's RapidMIM Rapid Prototyping System expedites the length of the metal injection molding process to less than two weeks.
Given that ARC Group's 3DMT division just came into existence, its sales represented around 4.8% and 5.3% of the firm's sales for the first three and nine months respectively. Yet, the growth of the division is still apparent. Net Sales for the 3DMT division grew by 50.9% and 56.5% year-over year for the three month and nine month periods.
Given that one of ARC Group Worldwide's primary roles includes being a provider of metal 3D Printing, the firm is poised to capitalize on future growth in the space. This week, a report came out that 3D printing is expected to grow at a rate of 23% from 2013-2020. It is expected to become an $8.41 billion dollar market by the year 2020.
A recent report by analysts within Pacific Crest anticipates metal 3D Printing systems to become a $700 million market by the year 2016 Terry Wohler's latest report also showed that organic growth in the 3D printing world is primarily from the industrial metal additive manufacturing sector.
Four 3D Printing manufacturers that are poised to capitalize on the growth of 3D metal printing include General Electric (NYSE:GE), 3D Systems (NYSE:DDD), ExOne (NASDAQ:XONE) and Arcam AB (OTCPK:AMAVF).
By extension, ARC Group Worldwide will benefit as a metal 3D printing provider. Their equipment involves the use of two 3D Systems metal printers: The 3D Systems ProX200 and The 3D Systems ProX300.
It is no secret that ARC Group Worldwide has thoroughly outperformed the likes of 3D Systems, ExOne Corp, Stratasys LTD and the overall market this year. This can be seen in the following chart: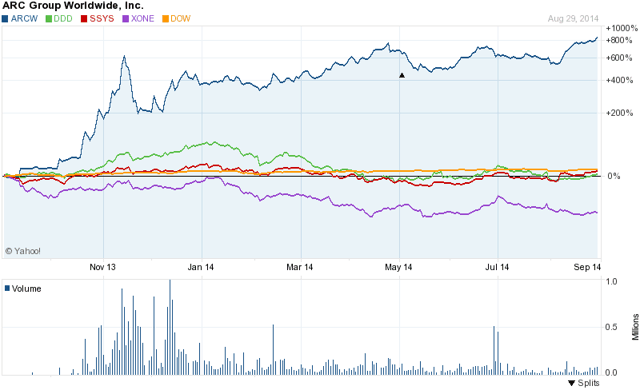 COMPETITIVE ADVANTAGE IN FUNDAMENTALS
ARC Group Worldwide also outshines competitors such as Materialise (NASDAQ:MTLS) and Stratasys (NASDAQ:SSYS) in terms of profitability ratios and other key financial metrics. This can be seen in the series of graphs below: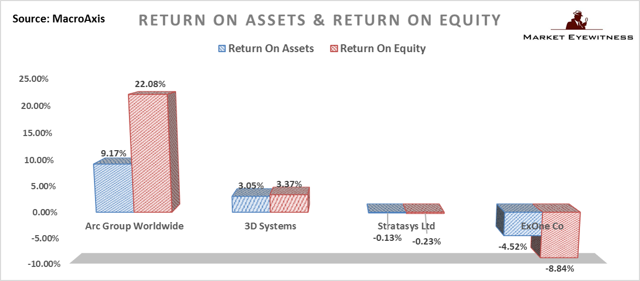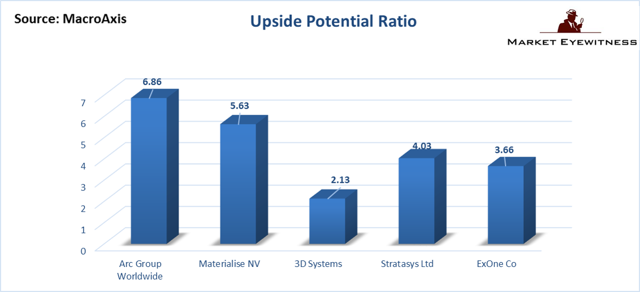 As evidenced by these next series of charts, ARC Group Worldwide is greatly undervalued in key price multiples: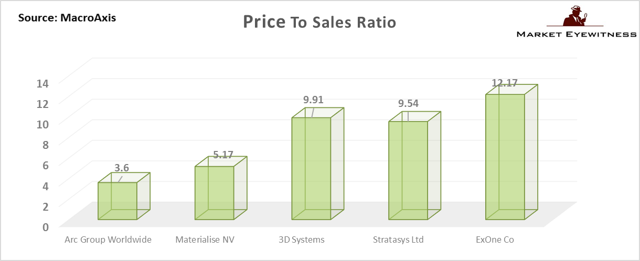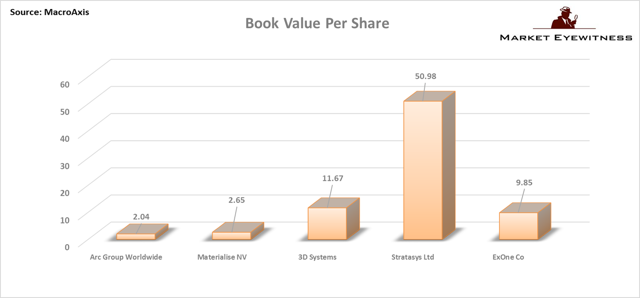 BOTTOM LINE
Analysts have maintained and/or embraced the bullish sentiment regarding ARC Group Worldwide. Investors would be wise to do the same. Nearly three weeks ago, Canaccord Genuity initiated its Buy Rating. On Friday, Brean Capital reiterated its Buy rating and increased its share price target by $7.00 to a total of $30.00.
Disclosure: The author has no positions in any stocks mentioned, and no plans to initiate any positions within the next 72 hours.
The author wrote this article themselves, and it expresses their own opinions. The author is not receiving compensation for it (other than from Seeking Alpha). The author has no business relationship with any company whose stock is mentioned in this article.