The Chinese Ministry of Commerce (MOFCOM) recently divulged the details of Microsoft's (NASDAQ: MSFT) long-held secret - the company's 310 Android patents. Following the revelation, M-Cam, a financial institution that advises investors on IP (Intellectual Property) and asset underwriting matters, took a good look at the patents and came up with some interesting findings. MOFCOM divulged details of Microsoft's Android patents as part of its review of Microsoft's $7.2 billion takeover of Nokia's (NYSE: NOK) handset division.
M-Cam specifically tried to answer the question of whether Microsoft owns proprietary rights to Android OS, and whether the giant software maker was unfairly taxing Android device makers. M-Cam scored Microsoft's Android patents using its own commercial asset underwriting systems to determine their strength and transferability.
Findings on Microsoft's Android Patents
According to M-Cam, only 21% of Microsoft's 310 Android patents can be classified as being commercially viable, while 79% are non-commercial. The organization further found that many of these patents had either expired or had been abandoned, meaning that they were in the public domain and essentially existed in a ''Freedom to Operate'' space. The M-Cam findings cast serious doubts about the overall viability of Microsoft's Android patents and its licensing package.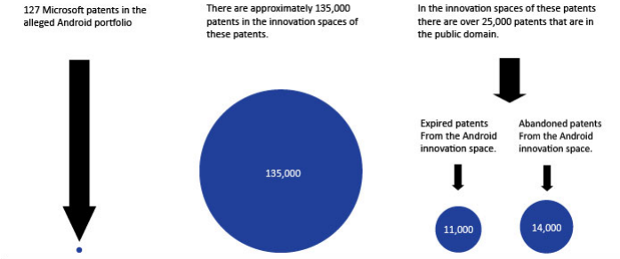 Source: M-Cam
The most damning part of the M-Cam report, however, was the revelation that more than 40 of the 65 commercially viable patents had actually been preceded by other companies, and that Microsoft had failed to cite them in its patents filings as required by law. Here are the more notable cases:
Apple, Inc-2 patents
Alcatel Lucent-11 patents
IBM-7 patents
Intel- 3 patents
Oracle-3 patents
The significance of M-Cam findings
What the M-Cam report is saying here is that Microsoft's claim of ownership of the 310 Android patents is nowhere near as strong as many people have been led to believe. In short, the Android smartphone patents are not the standard essential patents (NYSE:SEP) that Microsoft usually claims they are. As such, Microsoft may no longer be able to wield the immense kind of power it did on Android device makers that it used to demand.
Microsoft has inked 20 patent deals with various Android manufacturers to date. Microsoft signed an Android patent deal with Samsung that allowed Samsung to use several undisclosed Android patents by Microsoft on its smartphone and tablets.
Microsoft has never revealed how much money its gets each year as patent fees from Android device makers. A Nomura analyst has, however, provided an estimate that Microsoft charges Android device makers $5-$16 per device, amounting to $2 billion every year. Thus, the amount that Microsoft gets as Android patent fees from Android device makers is almost five times what the company makes from sale of its Windows Phones.
Court action
The amount that Microsoft manages to eke from Android manufacturers per device might not look like much, but let's not forget that Android devices sport the lowest ASP and have notoriously thin profit margins. Of all major Android manufacturers, only Samsung is reputed to make meaningful profits. Given this kind of backdrop, it's not hard to see why other Android makers might be eager to avoid paying a single dime to Microsoft for patent fees if the opportunity presented itself.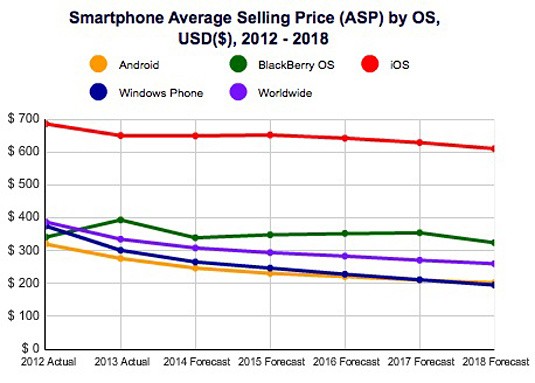 Source: iCharts (Info by IDC)
Hitherto, only Motorola has ever successfully challenged Microsoft in court regarding patent demands. Motorola won 16 of the 17 patent suits it had filed before the Germany Federal Patent Court. Microsoft's only victory in the case was in regard to U.S. Patent No. 6,370,566 for ActiveSync. All other Android manufacturers have usually elected to pay whatever Microsoft demanded from them, due to the fear of heavy litigation costs. After all, patent trolls cost the U.S. economy nearly $30 billion per year (though nobody here is saying Microsoft is one).
With the Microsoft's Android patents no longer a secret, you can expect to see more disgruntled Android manufacturers taking Microsoft to court instead of simply putting up and paying up like they've always done. These vendors and their army of lawyers have all the time in the world to scrutinize the patents for any loopholes they can utilize to evade paying up. Motorola has shown it can be done, and these vendors will only be too eager to follow in its footsteps. These recalcitrant companies might also have a field day against Microsoft, judging by Motorola's success.
Microsoft's Options
What if the worst really came to pass and Microsoft ends up losing a substantial part of its Android gravy train? Luckily, the company would still have several options that it can take without materially affecting its overall profitability. Microsoft usually uses revenue from the Android patents to support its loss-making divisions such as Xbox and Surface Tablets. Microsoft loses about $1 billion on Xbox sales every year, and another $400 million on Surface sales. Microsoft, however, recently said that it intends to implement drastic price cuts for Windows devices by as much as $100 per device.
Although Microsoft does not usually reveal the number of Surface Tablets it sells each quarter, we can arrive at an estimate through deductions. Surface tablets sport price points in the $299 to more than $1,000 range, giving an ASP of about $600. By dividing the revenue from tablet sales by the tablet ASP, we arrive at a figure of roughly 830,000 Surface tablets sold each quarter by Microsoft, or an annual run rate of 3.3 million units.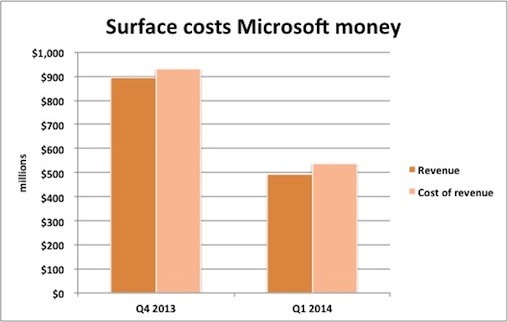 Source: Computer World Data: SEC Filings, Microsoft
If Microsoft lowers the price points of the Surface by $100, it would in turn mean the company loses an extra $330 million from Surface sales, or a total of about $730 million each year.
It would therefore be logical for Microsoft to jettison one or both of these loss leaders. In a toss-up between the two segments, Microsoft would most likely decide to lose Xbox and keep the Surface. Not only does the Surface lose less money than Xbox, but the tablet is strategic to Microsoft's new goal of becoming a ''Mobile First, Cloud First'' company since it helps people connect to Microsoft experiences such as Office 365, Windows Azure, Bing Search and Skype.
However, judging from Microsoft CEO Satya Nadella's recent missive to his employees dismissing rumors that Microsoft was planning on selling Xbox, don't count on the Xbox going anywhere any time soon.
Conclusion
Although the recent move by the Chinese Ministry of Commerce that saw it release details of Microsoft's Android patents can potentially mean that Microsoft ends up losing a substantial amount of its Android revenue, it's unlikely to hurt the company materially since Microsoft can simply counter by selling one or several of its several loss-making divisions.
Disclosure: The author has no positions in any stocks mentioned, and no plans to initiate any positions within the next 72 hours.
The author wrote this article themselves, and it expresses their own opinions. The author is not receiving compensation for it (other than from Seeking Alpha). The author has no business relationship with any company whose stock is mentioned in this article.