Harsh environment drilling specialist North Atlantic Drilling (NYSE:NADL) announced its second quarter 2014 results on Wednesday, August 27. These results were, on the whole, significantly better than the company's results in the previous quarter and do an excellent job at making the investment case for the company. In addition, there is also the possibility for forward growth from the company in the third quarter.
As my long-time readers are undoubtedly already aware, it is my typical practice to share the highlights from a company's earnings report before delving into the analysis of that report. This is because doing so provides a background for the analysis as well as helps to frame the resultant discussion. Therefore, here are the highlights from North Atlantic Drilling's second quarter 2014 report:
The company reported total revenues of $342.6 million. This represents a 25.17% increase over the $273.7 million that the company brought in during the first quarter.
North Atlantic Drilling reported an operating profit of $104.8 million in the second quarter. This is a 47.19% increase over the first quarter.
The company had an EBITDA of $154.0 million in the quarter. This compares favorably to the company's first quarter EBITDA of $119.3 million.
North Atlantic Drilling reported a net income of $59.7 million. This represents a significant improvement over the $20.2 million that the company reported in the first quarter. This net income works out to $0.24 per share.
One of the first things that an investor is likely to see in these highlights is the strong quarter-over-quarter growth in revenues, operating profits, and EBITDA. There were two primary reasons for this. The first is that the company's fleetwide uptime significantly improved compared to the previous quarter. As I have discussed in many previous articles, offshore drilling rigs only earn revenue for days that the rig actually spends operating for its customer and not for time spent out of operation such as when it receives repairs or maintenance. Thus, an overall increase in uptime is going to result in the company's rigs generating more revenue. In the second quarter, North Atlantic Drilling had total fleetwide uptime of 98% compared to 90% in the first quarter. The increased revenue from this higher uptime then flowed through to the company's EBITDA and operating profit, resulting in increases in these two figures.
The second reason for the strong quarter-over-quarter growth is that North Atlantic Drilling's new rig, West Linus, began work on its first contract during the quarter. On May 25, West Linus began working for ConocoPhilips (NYSE:COP) in Norway. The giant oil company began paying North Atlantic Drilling a respectable dayrate of $377,000 at this time. As the rig was previously generating no revenue, the start of these operations resulted in a boost to North Atlantic Drilling's revenues. This, by extension, led to growth in the company's operating profits and EBITDA. In addition, the initiation of this contract will lead to further revenue growth in the third quarter. This is because the rig did not begin operating until May 25, as already mentioned. Thus, it only operated for just over a month in the second quarter and only generated revenue for that period of time. In the third quarter, the rig will be operating for the entire quarter and will thus be generating dayrate for a much longer period of time. This will result in the rig generating much more incremental revenue and profit for the company in the third quarter than it did in the second.
One of the greatest growth opportunities for North Atlantic Drilling came shortly after the close of the second quarter. This is the company's recent partnership agreement with Russia's Rosneft (OTC:RNFTF). Pursuant to this agreement, Rosneft signed contracts for the use of five of North Atlantic Drilling's rigs (plus a sixth that will be managed, but not owned, by North Atlantic Drilling), boasting a total revenue potential of $4.25 billion. While some of these contracts only effectively extend the time until a given rig becomes available, North Atlantic Drilling will need to construct two new harsh-environment jack-up rigs in order to fulfill these new contracts with Rosneft. One of these two new rigs is expected to be completed and ready to begin work in April 2017. North Atlantic Drilling's fleet status report states that the second of these two rigs is supposed to start work on its contract in July 2022. However, that same contract expires in June 2022. I suspect that the company made a mistake here and that this contract actually begins in July 2017 but another start date is certainly possible. Regardless, these two rigs will prove accretive to North Atlantic Drilling's revenue and cash flows once they begin operating, just as the West Linus is (and will be).
In addition to these contracts, there is another part of this deal that could prove accretive to North Atlantic Drilling's forward growth potential. In exchange for approximately 30% of the company's equity, North Atlantic Drilling purchased 150 of Rosneft's onshore drilling rigs. In addition to this, the company obtained a five-year contract for each of these rigs with the Russian oil giant. While onshore rigs tend to have much lower dayrates than offshore rigs, the sheer number of rigs that the company acquired should result in significant incremental revenues once this transaction closes in the fourth quarter.
Despite the company's growing potential and strong growth trajectory, the stock has been relatively stagnant over the past three months. With that said though, the company's stock did jump immediately following the earnings report.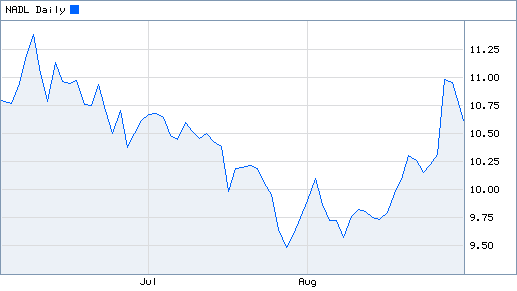 Source: Fidelity Investments
The stock is likely to be a good buy at its current levels due to its aforementioned growth prospects, relatively low P/E ratio of 12.29, and 9.0% dividend yield.
Disclosure: The author is long NATDF.
The author wrote this article themselves, and it expresses their own opinions. The author is not receiving compensation for it (other than from Seeking Alpha). The author has no business relationship with any company whose stock is mentioned in this article.
Additional disclosure: I have a long position in North Atlantic Drilling. My position is held in the form of Norwegian OTC shares and not the NYSE-traded shares.
Editor's Note: This article discusses one or more securities that do not trade on a major U.S. exchange. Please be aware of the risks associated with these stocks.