Iron Mountain Incorporated (NYSE: IRM) provides information management services to help organizations lower the costs, risks, and inefficiencies of managing their physical and digital data. In addition, the company is the largest repository of physical records in the world.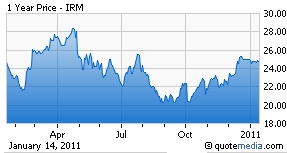 Today's organizations have a clear need for IRM's services as document recovery, discovery, legal compliance, and an overload of information storage needs (both physical and digital) have consumed corporations during the new information age.
According IRM's 2009 Annual Report, the amount of digital information increases tenfold every five years. This accelerating trend supports continued expansion in the volume of physical records and explosive growth in digital information, which clearly presents IRM a large market opportunity for future growth.
IRM's business model is supported by a large recurring revenue base. In addition, a recent trend towards consolidation in the physical information management industry will continue because of the advantages of economies of scale and the larger capital requirements required to support growth. Hence, IRM maintains a diversified and stable customer base as their recurring revenue is paramount to funding the company's growth. As mentioned above, current industry trends support recurring revenue growth and thus, bottom line advances for IRM's shareholders.
Bob Brennan, President and Chief Executive Officer, stated in his 2009 annual letter to shareholders,
Driving top line growth is the number one priority at Iron Mountain. Our experience, dedication, and stability make us one of the most trusted names in the large and expanding marketplace for information management services.
On the positive side, IRM began paying their first dividend in fiscal 2010, and maintained 140,000 corporate clients as of fiscal end 2009, with no customer accounting for more than $2 million of consolidated revenues. However, on the negative side, IRM does balance their amazing operational fundamentals with an eerie debt burden. For the conservative investor, buying into IRM's leveraged balance sheet could prove disastrous as new and unproven IRM earnings may not be able to support their high debt repayments. IRM ranks a S&P long-term debt rating of BB- , and as of November 2008, that outlook remained stable.
Furthermore, news that Warren Buffett's Berkshire Hathaway (NYSE:BRK.A) recently sold its entire stake in the company probably gave investors more than just a few jitters. The September 2010 quarter write-down also probably didn't aid near-term sentiment. However, with all directors and executive officers as a group owning 10.9% of the outstanding common stock, maybe investors should at least appreciate the potential of highly correlated management-shareholder incentives before passing this opportunity by.
Disclosure: I have no positions in any stocks mentioned, and no plans to initiate any positions within the next 72 hours.