Disclaimer: All items reported in CHF were converted to $ at an exchange rate of 1:1,088.
Company Overview
With a market capitalization of $250 billion, Nestle S.A. (OTCPK:NSRGY)(OTCPK:NSRGF) is the world's biggest food and beverage company. The Vevey, Switzerland, based company reported revenues of $100 billion, operating profits of $15 billion and net earnings of $11 billion in its last fiscal year. Nestle's portfolio includes dairy products, ice cream, frozen food, baby food, bottled water, breakfast cereals, coffee and tea, pet foods and snacks. The company owns 29 different brands with annual revenues of more than $1 billion, among them Nespresso, Nesquik, Smarties and Maggi. The company operates globally, with operations in 194 countries. Nestle holds the following business units:
- Zone Americas ($31 billion in revenues)
- Zone Europe ($17 billion in revenues)
- Zone Asia, Oceania and Africa ($21 billion in revenues)
- Nestle Waters ($8 billion in revenues)
- Nestle Nutrition ($11 billion in revenues) (infant nutrition)
- Others ($13 billion in revenues) (Nespresso, Nestle Health Sciences)
This equals a very diversified portfolio, in both products and markets.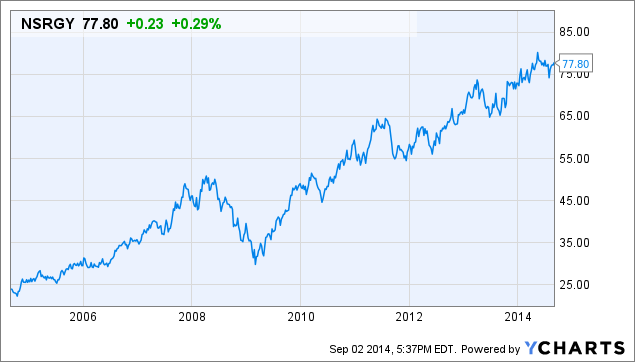 Owning Nestle has been very rewarding for shareholders: Nestle's shares are up more than 200% over the last ten years, equaling a CAGR of 13% - outstanding capital appreciation for a company the size of Nestle.
Fundamentals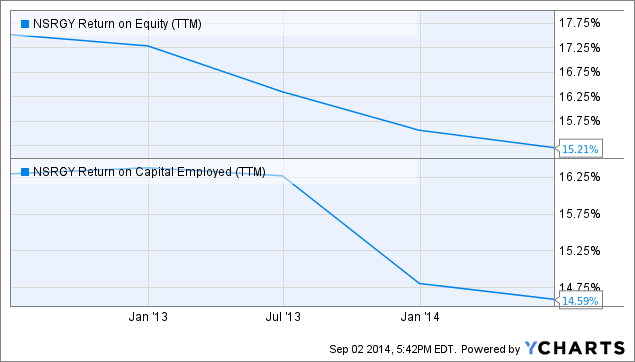 NSRGY Return on Equity (TTM) data by YCharts
The company reports good capital returns, with a sufficient ROE of 15% and an outstanding ROCE of 15% as well.
High returns on capital (especially ROCE, since it is unaffected by a company's leverage) indicate good management. The company's executives allocate capital efficiently, it generates real value.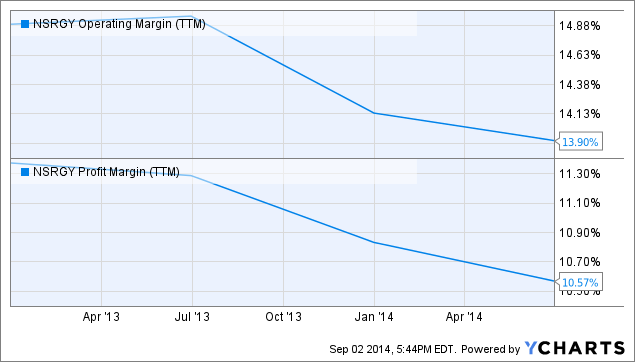 NSRGY Operating Margin (TTM) data by YCharts
Nestle also has healthy margins: Operating profits are 14% of revenues, net profits are 11% of revenues.
High margins are the result of efficient operations and strong brands which justify premium pricing. High margins give investors safety, the company won't get into huge problems when input costs rise.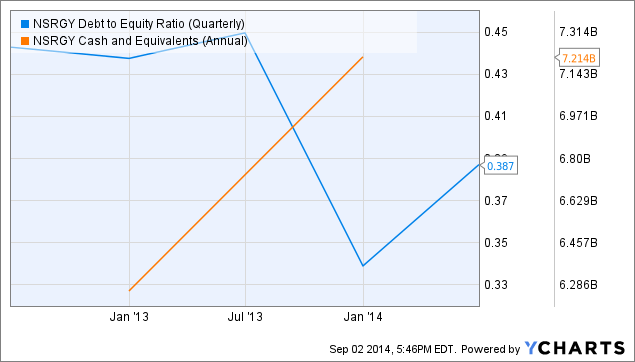 NSRGY Debt to Equity Ratio (Quarterly) data by YCharts
Nestle has a very healthy balance sheet, debt/equity is below 0.4 and the company holds a cash position of $7 billion.
For comparison: Coca Cola (NYSE:KO) reports debt/equity of 1.18, PepsiCo (NYSE:PEP) reports debt/equity of 1.40.
The financial stability of Nestle is rewarded by a AA rating by all three rating agencies - owning this equity comes with very little bankruptcy risk.
Dividend
Nestle has paid a dividend every year since 1959 - during those 65 years Nestle has never decreased its dividend payments. Nestle's dividend has been increased in every year since 1995, at an outstanding CAGR of 12%. Nestle makes one dividend payment each year (as most European companies do) opposed to four quarterly dividends in the U.S.
Nestle's last annual dividend (for fiscal year 2013, paid in spring 2014) has been CHF 2.15, or, at today's rate, $2.34. With today's ADR price of $77.8 this equals a dividend yield of just above 3%, a little bit more than U.S. staples Coca Cola (2.9%) and PepsiCo (2.8%).
With 3.2 billion shares outstanding this equals a total amount of dividends paid of $7.5 billion and a payout ratio of slightly below 70% of net profits.
Nestle's respectable yield (higher than peers like Coca Cola, PepsiCo, equal to General Mills (NYSE:GIS)) and its high dividend growth rate make Nestle a good investment idea for income oriented investors.
Nestle's payout ratio of below 70%, its low debt and growing cash flows will allow the company to increase dividend payments continuously.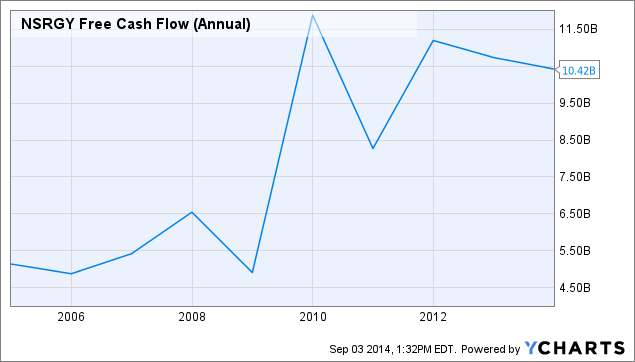 NSRGY Free Cash Flow (Annual) data by YCharts
Nestle's free cash flow reached more than $10 billion in its last fiscal year and is up 100% from ten years ago.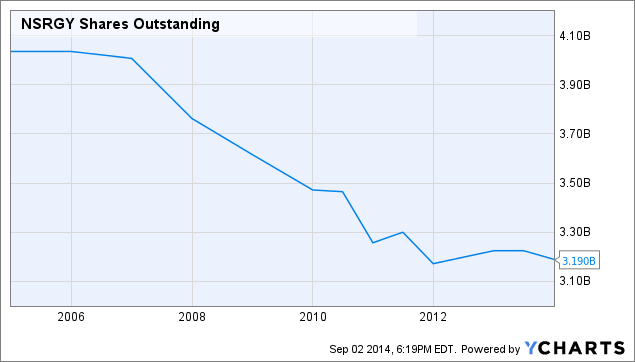 NSRGY Shares Outstanding data by YCharts
Nestle also returns cash to shareholders via share buybacks; over the last ten years the company reduced the number of shares outstanding by 20%. In August the company announced a new share buyback program of $9 billion, valid until the end of 2015.
Future growth
Nestle's worldwide operations with huge involvement in emerging economies (44% of revenues) and portfolio of strong brands allow Nestle to grow constantly over the years.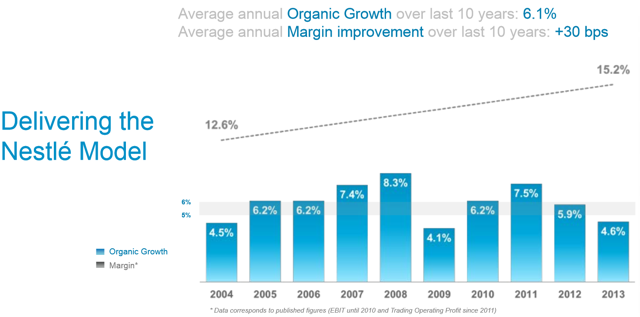 The company aims for a long-term organic growth rate of 5-6% and continuous margin expansion.
Organic revenue growth is mainly acquired by a growing number of customers in emerging nations, who demand high quality products and who are increasingly able and willing to pay a premium for these higher quality products. An example is Nestle's dairy business in China, where consumers avoid the cheaper local products (due to various milk powder scandals) and instead buy Western products. With its strong brands Nestle can benefit from such trends and report increasing revenues. Over the last ten years the company reported organic growth rates in excess of its guidance.
Nestle emphasizes the need for improvements and rationalizations in its operations and thus increasing margins (as it successfully did over the last years). Nestle targets an annual margin improvement of 30 basis points. Over the last ten years the company accomplished that.
If these trends continue, and the company is confident these levels of growth will be sustainable, EPS should grow by 8-10% annually (share buybacks included).
Becoming a shareholder
There are two possible ways of investing in Nestle:
- Investors can buy the actual Nestle stock in Zurich (Switzerland) or Frankfurt (Germany) if they wish and their broker allows buying at foreign stock exchanges
- Investors can buy ADRs at a stock exchange in the U.S., the common way for U.S. citizens to invest in foreign companies
Bottom line
The food and beverages heavyweight from Switzerland has a history of market beating capital appreciation and dividend increases, currently yields 3%, offers decent growth prospects and has very low risk (low debt/equity, AA rating). The company's management is very shareholder friendly.
For investors who wish to increase their foreign exposure, who want to add in the food and beverages industry and who emphasize an increasing dividend, Nestle is a good choice.
With EPS growing at an estimated 8-10% per annum, shareholders can also expect capital appreciation at a high single digit rate.
Investors who don't want foreign exposure and those who are looking for the next tenbagger in a couple of years should avoid Nestle.
Disclosure: The author has no positions in any stocks mentioned, and no plans to initiate any positions within the next 72 hours.
The author wrote this article themselves, and it expresses their own opinions. The author is not receiving compensation for it (other than from Seeking Alpha). The author has no business relationship with any company whose stock is mentioned in this article.
Editor's Note: This article discusses one or more securities that do not trade on a major U.S. exchange. Please be aware of the risks associated with these stocks.