Of the upstream MLPs I follow, Memorial Production Partners (NASDAQ:MEMP) has often been one of the better picks. The company has a solid asset base and is more liquids focused than many of its peers. Furthermore, Memorial's recent large Wyoming and Eagle Ford acquisitions are likely to show improving results in the upcoming quarters.
Memorial announces a 13M unit secondary offering
On September 3, Memorial announced that it was commencing a public offering of 13M common units plus an underwriter option for up to an additional 1.95M common shares. This represents roughly a 20% increase in the unit count.
Pricing information has not yet been released. However, assuming a $22.50 per unit price, Memorial stands to receive around $292M to $337M in proceeds minus fees. The company plans to use these funds to repay a portion of the outstanding borrowings under its revolving credit facility.
Why is Memorial selling these units?
Unfortunately, secondary offerings are not an uncommon occurrence in the upstream MLP sector. The companies in this sector often use a mixture of debt plus equity to finance their purchases.
For Memorial, this marks the second unit offering in less than two months. Back in July, the company raised $222.5M via offering 8M units plus another 1.29M underwriter option. Furthermore, in that same month, Memorial raised $500M via senior unsecured notes. When factoring in the current offering, Memorial has now raised slightly above $1.0B.
You may be asking: Why Memorial is raising so much cash? The answer to this question is simple: To fund its recent major acquisition.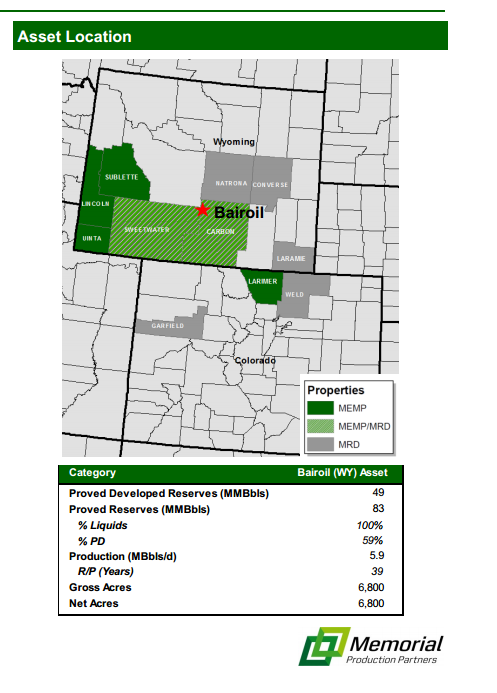 Back in May, Memorial announced that it was buying $935M of oil producing production in Wyoming. In total, Memorial bought 5.9 MBBLs/D (81% oil, 19% NGLs) with estimated proved reserves of 83 MMBBLs. This production is cash flow rich (accretive to DCF), low maintenance, and long-life (5% decline rate).
This transaction was a transformational event for the company, greatly increasing its size and presence. In addition, these properties are using enhanced oil recovery techniques, marking Memorial's first foray into that area.
Memorial has been somewhat slow to "digest" these assets. Indeed, the company recently saw its DCF coverage ratio decline to 0.70x during Q1 2014 before recovering to 1.05x in Q2.
However, much of this has to do with the timing of the acquisition closing and the record date for the distributions, not underlying performance. As a result, Memorial is projecting its second half coverage ratio to be fairly robust in the 1.10x range. I am expecting the TTM coverage ratio to stay above 1.00x even with the addition of the extra units.
Buy the dip?
For those looking to get into a high income upstream MLP, Memorial might be a good pick. With its recent decline, the stock yields 9.50% and now trades at a sub-11.00x DCF multiple, a discount to many of its peers.
Disclaimer: The opinions in this article are for informational purposes only and should not be construed as a recommendation to buy or sell the stocks mentioned. Please do your own due diligence before making any investment decision.
Disclosure: The author is long MEMP.
The author wrote this article themselves, and it expresses their own opinions. The author is not receiving compensation for it (other than from Seeking Alpha). The author has no business relationship with any company whose stock is mentioned in this article.