Kellogg (NYSE:K) stock price has been stagnating due to the structural decline of its cereal business as consumers place a greater emphasis on protein and nutrition. The poorly executed marketing and slow to innovate amid the changing consume preference also played a role. However, I do not view all's lost for the K brand and that a turnaround can be achieved based on several factors. First, management needs to accept the shift towards more protein and less carb breakfast diet as a structural shift rather than an "unconscious migration". Second, K could stabilize sale by deploying effective marketing to align its product offerings with that of the consumer interest. Third, K could enhance margin on the cost side by follow its peers and consolidate its cereal capacity. Finally, sales growth could be accelerated via M&A in which K acquire organic and derivative businesses to offset the decline of its core business.
Ignorance is bliss
As early as February of this year, management dismissed the structural decline of the cereal business as the result of an "unconscious migration" of consumers towards other high-protein, gluten-free and low carb breakfast food. Management reasoned that as long as K reminds people the benefit of the cereal, then the "unconscious migration" could not only be stopped but also be reversed.
Today's consumer is becoming increasingly picky on the type of breakfast and the nutrition intake they absorb early in the morning so they can have enough energy and mentalism to carry throughout the day. I note that cereal consumption per capita has been declining at a -2.7% CAGR over the past two years while total breakfast food dollar was +4.3% over the same period, per data from NDP. Moreover, protein consumption was +7% since 2009 vs. a -5% decline in carbohydrates, highlighting the structural shift towards the more-protein and less-carb diet.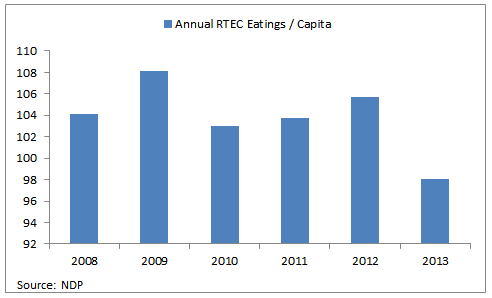 The consumers' decision to eat less cereal that are notorious for high carb and added-sugar and switch to high protein, whole grain, yogurt and lactose/gluten-free diet does not seem to be unconscious at all, and it is both puzzling and concerning that management does not recognize the issue. In order for a turnaround to be in place, management has to accept the fact that the cereal business is in a structural decline.
Stabilizing sale via effective marketing and innovation
Given that consumers are becoming increasingly health conscious and placing greater emphasis on protein rich food, it is necessary for K to convey similar message and remind them of the health benefit they get from cereal and milk. Although, the Special K segment has protein-fortified products, it failed to gain meaningful traction among the consumers so it is important for K to direct their marketing message by focusing on the health benefits and the health-oriented brand to connect with the general consumer.
Product innovation is also necessary to target certain consumer groups (ie. gluten-free) given that the number of consumers from these groups can only be larger due to the health trend. New cereal product/brand, and/or new packaging will be necessary to align with the consumer preference. One example is that both General Mills (NYSE:GIS) and Hershey (NYSE:HSY) conducted extensive market segmentation studies to identify what consumers want. Unfortunately, K has yet to do enough to be fully aware of what its consumers want.
Consolidate capacity to save cost
As I mentioned earlier, the structural decline of the cereal business is evident in its volume decline. Since 2009, volume saw a -12% decline that cause overall sale to -9%. While some may argue that price hike was a major factor, it is worth noting that price hike was only initiated in 2011/12 when companies attempted to fight off higher than expected food inflation. Even when food inflation has subdued starting in 2013, volume continued its downward path.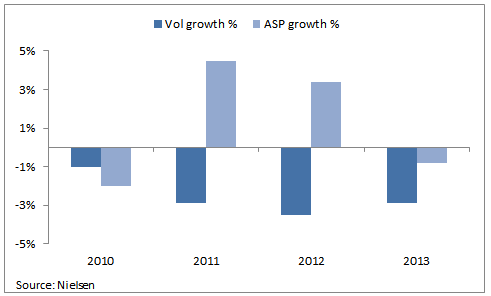 To tackle the declining demand, consolidation of capacity is necessary to preserve margins. K's peers including Post, Campbell (NYSE:CPB) and HSY decided to close plants or shift their production facilities to cheaper regions to offset the rising labor cost, and I believe that K should follow a similar strategy to reverse its margin decline. I note that since 2009, K's gross margin has declined -390bps while operating margin declined -220bps over the same period.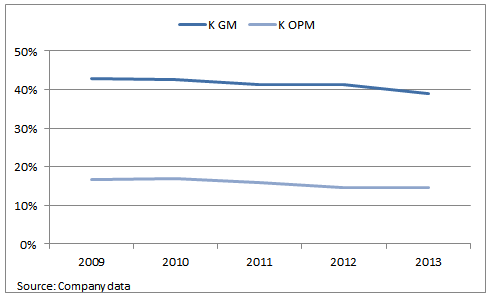 Acquisition of derivative businesses
Since the core cereal business is in a decline, K should pursue M&A to acquire brands and products that are positioned in the fast growing snack/breakfast segments. The acquisition of Bare Naked granola brand was not as impactful as everyone previously thought, but brands such as Annie's Homegrown could be accretive to K's overall brand and product portfolio.
Snack business is also an attractive growth area and the acquisition of Pringles is sound given that Pringles has been widely successful in emerging markets and in Asia. One area of growth for K could be looking to acquire local snack makers in emerging markets where K can provide the R&D and manufacturing expertise while the local acquisition provides vital distribution and logistics.
To give an couple examples on the importance of the M&A strategy going forward, investors should note that Campbell has done extremely well post the acquisition of Bolthouse and Plum juice. In addition, Coca Cola (NYSE:KO) share price always get a nice bump after acquiring Monster beverage or buying a stake in Green Mountain (NASDAQ:GMCR), due to the structural decline of the soft drink business as consumers shift to healthier alternatives (a similar issue that K is facing).
Valuation
Under my bull-case scenario, I assume K to invest aggressively on brand and marketing, as well as R&D to better align its product with consumer needs (ie. rich protein and gluten-free diet). Near-term OPM would take a hit but the subsequent year could see a rebound as consumer awareness gains traction. Under this simplified approach, I estimate K's share could reach $81, or 24% implied upside from last Friday's close
Under my bear-case scenario, I assume the status quo of 2-3% revenue growth to remain and that no significant investment is deployed. This scenario would yield roughly $52/share price, or 13.5x next year's earnings, and a 20% implied downside.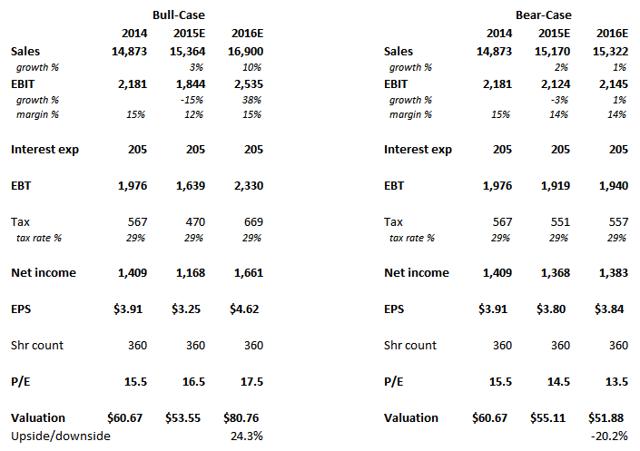 Disclosure: The author has no positions in any stocks mentioned, and no plans to initiate any positions within the next 72 hours.
The author wrote this article themselves, and it expresses their own opinions. The author is not receiving compensation for it (other than from Seeking Alpha). The author has no business relationship with any company whose stock is mentioned in this article.