Falling outside our standard Global Macro and Income Portfolios, we have been intrigued by the growth of Neutral Tandem (NASDAQ:TNDM) since its IPO in 2007. More recently as well, given the substantial retreat in the company's share price since summer 2009 and with the acquisition of Tinet this past October.
Consider an AT&T (NYSE:T) phone customer who calls a Verizon customer. For the call to reach its destination, more than one network of a Competitive Local Exchange Carrier (CLEC) must be used. Any company other than AT&T, whose network is used to connect the call, should benefit from the usage.
This has led to the development of the wholesale business for CLECs. They have built tandem switches which allow for transferring calls from other networks to theirs. CLECs charge for access to their networks and for using the tandems. The problem with this model is that a company may not be interested in providing access to its network to major competitors. Neutral Tandem managed to find a solution. It started building tandem switches and charging for interconnection services, while not caring about competition over customer base. The company was experiencing amazing growth since going public in 2007 until mid-2009. Since then, growth pretty much stopped. In one year, the stock went from over $30 to $10.
Click to enlarge: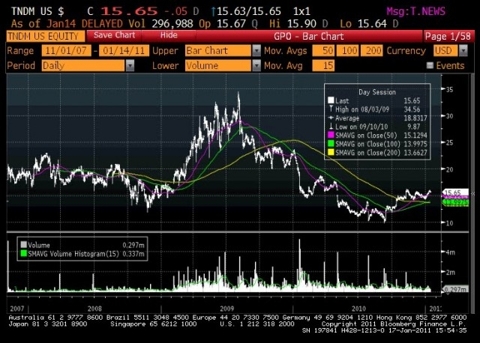 Last October TNDM acquired Tinet, a global IP Transit and Ethernet services provider. We believe this acquisition will result in continuing rapid growth and expansion in the global market for TNDM.
Business Model – Exceptional Value Creation
Let us first review the incredible value creation in the tandem switching business, not yet taking into account the Tinet acquisition. Neutral Tandem's original model provides two outright advantages over CLECs. First, TNDM can build a better tandem network. According to the company website, its network is more efficient than that of CLECs and is able to reach 518 million terminating customers in U.S. Furthermore, the tandem switches can connect any two networks, as long as their respective owners agree to the connection. For CLEC tandem switches, one of the networks connected to the switch must be that of the parent company, resulting in a much smaller interconnection market.
Secondly, this business model is more cost-effective. TNDM only needs to maintain and build its tandem network, which costs much less than laying thousands of miles of cable, which is what is being done by CLECs. In fact, Neutral Tandem benefits from the expansion of exchange carrier networks, while incurring only the costs of building extra tandem switches. As a result, the company does not need much fixed assets to generate revenue. The company's depreciation expense has been around 9% of revenues for the past 5 quarters, much lower than 15% or more for its major competitors – AT&T (T), Verizon (NYSE:VZ), Qwest (NYSE:Q), and Level 3 Communications (NASDAQ:LVLT).
This cost efficiency has resulted in extremely high operating margins in comparison to competition: (Click to enlarge)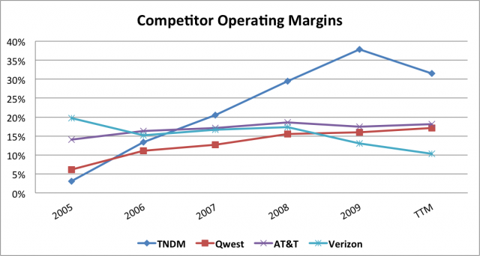 Because TNDM does not need to heavily invest in fixed assets, it does not have to take up significant long-term liabilities. The company had no long-term debt at the end of Q3 2010. In comparison, Qwest and Level 3 have serious issues with debt.
Qwest's interest expense for the last 5 quarters has been 9% of revenue, in comparison to under 3% for AT&T and Verizon. The company has been significantly cutting debt in the last 12 months, and its rating was upgraded by Moody's to Ba1 from Ba2 last August. Qwest's outlook is good (considering also the CenturyLink merger), so it should be able to effectively handle its debt in the near future.
Level 3, on the other hand, is on the verge of bankruptcy. The company's interest expense for the last 5 quarters has been 16% of revenue. Level 3 has $1.3B in bonds with 9.24% YTM maturing in 2014, while current assets were only $940MM at the end of Q3 2010.Meltdown in 2010.
Stagnant growth and increased competition.
Since its IPO in November 2007 and until the end of July 2009, TNDM rose more than 50%. Much of this increase can be attributed to explosive growth of the company. Net Income increased 10% or more quarter-over-quarter from $1.8MM in Q4 2007 to $9.0MM in Q1 2009. The company was taking full advantage of its position in the niche market, and there did not seem to be anything slowing it down. At that point Tandem was viewed as a growth stock. Despite reporting a great Q2 2009 on August 6, 2009, the stock dropped 11% that day. One explanation for this is that revenue growth compared to the previous quarter was 7.8%, compared to a 9% or higher quarterly growth for the previous four quarters.
Since then, growth slowed down significantly, and TNDM went from an all-time high of $33.24 in the beginning of August 2009 to just under $15.5 at the end of January 2010. Around February 2010 many articles (including three at Seeking Alpha: here, here and here) were recommending to buy the stock, citing great value, excellent cash position, and no long-term liabilities. We agree that the value for the stock was (and is) great, however it is not as good as it sounds considering that the company was not paying dividends or growing. In its annual report for 2009, the company stated that they did not "anticipate paying any dividends on [their] common stock in the foreseeable future".
We think that this strategy for Neutral Tandem was not effective, considering that its major public competitors AT&T, Verizon, and Qwest were paying large dividends with annual yields of over 5.5%. Having lots of cash is great, as long as it is used to expand or to provide shareholder value.
Furthermore, TNDM was facing increasing competition, in particular from Level 3, HyperCube, and PeerLess Network. PeerLess managed to win a big lawsuit against Tandem last September, which allowed them to more effectively compete in the tandem switching market. We believe that despite increasing competition, TNDM's well-established position and experience, as well as the recent acquisition of Tinet, will lead to a return to growth, as we will discuss below.
Tinet Acquisition – strong growth from new markets ahead
In its 2009 annual report, TNDM mentioned that it was facing
indirect competition from carriers that directly connect their switches… The risk of direct connections will increase as more carriers move to an IP-based interface, because direct connecting between two IP-based carriers is less complex.
The shift towards IP interfaces and data transmission in the U.S. is apparent, as mobile data traffic surpassed voice traffic worldwide for the first time in December 2009 according to Ericsson (NASDAQ:ERIC). Furthermore, data traffic in U.S. doubled in the first six months according to Chetan Sharma Consulting.
Click to enlarge: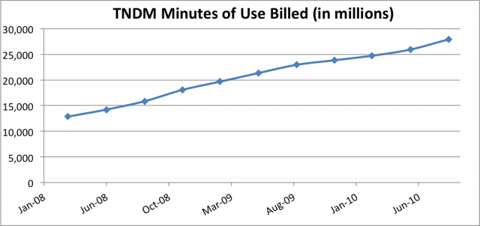 Neutral Tandem was originally a voice interconnection company, and despite its impressive growth in minutes, the average fee per billed minute is decreasing – down 15% in the latest quarter compared to the 2008 levels. The Tinet acquisition has established TNDM as an IP-network services company, focused on delivering connectivity not only for voice, but also for data and video. Furthermore, TNDM has now established itself as the largest Ethernet Exchange company in the world, operating in the U.S., Europe and Hong Kong.
Because of the expansion into new markets and cost-effective business model, we expect TNDM to again start experiencing rapid profit growth. The connectivity services provided by Tinet should also contribute to higher profits, considering the rapid growth of Ethernet services worldwide. Tinet is offering Ethernet connectivity at 10 gigabit per second, with its Ethernet Points of Presence having 40 gbps capcity. The 10 gbps market is expected to experience 42 percent compound annual growth through 2014, according to the Linley Group. We expect to see a trend in revenue growth provided by Tinet's connectivity services similar to that of AboveNet, which also provides high speed bandwith solutions: (Click to enlarge)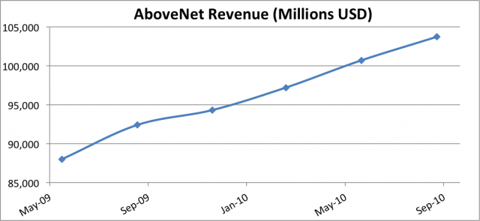 We believe that TNDM will be able to maintain its high operating margins, although they may slightly decrease since Ethernet services is a more capital-intensive business than tandem switching. Right after Tinet's acquisition, Neutral Tandem paid off all $24.4 MM of their long-term debt, thus eliminating potential interest expenses. We do expect higher depreciation expenses because of the Ethernet network assets, however this should not be a problem considering the profitability of Ethernet services (AboveNet has posted operating margins of over 25% since 2009).
Trade Recommendation
The recent acquisition of Tinet has positioned Neutral Tandem for rapid growth in the near future. The company's P/E is under 15, and forward P/E is 13, making it a relatively cheap buy. We recommend to buy the stock not just because it is undervalued, but because of its excellent growth potential. Due to its high-margin business model, we expect TNDM to keep generating great cash flows, allowing for further expansion in new markets.
Analysis contributed by Lakshmi Capital Analyst Alexander Remerov.
Disclosure:
I am long
TNDM
.