The barbell strategy is something that's kind of taken hold in the industry at large, but it's our strategy around having machines and programmatic on one side and really deep, rich content on the other side."
CEO Tim Armstrong, AOL, Q2 2014 earnings transcript
Our articles have thus far articulated the notion of what we view is a necessary business evolution toward end-to-end value propositions in the ad tech industry. This vertical integration is at once married with a horizontal convergence toward video as the dominant medium of choice. Video, like other landscapes, remains crowded, but we caution both investors and operators to avoid being caught in a 'boiling frog' mentality as meaningful structural changes continue. There have been numerous acquisitions since Luma Partners first prepared the below slide (split in two to make it easier to read). The industry is invariably following a Darwinian trend toward consolidated evolution through survival of the fittest and extinction of the weakest.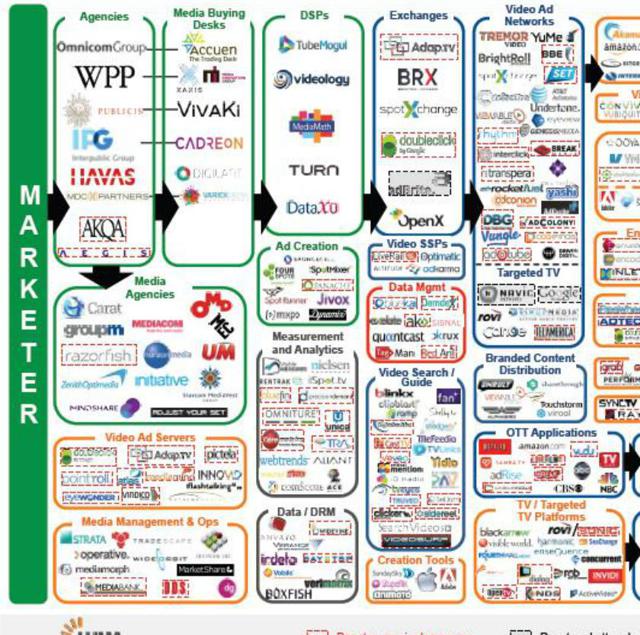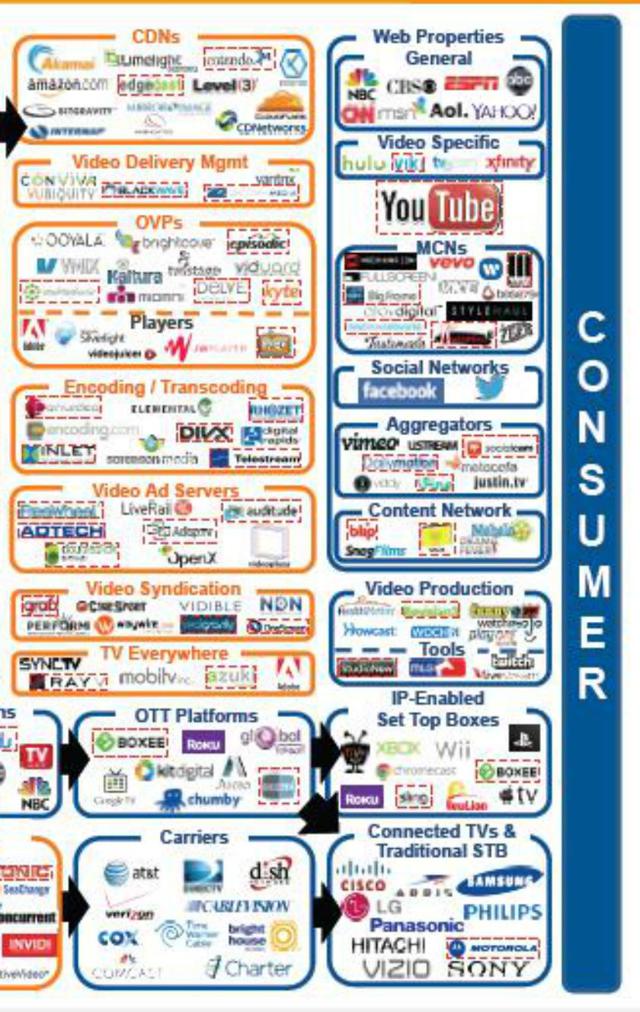 In referencing the second half (chart) of the online video landscape, we draw particular attention to the orange boxes in the second column from the right. Therein, one can observe the previously articulated 'tech stack' that describes the functional composition for solutions from firms like AOL and Adaptive Media. AOL, in its Q2 earnings call, outlined a strategy for optimizing video within the stack through three critical steps: (I) developing branded (premium) content, (ii) syndication of the content, and (III) integration of demand and supply for the content within its proprietary marketplace. One can think of this three-pronged approach as the 'weights' that are situated on either side of a barbell strategy.
The weights on one side represent deeper content that powers direct advertising solutions, while the other side of this barbell covers indirect, programmatic forms of advertising. Where direct advertising is specifically contextual and 'native' to the targeted consumer's content experience, the 614 Group describes this subset of direct advertising as comprising 'high impact units.' These units will by design be organically delivered content such that the advertising is neither intrusive nor extant to the consumer's environment, and therefore should achieve substantially higher conversion characterizing advertising success. It is critical to note that premium forms of advertising exist on both the direct and indirect sides of the barbell. The premium differentiator is not in the level of automation, but rather in the guarantee of a 'seat at the table' of users' content experiences and engagement with the advertising in question.
The development, licensing, and/or active utilization of branded content marks the first 'plate' or step on the side of video advertising. AOL has a rich stable of branded content, with the most significant and comprehensive being HuffPost. Adaptive, though smaller, licenses over one million rights-cleared pieces of video content.
The second step in the aforementioned strategy is syndication. Syndication in online video is not unlike linear TV syndication. Content is marketed through affiliates, which are properties (traditional or digital) that possess the capacity (space) and means to engage and serve an audience its desired content. Whereas traditional TV publishers have the likes of CBS, ABC, and NBC's network affiliates, video publishers will syndicate their content through 'affiliates' like YouTube, AOL, and Facebook. Below are Luma's graphical representations of the two affiliate models.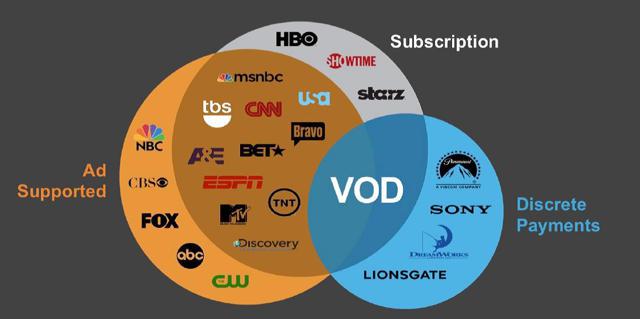 Source: Luma Partners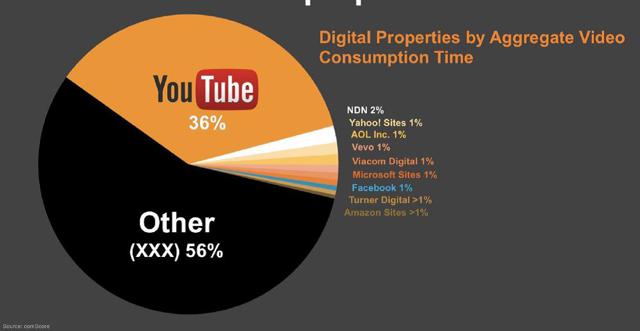 Source: Luma Partners
In TV, there is no obvious affiliate that dominates the syndication landscape. In fact, the market is multi-faceted insofar as there are multiple revenue streams (ads, subscription, and discrete payments), though for our purposes, the ad-supported set is the most relevant. Digital video is vastly different, more concentrated; YouTube stands virtually uncontested against a backdrop of innumerable digital properties of the adult variety (together, substantial) and then much smaller 'affiliates' like Facebook (NASDAQ:FB) and AOL. However, LUMA's presentation intimates that the video syndication landscape will necessarily evolve to accommodate a burgeoning online video market that is expected to go from 17 to 63 exabytes/month in consumed data by 2018.
Facebook, with 829 million daily active users and 1.32 billion monthly users, already possesses the wherewithal in terms of potential captive audience. Indeed, AOL and most recently ADTM count FB as an affiliate for shared video content. There is an obvious network effect from successful syndications; positive feedback reinforces further proliferation and dissemination of content and native advertising from each hub of online video activity all the way to the fringes.
FB has itself begun to demonstrate an appetite for video to go with that captive audience, most recently through the $400 - $500 million acquisition of supply side platform (SSP) LiveRail. Twitter too has followed suit with its in-house launch of 'Promoted Video', but with 271 million monthly average users, generally lacks the comparable scale of captive audience. Nonetheless, there is a clear trend among social web properties to get in on the action and compete for ad dollars by leveraging their differentiated roles as critical networks and affiliates of online video. FB's CEO Zuckerberg mentioned during the company's recent earnings release that the average active user spends 40 minutes per day on Facebook out of a 9-hour1 'digital day,' with what he views as an obvious opportunity to go deeper into the user experience through channels like video. While no market is immune from diminishing returns, we are of the opinion that a negative inflection point is as yet some ways from manifesting on the horizon given the aforementioned growth statistics for online video.
Indeed, we have not yet scratched the surface on perhaps the most exciting part: linear TV and online video are expected to grow together, not apart, through adtech. In addition to a $6 billion digital video market becoming $33 billion in 2020, we can hope to consider an $83 billion addressable market for linear TV in 2020 with half being programmatic and the remainder audience-based. To the extent that both markets are leveraging programmatic to get there, direct advertising solutions will likely follow suit on the other end of the barbell.
What this all means for adtech investors and operators is that incumbency is pivotal in this 'middle game' or 'middle plate' (depending on which analogy one prefers, chess or weightlifting) and it is critical to extenuate the syndication efforts to maximal effect.
To wit, the endgame is the ultimate establishment and integration of a video marketplace to monetize the direct marketing end of the stack. Syndication brings demand and supply for native ad-type content together, but the marketplace is needed to effectuate the economic architecture that will support and satisfy cost of capital requirements among 'end-to-end' businesses. For AOL, that crown jewel is Adap.TV, which recently grew north of 60% since last year's acquisition. Adaptive is actively positioning its own in-house marketplace to launch into a strong 2015 expected tailwind as recent syndication efforts gain traction.
Adaptive and AOL are just two examples of companies that are actively addressing a general tech stack whose funnel is concentrating toward video. While many other companies exist, we are wary of endorsing any one of the 'point solution' business models that exist in this crowded landscape. Investors' capital is finite, as is their patience, and adtech firms need to demonstrate the foresight and balance that comes with the type of barbell strategy that we have discussed. The solution is not binary: neither programmatic (real-time bidding) nor direct advertising are the end all, be all. Recall that real-time bidding, notwithstanding explosive growth, will still only be under a third of combined online and mobile display ad spend. Balance is needed, with active operators capably steering the ship.
AOL's Q2 results are self-evident as positive, and the market response suggested an amenable outlook to boot. Adaptive is still putting the pieces together and is small enough to fly under the investor radar. We believe that a Q2 revenue rate of $4.4 million is not yet representative of the economic reality from the recent MediaGraph asset deal and syndication deals like the one with Facebook. We encourage potential investors to continue to actively read and diligence adtech, as an industry and among specifically undervalued names, amid the rapidly evolving secular growth themes.
1 We acknowledge the obvious point that most of these 9 hours are likely to be work-related and immutable with respect to properties like FB taking share.
Disclosure: The author is long ADTM.
Business relationship disclosure: The article has been written by one of William Nichols & Associates' investment associates. William Nichols & Associates is not receiving compensation for it. William Nichols & Associates has no business relationship with any company whose stock is mentioned in this article.
Editor's Note: This article covers one or more stocks trading at less than $1 per share and/or with less than a $100 million market cap. Please be aware of the risks associated with these stocks.