This is a series of articles to assess risk for the 26 BDCs that I cover and a follow up to my other "BDC Risk Profile" articles. There are many reasons why assessing risk for BDCs is important, including expected returns, valuations, and the potential loss of capital during an economic downturn or general business cycle. I use 'relative risk rankings' in many of my articles for valuation purposes, because I believe BDCs should be measured on projected risk vs. return. This series will take into account new metrics, and I will be adjusting my rankings accordingly, as well as updating my suggested 'risk averse' BDC portfolio.
The following are some of the indicators of risk and portfolio quality that I will be discussing in this series:
General portfolio mix and yield
Portfolio debt-to-EBITDA
Average investment size and portfolio concentration risk
BDC leverage vs. portfolio mix
NAV growth vs. declines
Fair value of investments as a percentage of cost
Dividend coverage and the need to reach for yield
The previous articles in this series are:
Portfolio Mix & Yield
I consider TICC Capital (NASDAQ:TICC) to have a riskier than average risk profile for many reasons including reaching for yield through maximizing its 30% bucket of 'non-qualifying assets' as discussed in my "TICC Articles". BDCs are limited in the amount of investments that are not "eligible portfolio companies" (generally, non-investment companies that are domestic unlisted companies or small cap). The yield from these investments has been declining and has resulted in lower overall portfolio yield as predicted in "TICC: BDC Dividend Coverage Part 14" and show in the table below: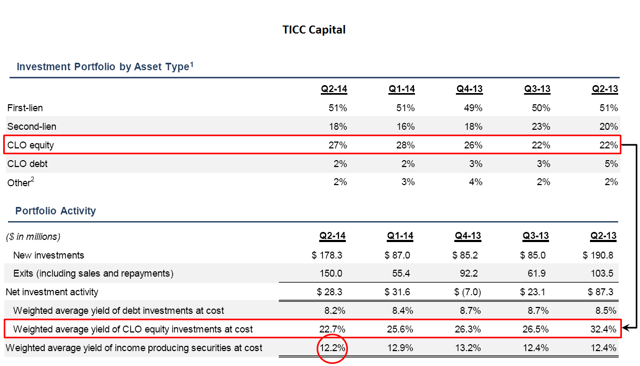 CLO Investments
One of my primary purposes for assessing risk among BDCs is investor preservation of capital through net asset value ("NAV") stability or growth. As discussed in "PSEC: What Comes Next? Part 3 and Part 4", some of the primary drivers to changes in NAV per share are: coverage of dividends, changes in the value of portfolio investments and new shares issued at a premium. TICC has been able to maintain its portfolio yield through increasing the amount of collateralized loan obligation ("CLO") investments that are considered 'non-qualifying assets' under Section 55(a) of the Investment Company Act of 1940.
CLO investments have declining yields and the potential for impaired values for many reasons including rising interest rates as discussed in "Is PSEC Ready For Rising Rates?". Recently, CLOs have had a perfect storm of positives driving higher risk adjusted returns but I believe this has peaked and is about to change. Some of the positive drivers have been low LIBOR, treasury and default rates. If any of these begin to rise it could seriously impact the values of these investments. BDCs such as TICC, Prospect Capital (NASDAQ:PSEC) and KCAP Financial (NASDAQ:KCAP) have chosen to use their non-qualified bucket for CLO type investments.
PSEC provides a thorough disclosure regarding risks related to CLO investments including the following from the 'Risks Relating to Our Investments' section in its recent 10-K:
"We expect that a majority of our portfolio will consist of equity and junior debt investments in CLOs, which involve a number of significant risks. CLOs are typically highly levered up to approximately 10 times, and therefore the junior debt and equity tranches that we will invest in are subject to a higher risk of total loss. In particular, investors in CLOs indirectly bear risks of the underlying debt investments held by such CLOs. We will generally have the right to receive payments only from the CLOs, and will generally not have direct rights against the underlying borrowers or the entities that sponsored the CLOs. Although it is difficult to predict whether the prices of indices and securities underlying CLOs will rise or fall, these prices, and, therefore, the prices of the CLOs will be influenced by the same types of political and economic events that affect issuers of securities and capital markets generally.
The investments we make in CLOs are thinly traded or have only a limited trading market. CLO investments are typically privately offered and sold, in the primary and secondary markets. As a result, investments in CLOs may be characterized as illiquid securities. In addition to the general risks associated with investing in debt securities, CLOs carry additional risks, including, but not limited to: (NYSE:I) the possibility that distributions from the underlying senior secured loans will not be adequate to make interest or other payments; (ii) the quality of the underlying senior secured loans may decline in value or default; and (NASDAQ:III) the complex structure of the security may not be fully understood at the time of investment and may produce disputes with the CLO or unexpected investment results. Further, our investments in equity and junior debt tranches of CLOs are subordinate to the senior debt tranches thereof.
Investments in structured vehicles, including equity and junior debt instruments issued by CLOs, involve risks, including credit risk and market risk. Changes in interest rates and credit quality may cause significant price fluctuations. Additionally, changes in the underlying senior secured loans held by a CLO may cause payments on the instruments we hold to be reduced, either temporarily or permanently. Structured investments, particularly the subordinated interests in which we invest, are less liquid than many other types of securities and may be more volatile than the senior secured loans underlying the CLOs in which we invest."
TICC has similar disclosures but not as thorough, and also has a majority of its CLO investments as 'residual interests' similar to PSEC.
I have no problem with BDCs increasing the amount of risk, as long as the risk adjusted yields are appropriate. At this point, I believe there is much more downside while returns are continuing to decline. As the likelihood of higher interest rates, or conversely an economic downturn that could lead to higher default rates increases, so do the potential risks from these investments. The two key risks are lower income and investment values that are interrelated and both could drive lower NAV per share for these BDCs and I will be adjusting my risk rankings accordingly. The good news is that TICC can no longer increase the amount of these investments as a percentage of the portfolio but both KCAP (currently 21% of the portfolio) and PSEC (currently 18% of the portfolio compared to 15% from the previous quarter) are actively pursuing higher yield investments in an effort to cover dividends.
Rising Interest Rates
TICC provides the following information on how rising interest rates would impact the payments from its CLO equity investments:
"To illustrate the impact of a change in the underlying interest rate on our total investment income as it pertains to our CLO equity investments, we have assumed a 1% increase in the underlying three-month LIBOR, and no other change in our CLO portfolio, or to any of the credit, spread, default rate or other factors, as of June 30, 2014. Under this analysis, the effect on total investment income would be a decrease of approximately $20.0 million on an annualized basis, reflecting the portfolio assets held within these CLO vehicles which have implied floors that would be unaffected by a 1% change in the underlying interest rate, compared to the debt carried by those CLO vehicles which are at variable rates and which would be affected by a change in three-month LIBOR. If the increase in three-month LIBOR was more significant, such as 5%, the net effect on total investment income would be a decrease of approximately $13.1 million. Although management believes that this analysis is indicative of our existing interest rate sensitivity, it does not adjust for changes in any of the other assumptions that effect the return on CLO equity investments, both positively and negatively (and which could accompany changes to the three-month LIBOR rate), such as default rates, recovery rates, prepayment rates and reinvestment rates, that could affect the net increase (or decrease) in net assets resulting from operations. Accordingly, no assurances can be given that actual results would not differ materially from the results under this hypothetical analysis."
A decrease of $20 million in investment income would have material impact on shareholders at $0.33 per share.
Debt-to-EBITDA
In my article "BDC Risk Profiles: An Introduction" I mentioned that the ultimate goal of this series is to identify which BDCs have investments that can withstand a general economic downturn, rising interest rates that may increase debt burden or general declines in cash flow ("EBITDA"). Part of the problem when trying to compare BDCs is the inconsistency in reporting. Generally, higher yield BDCs have riskier investments and do not disclose as much credit quality metrics such as portfolio debt-to-EBITDA measuring the weighted average portfolio debt as a multiple of cash flow. Ratios greater than five times usually indicate that a company is likely to face difficulties in handling its debt burden, and is less likely to be able to raise additional loans required to grow and expand the business and it can result in a lowered credit rating.
Ares Capital (NASDAQ:ARCC) provides the following chart indicating its portfolio leverage among standard BDC multiples for different types of investments. Leverage levels have been increasing since 2009 and the ranges listed below are guesstimates.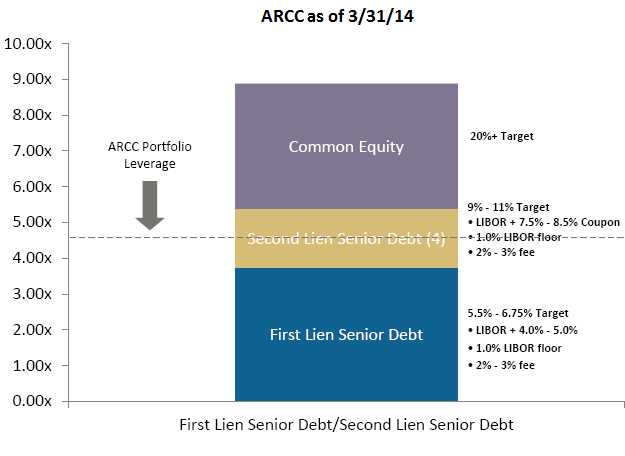 TICC does not provide information about its portfolio leverage and with ~29% of the portfolio in CLO vehicles that could be levered 10 times or higher this does not surprise me. However 69% of the portfolio is senior secured so I have estimated the overall portfolio leverage to be around 5.2x after taking into account the CLO portion most likely between 8 and 10 times but could be higher.
Portfolio Concentration Risk
Currently, the top ten portfolio investments for TICC account for 24.7% implying less than average concentration risk compared to the previously reviewed BDCs.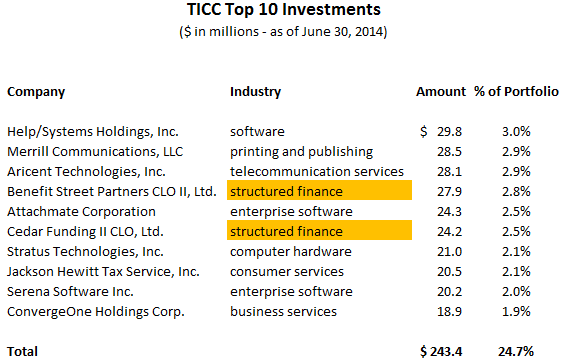 Side-by-Side Comparison:
I will be updating the following table to include the other BDCs, as well as new risk-related metrics throughout this series. The goal of using a side-by-side comparison is to show an 'apples to apples' view of each BDC in an attempt to clarify my revised relative risk rankings. I have included the results for the other BDCs already discussed in this series, with TICC at the riskier end of the spectrum. At this point I would consider TICC riskier than most BDCs, due to its portfolio investment mix and higher than average portfolio yield. Other reasons for considering TICC to have a riskier profile is its declining NAV per share and potential risks from its CLO investments to drive further declines as default and/or interest rates rise.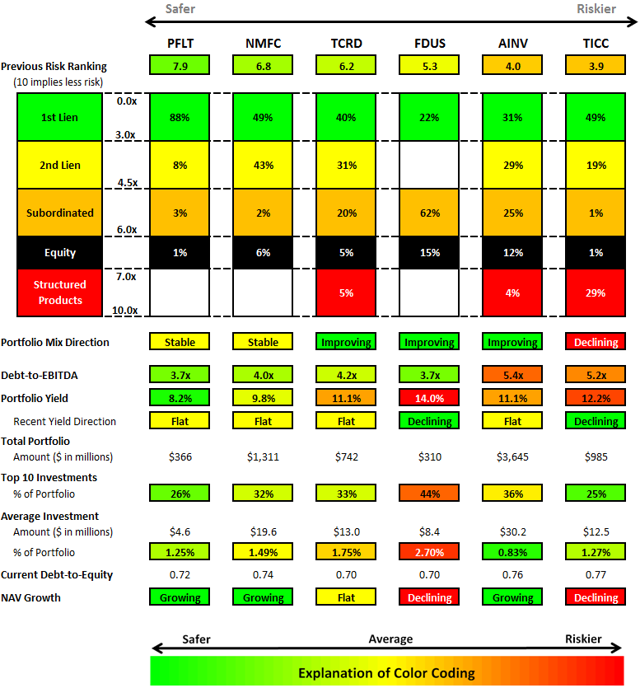 For more information about this series, please read "BDC Risk Profiles: An Introduction", and I will be adding my 'vintage analysis', as well as including information about BDCs with 'recession-resistant investments'. For updates to this series and links to previous risk-related articles on Seeking Alpha, please check my "BDC Risk Profile" page, as well as the "BDC Research Page" that I will continue to update as well as my "Index to BDC Articles" for more information on specific BDCs.
Disclosure: The author is long ARCC.
The author wrote this article themselves, and it expresses their own opinions. The author is not receiving compensation for it (other than from Seeking Alpha). The author has no business relationship with any company whose stock is mentioned in this article.