There have been more data breaches since JP Morgan Chase (NYSE:JPM) announced that they had been attacked through an unknown loophole in their system, but there is speculation that all of these attacks are coming from Russian hackers. That is not to say that all of the crimes are connected, but that it does appear that either Russia is quickly becoming the hacking capital of the world or hackers there have found the US retail (and banking sector to a much lesser degree) to be easy targets. With news that Dairy Queen has experienced an attack, we might see a new front opened by hackers on the restaurant industry.
The ECB cut its key rate to 0.05% from 0.15% which is pushing the euro to fresh one year lows. The ECB is also rumored to be looking at purchasing $500 billion in bonds, effectively kicking off a QE program as there is little doubt that Draghi will move forward on this so long as there is not a lot of resistance. This is good news for the continent, especially as other central banks did not make dramatic moves such as this.
Chart of the Day:
With yesterday's price action on the S&P 500, it appears that investors want to see the index build support around the 2,000 point level as well. Markets opened strong and sold off during the session, but the S&P 500 did not finish at the lows of the day and established another close above 2,000.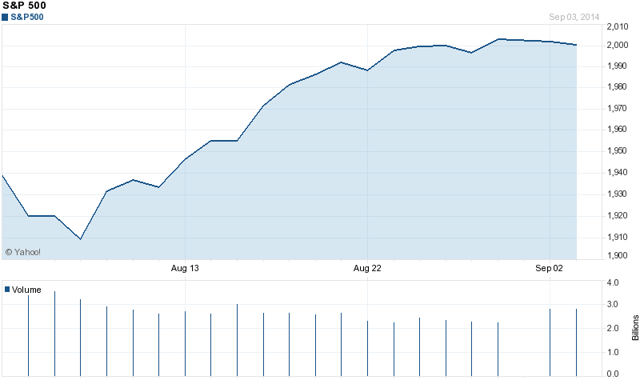 Source: Yahoo Finance
We have economic news today, and it is as follows:
Challenger Job Cuts (7:30 a.m. EST): Est.: N/A Act.: -20.7%
ADP Employment Change (8:15 a.m. EST): Est.: 220k Act: 204k
Initial Claims (8:30 a.m. EST): Est.: 300k
Continuing Claims (8:30 a.m. EST): Est.: 2525k
Trade Balance (8:30 a.m. EST): Est.: -$42.0 B
Productivity - Rev (8:30 a.m. EST): Est.: 2.6%
Unit Labor Costs (8:30 a.m. EST): Est.: 0.5%
ISM Services (10:00 a.m. EST): Est.: 57.8
Natural Gas Inventories (10:30 a.m. EST): Est.: N/A
Crude Inventories (11:00 a.m. EST): Est.: N/A
The Asian markets are mostly higher today:
All Ordinaries - down 0.44%
Shanghai Composite - up 0.80%
Nikkei 225 - down 0.33%
NZSE 50 - up 0.08%
Seoul Composite - up 0.25%
In Europe, the markets are higher this morning:
CAC 40 - up 0.97%
DAX - up 0.32%
FTSE 100 - up 0.31%
OSE - up 0.02%
Tesla Places Bet On Nevada
It appears that Elon Musk's Tesla (NASDAQ:TSLA) has chosen Nevada as the state in which it will construct its "Gigafactory". Many were looking at the battle between California and Texas to be the deciding factor, but apparently neither state could match what Nevada put on the table. As this is unconfirmed at this time (but Nevada has scheduled a press conference today with the Governor set to be present along with key members of the state legislators) and everyone is waiting announcement, investors will have to wait to see if Tesla was successful in obtaining upfront subsidies and tax-breaks that would help pay for the construction of the $5 billion battery factory.
For Sale By Owners
Shares in TIBCO Software (NASDAQ:TIBX) rose sharply in after hours trading after the company announced that three of its independent directors had formed a committee to field offers from potential suitors and the company would look into financial alternatives to its current structure. There have been rumors that the company had reached out to potential suitors already, so for those wanting to speculate here we think that the focus should be on an outright takeover and not the company recapitalizing and either buying back shares or issuing a special dividend.
Big Win For The British
Barclays PLC (NYSE:BCS) received a big victory yesterday after Alibaba (NYSE:BABA) announced that they had chosen the firm to be their designated market maker on the New York Stock Exchange. This is not really a surprise as Barclays is one of the largest players in this area and they helped Twitter (NYSE:TWTR) with their successful IPO this past year. The British financial institution saw its shares up slightly in after hours trading yesterday following the news.
Alibaba also announced that Goldman Sachs (NYSE:GS) will act as the stabilization agent during its IPO.
Disclosure: The author has no positions in any stocks mentioned, and no plans to initiate any positions within the next 72 hours. The author wrote this article themselves, and it expresses their own opinions. The author is not receiving compensation for it (other than from Seeking Alpha). The author has no business relationship with any company whose stock is mentioned in this article.