As minimum wage, fast food employees continue to fight for higher pay, some Wall Street watchers worry that a significant increase in the minimum wage could have a critically negative impact on McDonald's (NYSE:MCD).
Protests in Chicago, New York
Recently, nearly 1,300 fast food employees gathered in protest in Chicago. The Service Employees International Union (SEIU) funded the protest as the workers called for an increase to $15 per hour wages. SEIU hopes to add to its core membership through these actions.
Dozens of protesters were also arrested in Times Square in New York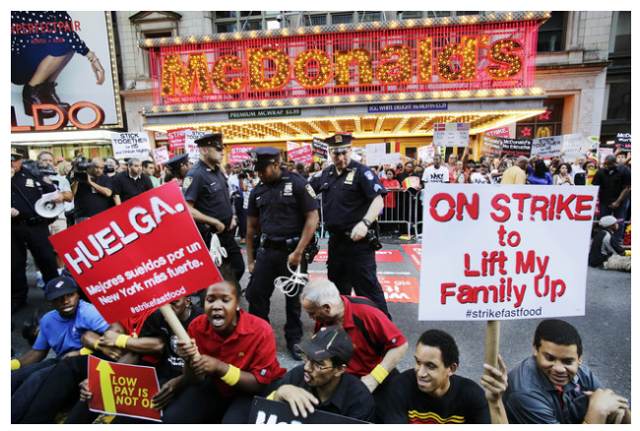 (Photo Credit: Bloomberg.com)
Effects of a Possible Wage Hike For McDonald's Corporation
If the protesters succeed and win an increase that amounts to double the current federally mandated minimum wage, it may take some time for the negative results to occur. However, ultimately, the change would have an effect on both prices and the bottom line.
Near-Term Effects
In the near term, whether such an increase in wages effects McDonald's may depend upon how much the corporation absorbs, in comparison to how much of the added cost get passed through to customers. McDonald's may be able to weather the change for a while, because the company takes a percentage of store revenue from the franchises rather than the costs minus labor.
Initially, the world's largest fast food operation would be partially protected against the wage increases as the franchisees would be responsible for covering the difference. Currently, royalties are calculated from gross sales instead of operating income. However, the increase would affect the corporation in that it directly owns approximately 10 percent of the total establishments in the United States. In those cases, the effect would be changes to the dollar menus, price increases and staff restructurings. Some analysts have estimated an increase of up to $400 million in additional wages from directly owned restaurants.
Long-Term Effects
The real impact would happen longer term as revenues fell if consumers turn away from fast food due to higher prices. Already, McDonald's has been reporting decreases in same-store sales. The trend exists across the entire fast food segment; however, McDonald's seems to be experiencing a greater hit to the bottom line. Higher prices that lead to lower overall sales would lead to lower royalties to the corporation.
Changing Landscape In The Food Industry
The Boston Consulting Group published a study, showing changing tastes in the millennial generation (depicted below), which could also have long-term adverse affects on fast-food chains, such as McDonald's.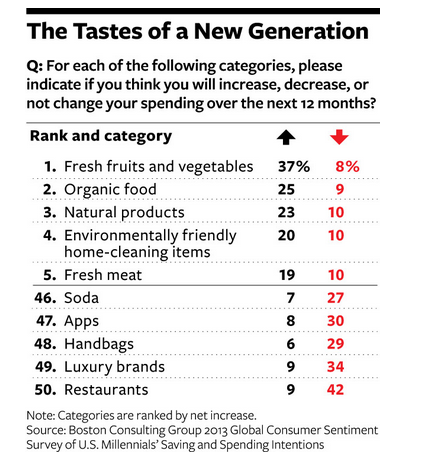 (Source)
MCD's Poor Results
For the second quarter of 2014, McDonald's reported that same-store sales fell by 1.5 percent. After the report, stock in the company dropped 1.33 percent to $96.25. The company reported profit of $1.39 billion versus $1.4 billion for the same period in 2013. This equates to $1.40 per share in contrast to $1.38 per share over the same period last year. Revenue increased 1.4 percent to $7.18 billion, up from $7.08 billion last year during the second quarter. These results generally missed analyst expectations.
Increased Competition From Burger King?
With Burger King's (BKW) recent acquisition of Tim Horton's (THI) of Canada and relocation of its headquarters to take advantage of more favorable corporate taxes, McDonald's will face stiffer competition as Burger King expands its offerings, especially in the highly profitable coffee drink arena. Coupled with lower taxes, Burger King may ultimately represent a more desirable investment over McDonald's.
Additional Challenges in China
In addition, McDonald's faces another challenge to overcome with the recent scandal involving its meat supplier from China. A recent news report in that country exposed the supplier, Shanghai Husi Food, as processing expired beef and selling it to McDonald's. This news had hurt sales, and in its regulatory filing with the SEC stated there had been "significant negative impact" to its stores in Japan and China in particular.
Outlook For MCD Investors: Not So Tasty in 2014
With industry challenges, increased competition, looming effects of a wage increase, significant negative publicity due to protests, and negative results, MCD faces an uphill battle in the second half of 2014.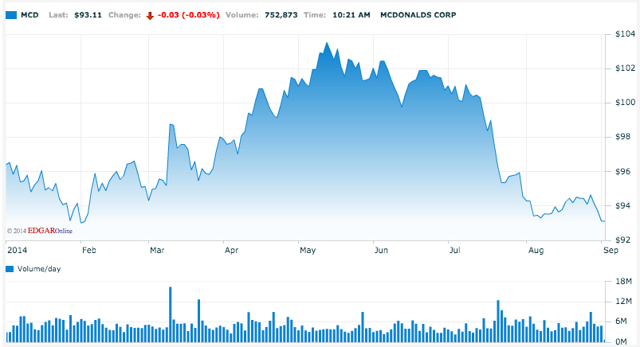 (Nasdaq.com)
We suggest investors consider taking profits.
We encourage readers wishing to join the discussion on fast food giants to click +FOLLOW above the title of this article - and those wishing for the latest updates to click +Get real time alerts.