Value can be found among Biotechnology stocks if you look for it. I look among stocks with large price declines and low valuations compared to peers, but with a turnaround story. Evidence for a turnaround can be found in management's statements backed up by improving revenues and returns. Transgenomic Inc. (TBIO) caught my eye in a recent screen for such stocks.
TBIO stock price has returned -98.7% since its IPO in July 2000, and -72%, -37%, and -11% over the past 10 years, 5 years, and 1 year, respectively.
source: finance.yahoo.com
TBIO now has a tiny market cap of $28M, a trailing 12-month P/S ratio of 1.1, and price-to-book of 2.2. This P/S and P/B put TBIO among the 10 cheapest I found in a screen for biotech & life sciences companies based in the US.
Background. TBIO and its competitors are in the business of deciphering the genetic code written in the DNA of individual humans. Deciphering or sequencing the human genome provided the foundation for personalized medicine - this is the term applied to the process of designing drugs that target countless mutant, disease-causing genes or their products.
The purpose of this article is to examine the role of TBIO in a field dominated by Illumina (NASDAQ:ILMN), a paragon in the Life Sciences industry.
In the year 2000, TBIO's lead product was a sequencing platform called WAVE which is based on liquid chromatography, a classic tool for separating molecules on a small scale. Illumina was already using a more advanced, next generation technique based on fiberoptic microarrays for high throughput (larger scale) gene sequencing. That year TBIO had 188 full-time employees, ILMN 105. TBIO had $78M in assets, $25M in sales; its market cap hit $475M. Illumina's hit $1.45B with assets of only $132M and annual revenue of only $1.3M. So in Y2K, ILMN had only a fraction of TBIO's revenue but nearly double TBIO's balance sheet assets and triple its market cap.
By the end of 2002, however, ILMN market cap had fallen 92% to $109M even though its annual revenue had increased more than 7-fold to $10M. TBIO had grown to 326 employees (compared to 233 for ILMN) with revenue of $38M.
By the end of 2004, ILMN had scaled and commercialized its ability to perform whole genome genotyping and gene expression (analyzing the RNA or protein products of genes), enabling other researchers to query an individual for more than a hundred thousand harmful mutations or harmless variations simultaneously. Why such a scale? Because normal variations in genes (humans have about 30,000 genes) number in the millions. Revenue was up 5-fold from 2 years prior to $50.5M. In 2004 ILMN also ramped up its oligonucleotide manufacturing and product sales - TBIO exited the oligo business. And while ILMN market cap grew 55%, TBIO's declined 37% as the company restructured and cut its headcount.
2005 and 2006 were relatively uneventful for TBIO while ILMN launched new products. 2007 was considered a pivotal year by TBIO as it continued to restructure under a new CEO. TBIO even had a profitable quarter as it focused on laboratory services for gene analysis related to specific diseases.
TBIO considered 2009 to be "transformative" with its licensing of COLD PCR from Harvard's Dana Farber Cancer Institute where the technique was found to detect KRAS mutations in DNA circulating in the blood of patients with colorectal cancer that exactly matched mutations found in tissue biopsies from the same patient.
2011 was considered a "defining" year for TBIO. TBIO grew revenue and profits as it began to focus on genetic kits that would enable practitioners to identify persons who metabolize drugs at a rate different from normal. ICE COLD-PCR technology to perform cancer pathway gene mutation analysis and other genomic service testing was offered to major pharmaceutical companies. In 2011 TBIO was still investing in R&D for its enzyme SURVEYOR Nuclease.
In 2012 TBIO furthered its research on COLD PCR with academic collaborators and expanded its offerings of mutation kits for cancer, scoliosis, cardiac and other conditions, mostly in Europe. 2013 was remarkable for hiring a new CEO, for more partnership formations, and for $7M in private financing by Third Security which now owns 10% of outstanding shares. At the end of 2013 full-time employees at TBIO had been reduced to 165. ILMN reported its headcount to be over 3,000.
In the TBIO 2014Q2 earnings report, Mr. Kinnon, CEO since September 2013, says "We believe that our ICE COLD-PCR technology has transformative potential and we expect it to play a key role in our personalized medicine strategy...We are optimistic that the company's turnaround is well underway." ICE COLD-PCR for which TBIO was granted a US patent in January 2014 can be run in any laboratory "with standard PCR technology and that enables detection of multiple unknown mutations from virtually any sample type including tissue biopsies, blood, cell-free DNA and circulating tumor cells at levels greater than 1,000-fold higher than standard DNA sequencing techniques."
Meanwhile, ILMN has garnered a market cap 1,000-fold higher than TBIO's on the strength of its products and services, and the revenues generated.
TBIO performance metrics and valuations. This YChart shows TBIO's revenues compared to Illumina's.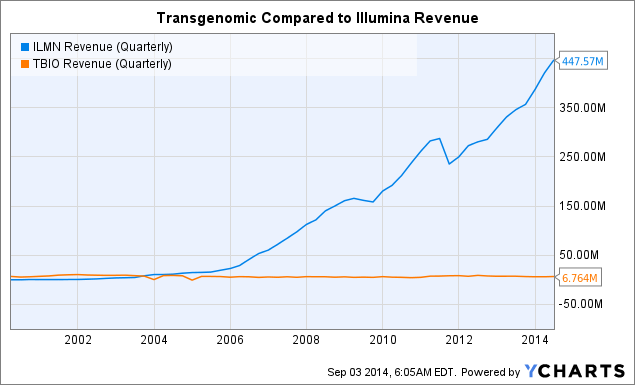 ILMN Revenue (Quarterly) data by YCharts
TBIO names competitors with its WAVE mutation detection tool as Applied Biosystems (NYSE:TMO), Qiagen (NASDAQ:QGEN), Roche, Sequenom (NASDAQ:SQNM) and Illumina. TBIO gross margins are lowest in the group and steadily declining. This YChart shows TBIO gross margins compared to Illumina's.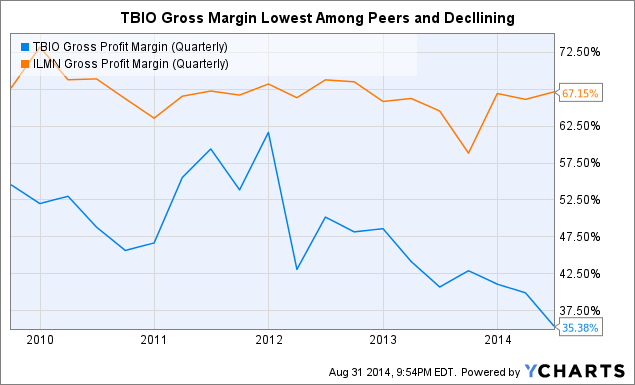 TBIO Gross Profit Margin (Quarterly) data by YCharts
Not surprisingly then, the market has assigned TBIO the lowest sales multiple - in the following YChart is 5-year P/S trend for TBIO compared to its competitors in the WAVE mutation detection business.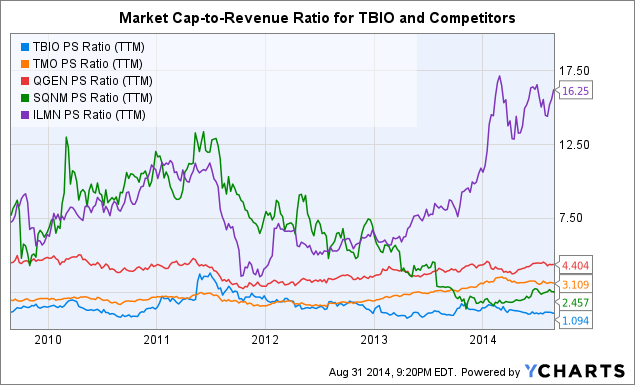 TBIO PS Ratio (NYSE:TTM) data by YCharts
TBIO has the lowest P/S ratio. TBIO also has the lowest P/B at 2.2; TMO has the next lowest with P/B of 2.5. Compare that with P/B 16 for ILMN.
TBIO does not have a strong balance sheet. Net current asset value is negative with $20.7M in liabilities and only $13.4M in current assets including $1.2M cash versus quarterly operating expenses of about $6M. Balance sheet cash, however, does not include $3.65M from sale of an asset (the Surveyor technology) just after the close of Q2.
TBIO's niche in Illumina's universe. In a nutshell, ILMN offers large scale (genome wide) testing for hundreds of thousands of genetic mutations or variations. TBIO offers small scale testing for specific, known mutations and variations. ILMN offers gene expression (RNA and protein products of genes) analysis, TBIO does not. ILMN also offers linkage analysis to determine likelihood of genetic disease in an individual. Since its inception ILMN has been adding to its core competencies. TBIO has subtracted from 3 of its original core competencies 2 of them: the oligonucleotide business and the enzymology business, selling its SURVEYOR Nuclease in 2014. TBIO now has its hopes pinned to its ICE COLD PCR technology.
I searched Google Scholar for "COLD PCR" identified 841 publications the first of which was its original description in Nature, 2008 by its inventors at Dana Farber. There is clearly interest in this technology, but it is too soon to know if COLD PCR will be enough to "revitalize" TBIO as its CEO believes it will.
The only evidence of the TBIO turnaround is the sequential quarterly revenue increase shown in this YChart.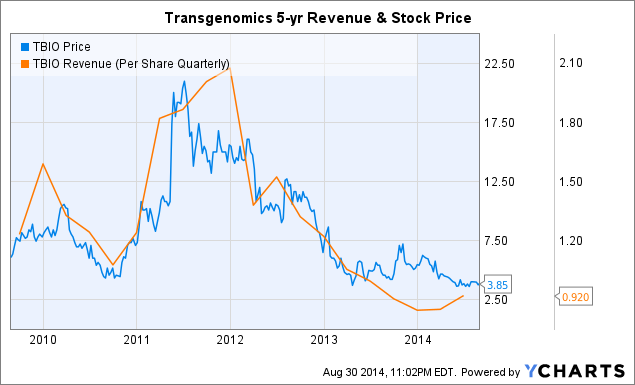 Conclusion. TBIO has been a terrible stock. TBIO's cheap valuations are justified by the fundamentals. TBIO's low margin niche in Illumina's universe has not generated the profits to keep this company solvent. TBIO has funded much of its perpetual losses by issuing more shares.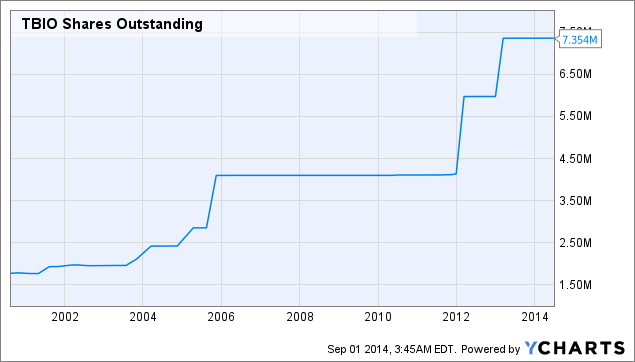 TBIO Shares Outstanding data by YCharts
Insiders own only 3.8% of shares, and haven't been buying.
Possible reasons to invest are:
1) Downside may be limited by TBIO's low valuations - the short-sellers know it, and have little interest in this one: 0.3% compared to 2.6% short interest for ILMN. However, if margins and profits continue to decline, so will the stock.
2) Personalized medicine has arrived, and the Life Sciences industry will continue to grow with it. Illumina will continue as leader, but there will be niche markets for small companies that make kits for detecting mutations in the clinic. But TBIO needs to choose important targets for tests that practitioners will actually use.
3) If ICE COLD PCR is indeed "transformative" and if it is well monetized, TBIO could grow.
4) If you like to bet on a turnaround story. I bought Affymetrix (NASDAQ:AFFX) on a turnaround story and so far that has worked well for me before, so I am interested in this one. I bought a few shares just to put TBIO on my radar screen.
Disclosure: The author is long TBIO.
The author wrote this article themselves, and it expresses their own opinions. The author is not receiving compensation for it (other than from Seeking Alpha). The author has no business relationship with any company whose stock is mentioned in this article.