Amazon (NASDAQ:AMZN) recently announced that the number of apps in the Amazon Appstore had almost tripled over the last 12 months to reach 240,000. In comparison, Google's (NASDAQ:GOOG) app store Google Play, Apple's (NASDAQ:AAPL) App Store, and Microsoft's (NASDAQ:MSFT) Windows Phone Store have amassed 1.3 million, 1.2 million, and 300,000 apps, respectively.
What this means is that Google Play has about five times as many apps as Amazon's Appstore. Raw numbers, however, do not mean much. The number of app downloads does not also directly correlate with revenue. For instance, Google Play accounted for 75% of mobile app downloads last year while Appstore netted just 18% of the downloads. Apple's App Store realized revenue of $10 billion, while Google Play had only $5 billion, or close to 10% of the company's gross revenue. App revenue has two major components:
Revenue generated for app developers
Revenue generated for the app store
App developers typically get a 70% cut of the revenue generated by app sales, while app stores pocket the other 30%. App developers also make money from in-app ads. Revenue generated from ads can be considerable, but tends to vary greatly from one platform to the other. For instance, Facebook ads are remunerated at a rate of $5 CPM.
App stores will of course try to get as many developers as possible publishing on their sites to increase their potential revenue. Developers on the other hand are more interested in publishing where they can make the most money.
Potential Developer Revenue on the Appstore
There are a number of reasons why Amazon Appstore is becoming so popular, but perhaps the biggest is simply because it has the largest revenue potential compared to leading app stores. According to Developer Economics, most app developers adopt a cross-platform approach when publishing their apps. This approach involves publishing their apps on several app stores. Many developers usually publish their apps on the bigger app stores first, then later on publish them on smaller app stores once they have gained traction.
According to the organization, 65% of app developers publish on Google Play while 56% publish on Appstore.
App Store Popularity
Platform
Percentage of Developers Using It
Google Play
65%
Apple App Store
56%
Windows Phone Store
26%
BlackBerry World
20%
Amazon Appstore
16%
Source: Developer Economics
For the few publishers that prefer to publish exclusively on one app store, Amazon Appstore has by far the biggest revenue potential.
Revenue by App Store
App Store
Revenue/ App/ Month
Google Play
$3,300
Apple App Store
$6,500
Windows Phone Store
$300
BlackBerry World
$500
Amazon Appstore
$9,800
Source: Developer Economics
With apps exclusive to Amazon Appstore having such a large revenue potential, it will not be long before the app store starts attracting the attention of the finest developers, thus growing the revenue for the app store.
How much revenue does Amazon Appstore make?
It's hard to come across figures for the amount of revenue Amazon Appstore makes. We can however, get some estimates through deductions. Distimo is a private company that provides developer-specific information that can help developers make decisions about where to publish their work. Distimo says that despite Google Play having a much larger number of apps than Amazon Appstore, the number of paid apps on Google Play is only twice the number of paid apps on Amazon Appstore.
If we assume that the average revenue per app on Amazon Appstore is the same as that for Google Play, then Amazon Appstore realized revenue of about $2.5 billion last year (50% of Google Play's $5 billion). This figure could, however, be a pretty conservative estimate. The study by Developer Economics found that apps published exclusively on Amazon Appstore realize almost 3 x as much revenue as apps published on Google Play. Assuming that about 30% of apps on Amazon Appstore are exclusive to the store, then the revenue figure for Amazon Appstore almost doubles to $5 billion.
Amazon Appstore for Android
Amazon Appstore for Android is the other big reason why the Amazon Appstore is growing so quickly. Amazon Appstore for Android is perhaps the most popular third-party app store. Third-party app stores are not controlled by the owner of the OS. In this case, Google does not directly control Amazon Appstore.
Developers are flocking to the app store because it's less restricted than the other proprietary app stores. For instance, a third-party app store lets you download an APK file (that lets you install an app on your Android phone), something that official stores don't allow. Third-party stores are very popular in places like China where Google Play is restricted. Developers love third-party app stores because they help them target specific audiences. For instance, many developers publish their work on Amazon Appstore once their apps have gained traction on bigger stores. This strategy helps their apps to stand out from the crowd, and sometimes be featured on other less well-known app stores such as Samsung App Store or Vodafone Appstore.
Amazon Appstore has also borrowed a play from Google Play. Google Play gets 98% of its revenue from freemium apps. These are free-to-play apps that use in-app purchases to generate revenue instead of charging a flat free upfront.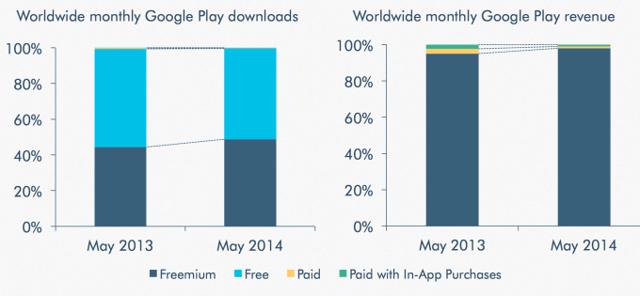 Source: TechCrunch
Amazon Appstore has tweaked this model and allows developers of paid apps to offer their apps for free for about a month. The apps are featured on the Amazon Appstore and helps the apps gain traction quickly, then go back to the paid mode. Official app stores do not allow this.
Conclusion
For Amazon Appstore, it's all systems go. The app store not only has a large revenue potential, but is less restrictive than larger app stores. The app store recorded a blistering 200% growth in 2013. Even allowing for a more modest 100% CAGR over the next three years, Amazon Appstore could grow to be as big as Google Play in terms of number of apps, and perhaps much bigger in terms of revenue for the app store.
Disclosure: The author has no positions in any stocks mentioned, and no plans to initiate any positions within the next 72 hours.
The author wrote this article themselves, and it expresses their own opinions. The author is not receiving compensation for it (other than from Seeking Alpha). The author has no business relationship with any company whose stock is mentioned in this article.