By Adam Sharp
Mobile is set for another big year in 2011, but the hierarchy of tech giants is shifting.
A year ago, Android was just a promising upstart in the sector. Research in Motion (RIMM) was barely holding its own, while Nokia (NYSE:NOK) and Palm (PALM)/Hewlett Packard (NYSE:HPQ) were struggling.
Motorola (MOT) was showing signs of life, as it looked like their bet on Android might pay off.
Apple (OTC:APPL), of course, was undisputed king of smart devices.
Fast forward to today, and this chart by Millennial Media says it all: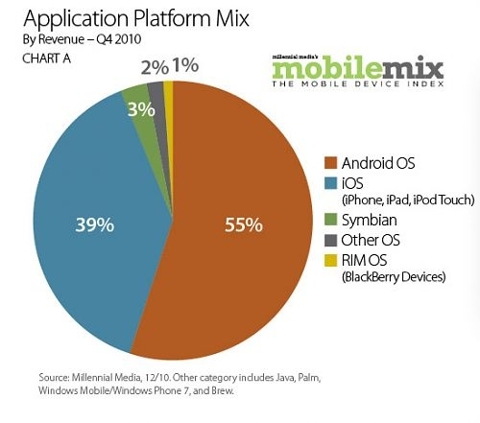 They've got a ways to go yet, but Google (NASDAQ:GOOG) is starting to run away with this one.
Wildly profitable
Apple shares are up more than 3500% over the last 10 years.
As long as we're cherry-picking dates, from September 1985 until today, AAPL shares notched up 18,885% gains.
Mr. Jobs and his team have shown us just how profitable gadgets can be, but the stock's run is getting long in the tooth ...
In July of 2010, I proposed Apple is at or near its peak for this cycle.
I may have been a little early — I did mention that only a madman would short it — but I stand by the theory.
Why?
For years, AAPL had the only "fun" smart phone on the market. This is no longer the case.
Android is a game-changer. In the long run, this increased competition will compress margins and reduce their piece of the pie (yes, the pie is also growing larger).
No company stays Wall Street's darling forever. Upside in AAPL here is limited for the near- to mid-term, and the downside risks are increasing.
It's a great company, but there are simply much more attractive opportunities out there ...
Rotate into GOOG
The new mobile growth story is about Google.
Now I'm not necessarily bearish on AAPL. But it is among the most widely held stocks in the world, and millions of investors are sitting on big gains.
When all those shareholders and money managers take profits, Google would seem a logical stock to rotate into. And this rotation effect could give Google shares a nice boost throughout 2011.
This scenario appears to be playing out today, as Apple shares are down about 3% on news of Steve Jobs' medical leave, and Google shares are up 2%.