In some ways, one could argue that Visa (NYSE:V) is nearly a perfect company in which to invest. I plan to explain why I believe this to be the case and will then investigate whether the stock is properly valued at its current price.
Visa has a fascinating history. It was founded in 1958 when Bank of America launched BankAmericard, which was the first consumer credit card offered in the United States. It expanded internationally in 1974 and introduced its first debit card a year later. Visa grew over the years to become a series of entities owned by different regional banks across the world. In 2007, most of these segments were merged into Visa and the company went public in March of 2008. However, Visa Europe remains a separate entity controlled by banks and payment service providers in Europe and is not part of the publicly traded business.
Although viewed by many as a technology company, I would contend that in practice Visa operates as a utility. The firm does not have any direct exposure to consumer debt, but rather takes a small fee every time that a Visa debit or credit card is swiped. This leads to consistent earnings and revenue growth that are easy to forecast. Furthermore, like many other utilities, Visa operates in an oligopoly with only a few major players (MasterCard (NYSE:MA) and American Express (NYSE:AXP) being the two major ones). The immense barriers that exist in the credit card industry allow these companies to generate stunning levels of return on capital without significant risk of new competitors. As of 2008, a Nilson report stated that Visa held 38% of the U.S. credit card market and 61% of the debit card market in America.
This significant market share allows Visa to deliver some stunning profitability and efficiency metrics. Based on full-year results from 2013, the company reported a gross profit margin of 84% and a net profit margin of 42%. Its return on invested capital metric of 18% is further proof of the firm's strong competitive position.
After going public at $44 per share back in 2008, Visa has rewarded shareholders with impressive returns. Based on its most recent closing price, Visa shares have gained 388% since the IPO. However, as you can see from the three-year chart below, the stock has flattened out thus far in 2014 after a strong run the previous two years. It is in some danger of breaking a well-established, long-term trendline: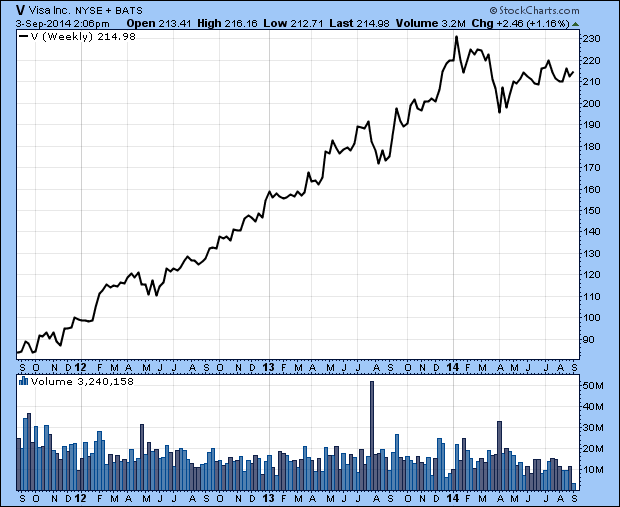 From a valuation perspective, Visa currently trades at approximately 25x trailing earnings. Based on consensus analyst forecasts, the shares are valued at 21x 2015 estimated earnings and 18x 2016 estimated earnings. By comparison, Visa's closest competitor MasterCard trades at 23.5x 2015 estimated earnings. During the past three years Visa has averaged bottom-line growth of roughly 15%, and this is almost exactly what analysts expect to continue over the coming two. Over the last five years, Visa has traded at an average forward P/E of 20x, making its current valuation reasonable from a historical perspective:
Source: Created by author.
There are a pair of obvious risks to Visa. The first involves ongoing lawsuits regarding antitrust behavior in several jurisdictions with many different parties. Wal-Mart (NYSE:WMT) was the latest litigant to throw its hat into the ring, complaining of unfairly high swipe fees caused by antitrust behavior from Visa. Unfortunately, ongoing legal disputes will likely continue for Visa; this is simply a fact of life in an industry dominated by a small handful of powerful corporations. Just remember that while the lack of competition in the payment processing industry is the cause of this risk, it is also the main reason why Visa can generate such strong profit margins and high levels of return on its capital.
The second major risk factor is the growth of mobile payments. If you believe that Visa will struggle to compete in a world where mobile payments soon supplant traditional credit cards, then you will likely view the shares as too expensive trading at 21x next year's projected earnings. However, if Visa can maintain its current market share in the coming years, I contend that its consistent growth profile and strong earnings visibility make it a fairly valued stock.
At this point in time, Visa is a relatively boring company. There will no doubt be more antitrust lawsuits in its future, but those do little to change the long-term outlook of approximately 10% revenue growth and 15% bottom-line growth. Visa's shares are expensive, but they deserve to be so. Long-term investors would be wise to focus on adding stable businesses with strong competitive advantages to their portfolio, and Visa fits this description well.
Disclosure: The author is long V.
The author wrote this article themselves, and it expresses their own opinions. The author is not receiving compensation for it (other than from Seeking Alpha). The author has no business relationship with any company whose stock is mentioned in this article.