Tuesday Morning Corporation (NASDAQ:TUES) operates as a retailer of upscale decorative home accessories, housewares, seasonal goods, and famous-maker gifts in the United States. The company was founded in 1974 and is headquartered in Dallas, Texas. Tuesday's currently runs 810 retail stores in 41 different states.
The Company
While the company's same store sales have been growing over the last few quarters, market sentiment has propped a serious acceleration in what it considers fair value. Although the business trend appears to be moving relatively in-line with management's projections as cited in the previous CCs, it has not met par in the eyes of its respective analysts.
In the last quarter we saw a slight decrease in margins, in a company that already has shown significant weakness in its bottom line since the housing crisis.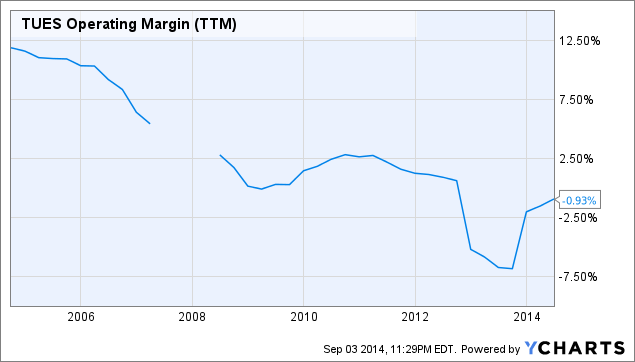 TUES Operating Margin (NYSE:TTM) data by YCharts
Even though we are expecting a continued recovery, leading into profitability for the next fiscal year, I'm not sure as to why this is realistically fully priced into the stock. In 2006, operating margins averaged around 5-6%, which clearly isn't the case here.
Earnings Report
On the top line, revenues came in roughly in-line with the consensus at about $212mm, against the target of 217mm. For profitability, earnings were relatively disappointing only issuing an eps number of -$0.08 versus the consensus of -$0.05. Quite surprisingly, investors took these numbers in gratefully, bidding the price higher by more than 7%. Overall it appears that people are happy to see the recovery chugging along, however is it really worth 800mm today? Probably not.
Valuation
The expectation over the next five years is that earnings growth should fall around 10% annualized, somewhat near the industry average. Taking management's next year figure of 75 cents with this input and a typical terminal growth rate, the company is clearly overvalued. Instead I used a simplified DCF method with 10% growth, and the stock achieves a fair value of ~$14 pps, or 23% downside.
Sentiment & Technicals
Since August of last year, short sellers have jumped on the band wagon for two possible reasons: 1) valuation and 2) natural weakness in retail. Generally if a retailer, that does not have a significant economic moat, is relatively overpriced short sellers have a reason to be there. Tuesday Morning is no exception.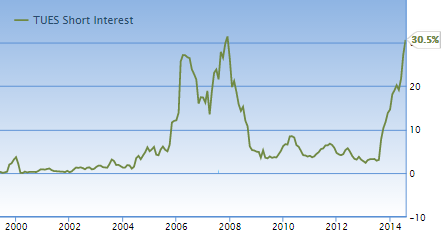 This chart is provided by gurufocus.com
The stock has been very trendy to the bullish side, so some investors net short have likely been squeezed out of their positions. However all stocks tend to have pullbacks toward moving averages, and here it is likely justified.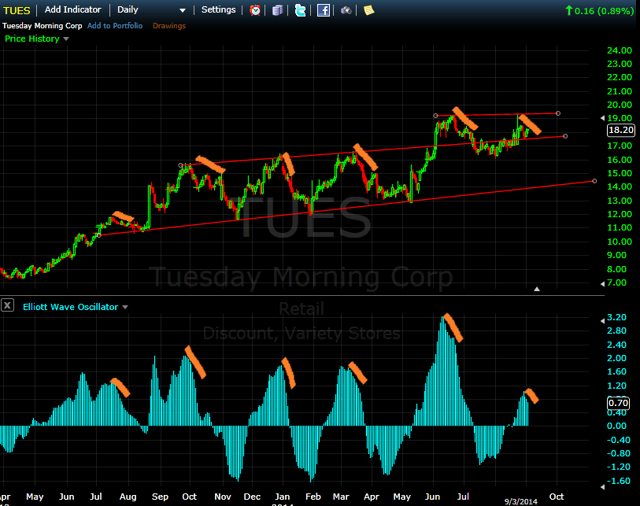 This chart is provided by freestockcharts.com
The elliott wave oscillator, EWO, has been a pretty good leading indicator for TUES's bearish price action in the short term. As denoted by the orange lines, as the histogram bars retrace toward the zero level, selling tends to accelerate. We are currently at this stage.
Bottom Line
Overall this company seems to have gotten ahead of itself in terms of equity value. Frankly I am not sure why investors are diving head first into a retailer that shows significant weakness on its bottom line despite the okay comps. At $18.20 it appears there is no margin of safety, therefore I would recommend against a long position and avoid the stock all together. Prospective short sellers may have difficulty with borrowing shares given its current "hard-to-borrow" tag.
Disclosure: The author has no positions in any stocks mentioned, and no plans to initiate any positions within the next 72 hours.
The author wrote this article themselves, and it expresses their own opinions. The author is not receiving compensation for it (other than from Seeking Alpha). The author has no business relationship with any company whose stock is mentioned in this article.