Lowe's Companies Inc. (NYSE:LOW) is a home improvement retailer serving home owners, renters, and commercial business customers. Lowe's revenues are heavily dependent on the housing market, income growth, and consumer spending. Currently all of these factors appeared to have improved in the US as the improvement in the US labor market is more significant this year compared to last year. After a brief period of stagnation, housing market data has shown significant improvements. The economy performed better than expected in the second quarter and GDP rose 4.2% between April and June. Consumption grew to 2.5% and residential fixed investment grew at an annualized rate of 7.2%, which was enough to support Lowe's.
Another favorable factor for the home improvement industry is the growing US housing market. The US housing market surged to an eight-month high in July and new housing jumped 15.7% last month. This growing trend is expected to continue throughout the second half of 2014 adding to Lowe's noticeable growth.
Recent Performance at a Glance
Lowe's delivered rock solid second quarter results after a brief period of stagnation. Sales in this quarter increased to $16.6 billion reflecting year over year growth of 5.7%. The growth in the sales of the company is attributed to an increase in comparable sales which sky rocketed by 4.4% compared to the figure reported during the same period a year ago. The positive performance of the company is also attributed to the recovery in outdoor product sales; the loss occurred because of unfavorable weather conditions during the first quarter. The outdoor product sales of the company increased 6.5%. Thanks to the solid performance during the second quarter, the miss for the first quarter has been offset.

Source: Company s Second Quarter Earnings Call
In the second quarter, the gross margins of the company increased 20 basis points and margin improvement is tied to the increase in comparable sales. The first half of the year saw an EPS improvement of 20.6% compared to the figure reported last year. For fiscal year 2014, EPS is expected to be $2.63 reflecting an increase of 23% (compared to fiscal year 2013) and based on the prediction of increase in comparable sales of 3.5% and total sales of 4.5%.
On Demand Delivery Services
In order to expand its customer base, Lowe's recently launched ProExpress, an on demand delivery service, to meet the emergency needs of its customers. The service will be making regular deliveries to businesses and visit sites to restock shelves. The ProExpress program is currently available at more than 200 Lowe's stores across the country. This service will help the company to expand its customer base as this will save customer's time by meeting their demand at their doorsteps without any delay.
Americans want Smart Homes
A new smart home study conducted by Lowe's revealed that more than 70% of smartphone users in US wish that they could control something in their home with their mobile devices without having to get out of bed. The Smart Home survey polled more than 2000 US adults and found that 52% of Americans feel that having a smart home is important to them. Lowe's was the first to provide home automation solutions with Iris and the first to introduce a platform that allows devices across its stores to connect with each other.
Iris offers a wide variety of connected devices, affordable products, and an easy DIY system setup. According to transparency market research, the global home automation market is expected to reach $16.4 billion by 2019. Keeping the discussion above in mind, I believe that Lowe's is very well positioned to derive growth from the growing home automation market through Iris.
Rewarding its Shareholders
The chart below shows Lowe's has a continuous history of rewarding its shareholders through growing dividend payments. The dividend payments have grown at a CAGR of almost 25%.

Source: Morning Star
In the recently ended quarter, Lowe's paid $183 million in the form of dividends reflecting an increase of 28% compared to the same period last year. In addition to this, the company has also rewarded its shareholders with excess cash under their buyback program. The company purchased $1.1 billion of its stock during the second quarter and $2 billion during the first half of 2014. The high operating profit coupled with lower capital due to share buyback results in improved return on Invested capital, which jumped to 12.61% this quarter.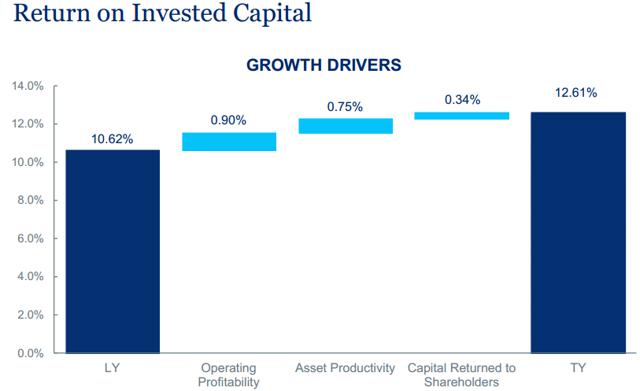 Source: Company's Second Quarter Earnings Call
A major contributor towards the gain in Lowe's stock is the reduction in the number of shares outstanding in the last five years. Outstanding shares have dropped 31% from 1.45 billion to 1 billion since 2010.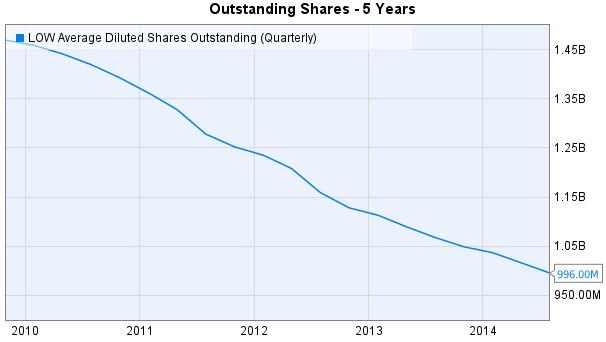 Source: Y-Charts
The decrease in the number of outstanding shares resulted in improved asset productivity and a lower price to earnings multiple making Lowe's an attractive opportunity for investors.
Conclusion
With the US economy gaining momentum, Lowe's future prospects look bright. The company has experienced a significant improvement in its margins, sales, and earnings growth. The launch of ProExpress will help the company to expand its customer base by providing valuable services to its customers. Lowe's share buyback program is rewarding its shareholders and has improved the return on invested capital and price to earnings multiple of the company. This discussion justifies my bullish view of the stock.
Disclosure: The author has no positions in any stocks mentioned, and no plans to initiate any positions within the next 72 hours.
The author wrote this article themselves, and it expresses their own opinions. The author is not receiving compensation for it (other than from Seeking Alpha). The author has no business relationship with any company whose stock is mentioned in this article.