Defense contractor Raytheon (NYSE:RTN) has enjoyed a quick uptick, along with peers Lockheed Martin (NYSE:LMT) and General Dynamics (NYSE:GD), on an announcement by Defense Secretary Robert Gates that provides some clarity around expected budget cuts and program reductions. Defense contractors (strong companies trading at attractive valuations) have been on the radar screen for value investors recently on concerns that budget cuts and austerity worldwide will reduce their business. At recent prices in the 50 area, RTN is attractive to investors who hold a long term view that the need for defense is ongoing, both for the U.S. and the world.
I established a small position in LMT back in late November, and started following RTN and GD as prospects to increase my exposure to the sector. John Reese mentioned RTN in an article on his Guru strategy, suggesting it as an attractive pick based on Ken Fisher's Super Stocks. I added RTN after the Gates announcement, based on valuation and an opinion that the current negativity toward defense contractors is overdone.
Overview
From the 10-K:
Raytheon Company, together with its subsidiaries, is a technology and innovation leader specializing in defense, homeland security and other government markets throughout the world. We provide state-of-the-art electronics, mission systems integration and other capabilities in the areas of sensing, effects, and command, control, communications and intelligence systems (C3I), as well as a wide range of mission support services. We serve both domestic and international customers, principally as a prime contractor on a broad portfolio of defense and related programs for government customers.

We operate in six business segments:

– Integrated Defense Systems;

– Intelligence and Information Systems;

– Missile Systems;

– Network Centric Systems;

– Space and Airborne Systems; and

– Technical Services.
The six business segments have a total of 29 product lines, suggesting that the company is not overly dependent on any one program or product.
Sales for 2009 were 79% U.S. and 21% International. The U.S. business has been slow growth: International has been growing at approximately 20%.
Military Budgets and Austerity
Predictably, military budgets will come under intense scrutiny, both here and abroad, as austerity sets in in as a reaction to budget deficits. Weapons programs may be deferred or canceled, and margins will come under pressure.
Some analysts have described defense as a value trap. Over the long term, national security is an ongoing priority. There is no reason to believe that global economic difficulties will result in the spread of pacifism. An economically growing China is apt to flex its muscles, and has already demonstrated a willingness to talk about its technology during periods of tension. Rogue regimes covet nuclear power, and may eventually have to be countered by the use of conventional warfare.
Raytheon hasn't issued 2011 guidance, although CEO William Swanson did suggest 2-4% growth with margins similar to 2010 on the 3rd quarter conference call. The pessimism about defense is similar to the attitude toward healthcare that prevailed in the early months of the present administration: it is overdone. There has been speculation that a Republican dominated Congress may be protective of military spending. Investors will do well to be politically and ideologically neutral here: reversion to the mean is the watchword.
Cash Deployment
The company has been able to return excess cash to shareholders by means of dividends and buybacks. The dividend currently yields 3%, while buybacks have averaged 4.3% of shares outstanding over the past 5 years. The dividend has been increased each of the past 5 years, most recently by 21%. The dividend is secure and provides considerable support to valuation.
So far in 2010, buybacks total 1.2 billion at an average cost of 50.63 per share, compared to 900 million at 45.45 for the same period in 2009. At the prices paid, the buybacks create shareholder value. The company recently raised 2 billion in the bond market at attractive rates. The implications for financial engineering are food for thought. I believe the board would do well to adopt formal guidelines around the area of borrowing money to buy back shares - guidelines clearly stating the premises relied on for shareholder value creation.
Other uses of capital include Capex, R&D and acquisitions. The company pursues a balanced strategy: strong cash flow and ready access to credit markets have enabled it to meet its requirements for these purposes without accumulating excessive debt.
Recent Bond Offerings
After the end of the third quarter, the company tapped the bond market for 2 billion at low rates - coupons of 1.625% for 5 years, 3.125% for 10, and 4.875% for 30. In addition to contributing 750 million to its pension fund, it also exercised the call notice for 678 million worth of debt maturing in 2012 and 2013.
Acquisitions
The company recently announced an agreement to acquire Applied Signal (APSG) for 490 million in cash. The deal is small in proportion to Raytheon's market cap of 25 billion. Previous acquisitions include BBN for 334 million in 2009, Telemus Solutions and SI Government Solutions for an aggregate 52 million in 2008, and Oakley Networks, Inc., for 211 million in 2007.
This history reflects a strategy of buying complementary technology and expertise where appropriate. The company's size and financial strength facilitate acquisitions of this type, which can be expected to provide modest incremental growth over the long term.
Unfunded Pension Obligation
Unfunded pensions amounted to 4.68 billion as of 3Q 10. As mentioned previously, RTN has since made a 750 million contribution.
The following exchange from the transcript of the 3Q 2010 earnings conference call sheds some light on the situation:
Douglas Harned - Bernstein Research

Bill, I've known you a long time and you've never been a big fan of debt. So the decision to issue $2 billion in debt to the make a contribution to the pension, this all, I think, makes great sense. But is there a change in your philosophy in how you look at debt and the capital structure of the company going forward?

William Swanson - Raytheon CEO

I guess the way I look at it, when you can get debt at five years at 1 5/8, even somebody that doesn't like debt has to look at it and sit there and say, can you make your balance sheet and your operations more efficient. And even an engineer like me can understand that one.
The 8.75% expected return is consistent with actual results going back to 1986. The company uses a discount rate equivalent to the interest on A rated bonds with maturities similar to the underlying liabilities. The pension issue is manageable, but needs to be addressed under valuation.
Valuation
I use a 5 year average EPS valuation method. In this situation, it is appropriate to reduce 5 years earnings by the increase in unfunded pension obligations during that period. Here's the math: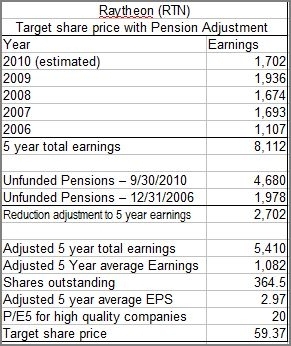 Based on this line of thinking, I'm investing on the basis shares will trade at 60 within the next two years. Lately the market has had a tendency to look past pension obligations, as it has done in the past. Without the pension adjustment, a P/E5 multiple of 20 would suggest a share price of 89.
Summary
Raytheon has the advantages of size, ready access to capital, and existing relationships within the military-industrial complex. International growth may be encouraged by the U.S. government as a way of increasing exports. A lack of overall growth in the U.S. military budget may be compensated by the ability to acquire smaller competitors or new technologies as they become available and in demand.
Strategy
Raytheon is suitable for dividend growth investors based on a five year history of increasing dividends, well covered by earnings. After a brief pop on the Gates announcement, it may give back some of its gains, providing a better entry point. With beta at .70, and the dividend as support, it's a good defensive stock in the event of a market correction.
In addition to monitoring US military budget developments, the relationships between and among pension obligations, debt and buybacks should also be tracked.
The stock is optionable, to include LEAPS, and the options trade regularly at moderate bid/ask spreads. I'm playing it by means of a LEAPS covered strangle, a position that retains the downside exposure and sells off much of the upside, while providing generous leverage in the event of small but consistent share price increases. To go from 50 to 60 over the space of two years would return 9.5% annualized, similar to what many project for the market as a whole. Applying leverage opens up the possibility of above market returns.
Disclosure: I am long RTN, LMT.
Additional disclosure: Long RTN Jan 2012 40.0 calls, short an equal number of RTN Aug 2011 40.0 puts and RTN Aug 2011 55.0 calls