In a day and age where uncertainty seems to rule the culture of the stock market world, call and put options have become increasingly popular in order to hedge a portfolio from a potential unforeseen event. Unfortunately, this is how most investors view options; however, many forget that it could also be used as a tool to guide investor sentiment within the near future. In simple layman's terms — more often than not, a company bound to have positive developments will see a high increase in call options traded, and vice versa with put options should negative outcomes be expected.
At the forefront of the biotech market lie two companies - Clinical Data (NASDAQ:CLDA) and BioSante (NASDAQ:BPAX) - that could potentially see themselves as having a new breath of life. Both companies are due to have very important FDA catalysts that could revolutionize their respective markets, and it seems like investors have taken a bullish stance by piling into call options.
First on the shelf we have Clinical Data, who on or before Saturday, January, 22, expects that the FDA will make its decision on whether or not to give marketing clearance for Clinical Data's flagship drug, Vilazodone. Here is a drug that passed two phase III trials with flying colors and minimal side effects, yet, still found its way on the well-known bashing list of Adam Feuerstein from TheStreet. Not surprising is the fact that Adam's hedge fund source who argued the bear thesis happens to be short the stock, and subsequently caused it to drop from $19 a share to $16 over the course of a month's time. Most would have likely looked at this as a negative sign, yet it seems just as many others, judging by the rebound in stock price in January, saw this as a perfect buying opportunity to become an investor, and a part of history in something that hasn't happened in more than ten years.
Vilazodone could potentially become the first compound to treat Major Depressive Disorder (MDDD), while not supressing sexual function, an added bonus that would undoubtedly attract partnerships and buyout opportunities within weeks should approval be achieved. The annual market for this disorder is $12 billion dollars, with more than 212 subscriptions in 2009, and a highly prevalent and serious mood disorder that affects roughly 18.1 million.
Additionally, call options volume and interest has been off the charts for Clinical Data. For the January 21 expiration there was heavy interest on the $25 strike price call options with a volume of 504, and open interest of 4,412, a number that's more than double the entire put options at all available strike prices. The heaviest rising option was the $17.50 which rose a whopping 91.43% on the day. Continuing the bullish pattern was the February 18 expiration call options which saw heavy volume in the $22.50 and $25.00 strike price options, with the largest open interest in the $22.50, which rose 6.67% during market hours. Last, March 18 expiration call options had an overwhelming majority of volume and open interest as opposed to its counterpart puts. Surprisingly, many investors are placing bets that a $30 price per share may hit as 395, $30 strike price call options were traded, with 4,571 open interest, while rising 16.67% on the day. All data provided by Yahoo Finance Clinical Data options table.
Technical Analysis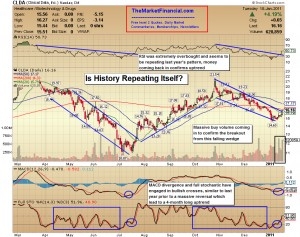 (click image to enlarge)
It is often said among experienced investors that hedge fund and ratings agencies will publish a negative piece to downgrade a stock in order to allow themselves flexibility to purchase shares at a discount, and it seems by looking at the technical chart that Clinical Data has fallen victim to none other than this very same principle. From a bird's eye view, we can clearly notice that almost every metric, along with price fluctuations, is developing in an almost perfectly symmetrical way, so if this does hold true and we see new 52-week highs, it certainly won't be much of a surprise from a technician's standpoint.
Next up is BioSante, which might turn out to be the small cap biotech of the year, talking of course, in market potential versus current state. The company has two upcoming catalysts for the first half of 2011 which could easily catapult the stock to new 52-week highs, especially now that they attained and finalized their raising of $18 million through several high quality biotechnology institutional investors, thus choosing to boost its major holders percentage to 40% of the share float.
It is expected that in the coming weeks the company should announce the beginning of a phase II study at Johns Hopkins cancer center for GVAX (therapeutic cancer vaccine) and also to receive phase III results for its flagship product, LibiGel, to support an NDA filing shortly thereafter. With now over $53 million cash on hand available with the addition of this private placement in conjunction with its product revenues and partnerships, the company is well capitalized and funded to meet any marketing and additional clinical trial results for its products going forward.
Call options for BioSante for the February, 18, $2.50 strike expiration saw nearly double the volume traded at 78 and 85 interest when compared to puts for the same period, which subsequently caused it to rise 100% in price on the day. Although this seemed as an astonishing feat at first glance, March 11 $2.50 strike price call expirations more than tripled that volume with 317 contracts traded, and matched that with a monstrous 1,309 open interest, causing yet another 100% increase in price.
Technical Analysis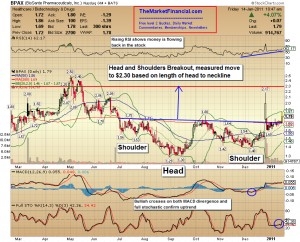 (click image to enlarge)
The breakout which occurred to the upside from the neckline of this 'Inverted Head and Shoulders' pattern could potentially see the stock reach around $2.30 based on measurements before leveling off. The metrics such as the rising Relative Strength Index coupled with bullish crosses for the MACD divergence and full stochastic offer positive reinforcement on the bullish tone going forward for this equity.
In conclusion, if we choose to consider call options as a predictive indicator of potentially positive future events, then both Clinical Data and BioSante stand a high chance of increasing shareholder value rather quickly.

Disclosure: I am long CLDA, BPAX.