Overview:
New technology and techniques like horizontal drilling and hydraulic fracturing have allowed companies to access oil and natural gas trapped in shale resources. The ability to access the shale reserves has driven increased energy production in North America causing domestic energy prices to trade at a discount to international prices. The availability to access lower cost energy is leading to structural advantages for energy-intensive companies operating in America. The Cushing Renaissance Fund (NYSE:SZC) is a closed end fund launched on 9/26/2012 that is invested to benefit from this trend. SZC invests in companies that produce, move, and refine the energy as well as companies that will benefit from the lower energy and feedstock costs. The fund's advisor believes we are in the early innings of this trend and the trend should fuel U.S. economic expansion. The thesis has been playing out as the fund has posted 24.1% annual returns since inception. The attractiveness of SZC is increased by its 10.84% discount to NAV and 5.62% distribution.
Key Investment Highlights:
North American Shale Revolution: Hydraulic fracturing and horizontal drilling are allowing energy companies to exploit hydrocarbons trapped in shale formations. This has rejuvenated the North American energy business and allowed increased energy production. The increased production has driven demand for new infrastructure to move the products from where they are produced to where they are used.
Energy Cost Advantage: The increases in domestic energy production have also lead to geographic price differences. Natural Gas is a key example of this, with domestic costs around $4/mmbtu compared to $9/mmbtu in Europe. Companies operating in the U.S. that have natural gas as a major input have a cost advantage over competitors that operate overseas with higher input costs. This cost advantage should allow them to increase profitability and gain market share, driving company share price higher.
Not Reliant on Energy Prices: The profitability of many energy companies rises and falls with the commodity prices. However, SZC is able to invest in companies that would benefit from lower energy prices. This reduces the fund's reliance on energy prices and providing a natural hedge.
Potential to Export LNG and Oil: Natural gas prices are based on local market conditions. Domestic natural gas prices have declined due to the large amount of shale gas available. New natural gas export facilities are under construction. Once completed, these export facilities will allow domestic natural gas to be shipped overseas and sold at international prices. SZC is able to invest in the companies building the export terminals as well as shipping companies that will benefit from the increased demand for transportation.
Discount to NAV: SZC is trading at a 10.84% discount to NAV and offers a 5.62% yield. Fund performance has been strong and could serve as a catalyst to narrow the discount.
Key Investment Risks:
Political Or Environmental Opposition To Hydraulic Fracturing: One of the big contributors to the lower domestic energy prices has been the uptake of hydraulic fracturing or fracking. Fracking is a controversial issue due to the potential for negative environmental effects. If rules change to prohibit fracking it would likely derail the energy renaissance in North America.
Economic Slowdown: The companies that SZC invest in are economically sensitive. If the economy were to slow down it could decrease demand for the products produced by portfolio companies. A slower economy would also likely lower energy use and reduce the need for energy transportation. If the economy were to suffer a recession it would be very detrimental to SZC.
Energy Spills and Other Environmental Issues: SZC invests in companies that move hazardous materials. If a company had a spill it would hurt performance and could lead to fines. Environmental issues at a single company could also hurt the group as regulations could be put in place that would increase costs for all companies in the space.
CEF Size: SZC is small, with only $198 million in net assets. Only $600,000 in value is traded on a single day. If there was a major market correction investors may have difficulty selling shares and the discount could substantially increase.
Key Portfolio Metrics:
Net Assets: $198 Million
Average Daily Volume (Shares): 23,000
Number of Holdings: 73
Annual Turnover: 88%
Premium/Discount: -10.84%
Z-Score: -0.23
Current Quarterly Distribution: $0.41
Market Distribution Rate: 5.60%
NAV Distribution Rate: 5.00%
Effective Leverage: 17.52%
Performance:
Using ETFs with similar investment objectives gives a good comparison to allow for evaluation of the fund management's performance. Because SZC invests in a theme instead of a sector there isn't a great ETF available to use as a benchmark. However, the underlying investment case for SZC is driven by energy so the Energy Select Sector SPDR (NYSEARCA:XLE) can be used for comparison. SZC doesn't have a long track record but its performance has been impressive. SZC has outperformed XLE on a NAV basis for all periods reviewed.

Data as of 8/31/2014 Source: Morningstar
Premium/Discount: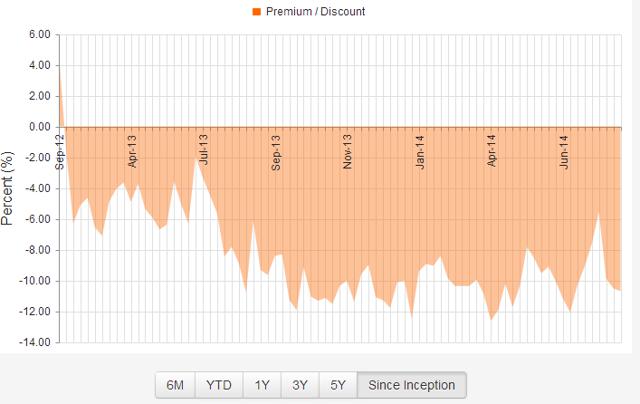 Source: CEFConnect
The fund closed 9/2/2014 at a 10.84% discount to the NAV, or underlying value of the portfolio. This is slightly below the 52 week average discount of 10.50%. SZC has traded with a pretty persistent discount since inception. Improving sentiment and strong management performance could cause the discount to narrow.
Expense Ratio:
The management fee is 1.25% of average weekly managed assets. Administrative fees are also charged. The calculated management fee and other expenses came to 1.99% in 2013. The fee includes the cost of leverage. Even with the cost of leverage included, this is a high cost fund.
Distribution:
SZC pays a quarterly distribution of $0.41/share. The distribution gives SZC an annual distribution yield of 5.60% based on current market prices. The yield on NAV is 5.00%. The distribution isn't covered by portfolio earnings but there have been capital gains available to distribute that have prevented any return of capital in the distribution.
Leverage:
SZC employs leverage through a margin account with Bank of America. The borrowing rate is tied to the bank's cost of funds and currently approximates LIBOR plus 0.65%. It would be preferable for the fund to have a long term committed credit facility so that credit isn't pulled at an unfortunate time. This is a concern for the fund. As of 8/31/2014 the fund was 17.52% levered. The use of leverage can increase the volatility of the portfolio.
Liquidity:
SZC is a small CEF with $198 million in net assets. Trading volume is thin, with 23,000 shares traded on an average day. Trading volume represents $600 thousand in daily volume at current prices. Because of the limited liquidity investors should take caution when entering orders. It is always wise to use limit orders to purchase or sell shares of closed-end funds, as the bid/ask spread can be wide.
Management:
SZC is managed by Cushing asset management, a subsidiary of Swank Capital. The management team is seasoned with managers averaging over 24 years of industry and investment experience. The management team is strategically located in Dallas Texas close to the major players in the energy sector.
Portfolio:
Asset Allocation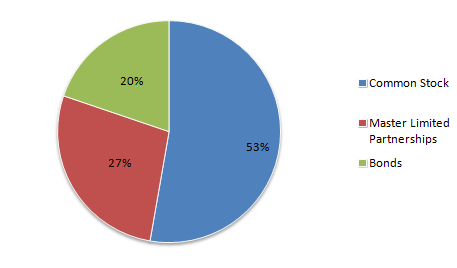 Source: Cushing Asset Management as of 5/31/2014
SZC is able to invest across the capital structure of the companies benefiting from the energy renaissance. The allocation to fixed income can reduce volatility and add income to the portfolio.
Industry Allocation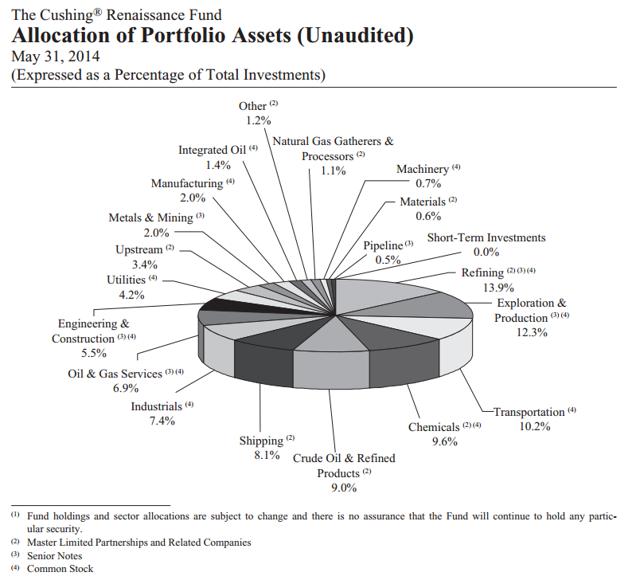 Source: Cushing Asset Management as of 5/31/2014
There are a wide range of industry groups benefiting from the energy renaissance and SZC has investments spread across many of these industries. The diversification in the portfolio helps to limit risk. The ability to invest across the capital structure and across different industries allows the management team to allocate capital to the best value, while maintaining focus on the energy trend.
Top Holdings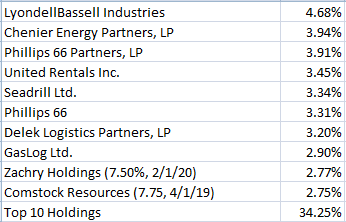 Source: Cushing Asset Management as of 6/30/2014
SZC has a fairly concentrated portfolio with 73 holdings. 34.25% of assets in allocated to the top 10 holdings. The 87.61% turnover in 2013 was pretty high. Turnover in 2014 has slowed down with 10.35% portfolio turnover in the first half of the year.
Strategy:
SZC's investment objective is high total return with an emphasis on current income. Under normal market conditions the fund will invest at least 80% of its assets in companies in the following categories:
Companies across the energy supply chain including upstream, midstream and downstream energy companies as well as energy services companies.
Industrial and materials companies that the adviser expects to benefit from growing energy production and lower cost feedstock.
Transportation and logistics companies providing solutions to the U.S. manufacturing industry.
The fund will limit investments in energy MLPs to 25% of managed assets. No more than 30% of managed assets will be invested in debt securities, preferred stock, and convertible securities.
Tax Issues:
As of May 31, 2014, the fund had $47,778,496 of unrealized gains in the portfolio. The fund does not have any tax loss carry forwards to offset these gains. This means investors could see capital gains distributions from the fund if assets held at a gain are sold. Embedded capital gains represent roughly 25% of the fund's net assets.
Conclusion:
SZC is an attractive play on the development of shale resources. SZC's ability to invest throughout the energy supply chain will allow management to position the fund to benefit from either increasing or decreasing energy prices. Additionally, management's ability to take positions across the capital structure could shelter the fund if there is a correction. Plans for the United States to export liquefied natural gas and potentially oil will increase infrastructure utilization benefiting SZC's investments. SZC trades at a discount to NAV offering an attractive entry point for the shares. Adding to SZC's attraction is the fund's 5.6% distribution. Strong NAV performance could offer a catalyst to narrow the fund's discount.
Disclosure: The author has no positions in any stocks mentioned, and no plans to initiate any positions within the next 72 hours.
The author wrote this article themselves, and it expresses their own opinions. The author is not receiving compensation for it (other than from Seeking Alpha). The author has no business relationship with any company whose stock is mentioned in this article.