The short story is that the S&P 500 (proxies SPY and IVV) is expensive when viewed in terms of normalized earnings and historical multiples of normalized earnings.
A simple way to estimate value is to apply a price-to-earnings multiple to an earnings figure – easily done, but fraught with limitations and inadequacies – good to do, but not sufficient alone. Should you use trailing earnings, current year estimates, or forward year estimates? Should you use operating earnings or reported earnings? Does a single year's earnings tell you enough? What multiple should you apply?
Ben Graham felt that only a series of years can give a true picture, as a company goes through a cycle, and as single-year aberrations and fluctuations are averaged together. He favored at least five and preferably seven to ten years of earnings data to get a true picture.
Robert Shiller (more widely known for the Case-Shiller real estate index) shares Grahams view and accordingly publishes 10-year normalized S&P 500 index earnings data along with associated index prices and P/E multiples using the normalized earnings. He has compiled the data back through the progenitors of the index to 1881.
Normalized earnings refer not only to a number of years of earnings, but also to data that is adjusted for inflation, so that, for example, earnings from 10 years ago are adjusted to be in "constant" dollars to compare to current earnings.
Both Graham and Shiller use reported earnings, because operating earnings do not take into consideration so called "non-operating" and "unusual" or "non-recurring items" of expense. Since there is a never-ending stream of such expenses within an index, it could be considered like putting ones head in the sand to ignore them.
There are other factors to consider, but viewing an index in terms of normalized reported earnings is a good piece of information to have in hand to help bracket probabilities.
Investing is about probabilities. You want to own things that probably will go up and probably will not go down. It is impossible to know for absolute certain that anything will hold value or rise or fall, but it is possible to gauge if the weight of probabilities favors one or the other. If you have a multi-year horizon, normalized earnings P/E multiples provide a good start.
Shiller calls the multiple "Cyclically Adjusted Price Earnings" or "CAPE" for short. The CAPE Ratio now is 23.29. Shiller talks about 16 being an average CAPE Ratio. Unless the conditions are above average, one would not expect an above average CAPE Ratio.
Growth and profits are above average just recently, but from a very depressed base. To Graham's point, one year does not give as good a picture as a cycle of years.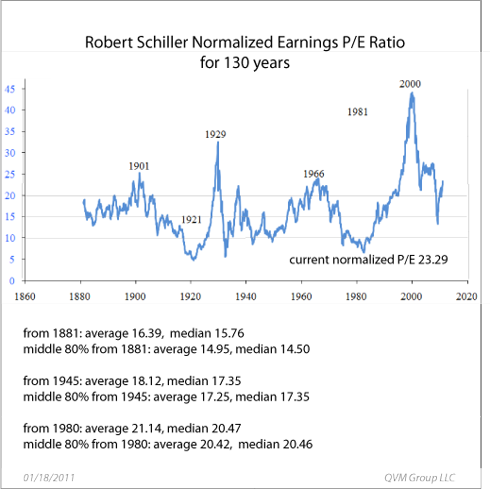 Shiller's "16" multiple appears to be based on the full history from 1881 (about 130 years), where we find the average to be 16.39 and the median to be 15.76.
If we look at shorter time periods and look at the middle 80% of observations (excluding the 10% most extreme high and low multiples), as well as simple averages of all periods, we get different normal multiples, but all of them still show the current market as expensive.
From 1881, the middle 80% has an average of 14.95 and a median of 14.50.
Looking at the post World War II period, the average was 18.12 and the median was 17.35. The middle 80% during that time had an average of 17.25 and a median of 17.35.
Beginning in 1980, about the time of peak interest rates (to track the period of generally declining interest rates), the average was 21.14 and the median was 20.47. The middle 80% for that period had an average of 20.42 and a median of 20.46.
So, while there may be other factors that justify the current multiple of 23.29. A straightforward application of 10-year normalized reported earnings indicates caution is in order, as the S&P 500 index looks expensive.
See our other recent articles on index valuation for alternate approaches and potentially divergent method indications.
Securities Identified in This Article: SPY, IVV
Holdings Disclosure: As of January 18, 2011 we hold positions in some but not all managed accounts for the following securities mentioned in this article: SPY
Disclaimer: Opinions expressed in this material and our disclosed holdings are as of January 18, 2011. Our opinions and holdings may change as subsequent conditions vary. We do not make any commitment to publish or provide any public notice of future changes to our opinions or changes in our holdings.
This published material is not personal investment advice to any specific person for any particular purpose. Do not take any investment action based solely on the contents of any our published material. We are not responsible for your use of our published materials in making any investment decision, and are not responsible for any losses you incur in taking any investment action. You are fully responsible for any use you make of the content of any published material prepared by us, and for any losses that occur as a result of any investment action taken in reliance upon any published materials prepared by us. Investing involves risk of loss of capital.
All of our published materials are for informational purposes only. More factors than considered in our published materials should be evaluated before taking any investment action. Perform your own investment research before making any investment decision. Consider seeking professional personal investment advice before implementing your portfolio ideas.
We utilize information sources that we believe to be reliable, but do not warrant the accuracy of those sources or our analysis. Past performance is no guarantee of future performance, and there is no guarantee that any forecast will come to pass.
We are a fee-only investment advisor, and are compensated only by our clients. We do not sell securities, and do not receive any form of revenue or incentive from any source other than directly from clients. We are not affiliated with any securities dealer, any fund, any fund sponsor or any company issuer of any security.
Disclaimer for all of our materials anywhere in the public domain.