Toronto Dominion Bank (NYSE:TD), nicknamed TD, continued to demonstrate its remarkable earnings power in the latest quarter and its year-to-date results provide useful hints for predicting its future earnings power. All of TD's businesses are generating stellar profits and TD's ROE has risen over the past 5 quarters as shown in figure 1 below. TD reported a record quarterly income of $2.2 billion in the latest quarter.
Figure 1:Quarterly EPS vs. ROE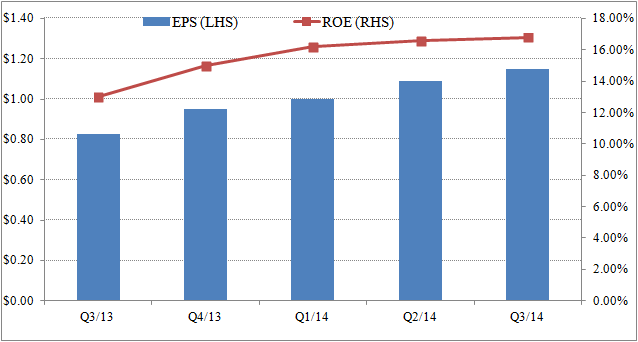 Source: TD Q3 Financial Supplement. Readers should note that in Q3/13, there was $418 million ($0.23 per share) of extra charges. Excluding the large charge in Q3/13, year-over-year earnings growth in the latest quarter would have been 10% rather than the 40% reported.
This article aims to provide a comprehensive overview of TD's investment thesis since my prior article. Some important developments since my prior article include a faster than expected growth in its retail banking operations (especially in its Canadian segment), a very positive rebound in its Wholesale Banking business and better credit performance. Thus, the better than expected performance YTD could lead to a higher multiple (see valuation section), which will benefit the share price.
All currency, unless otherwise stated, is in Canadian dollars because the company's reporting currency is in Canadian dollars. However, the share price target is provided in both US and Canadian dollars for the readers' convenience.
Investment Thesis:
The main investment thesis for TD is its ability to deliver consistent earnings growth through its solid retail franchise with little earnings volatility, which was evident in the latest earnings report on August 29. TD's unparalleled customer service, which recently received the J.D. Power best customer award (Canada) for the 9th year in a row, and its unique strategic positioning in retail banking (both in US and Canada) are key drivers that will allow the bank to meet its EPS growth target of 7-10%.
TD also provides a balanced mix between a competitive dividend yield and growth potential. TD's dividend yield is 150 bps higher than the Government of Canada's 10-year bond and 100 bps higher than the 10-year US Treasury note. Moreover, TD, unlike other Canadian banks, has the largest capacity to raise its dividend given its dividend payout ratio is the lowest. The payout ratio of 43% is in the lower range of its targeted payout ratio 40-50%. Most Canadian banks' payout ratios are at 45% or higher.
As shown in graph 2 below, TD is heavily focused on the retail business (90% of total earnings), which is more stable and profitable. Although the retail banking business is extremely competitive, TD's superior customer service and longer service hours, which includes Sunday banking, should attract new customers and keep existing ones. Growth will be driven by volume growth in Canadian Retail and US Retail. The weak Canadian dollar is a tailwind for TD's US earnings because TD reports in Canadian dollars.
TD's large focus on retail also implies low volatility in its quarterly earnings numbers, which can offer investors peace of mind.
Figure 2: Earning Mix (Trailing 3 Quarters)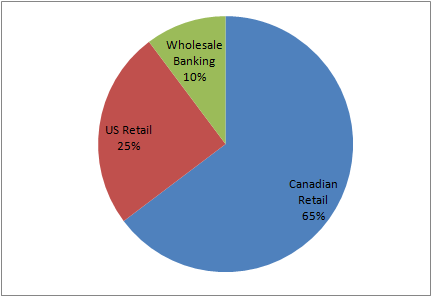 Source: TD Q3 Financial Supplement
TD has the best 20-year dividend growth rate (11.0% compounded annually) among the big 5 Canadian banks. One of the main reasons to own any Canadian bank is for its rich and growing dividend, which is especially attractive in a low rate environment. The attractiveness of TD's dividend has increased due to the recent decline in bond yields. Unlike most high yield investments that have a constant yield, TD's dividend has ample of room to grow.
As shown in figure 3 below, the dividend has been gradually increasing and the payout ratio is stable. The bank aims to pay out 40-50% of adjusted earnings. Similar to other Canadian banks, TD's dividend increase will be driven mainly by EPS growth. My estimated EPS for the current fiscal year is $4.25 and my projected dividend per share is $1.84, which represents a payout ratio of 43.4%. In FY2015, the fiscal year ending October 31,2015, I anticipate earnings of $4.62 and my projected dividend is $2.04 (one hike in Q1/15 to $0.51 from $0.47).
The $1.84 dividend for FY2014 is according to management's guidance of one hike in Q2/2014 (from $0.43 to $0.47) and maintaining the new $0.47 dividend rate for the remainder of FY2014. Thus the expected dividend for FY2014 is $0.43+$0.47+$0.47+$0.47 or $1.84. My estimated dividend of $2.04 consists of 4 quarterly dividends of $0.51, which implies an 8.5% hike in fiscal Q1/2015. The 8.5% increase is in-line with the expected earnings increase of 8.7% in FY2015 (from $4.25 to $4.62). The 8.7% earnings increase is also consistent with management's goal of increasing EPS in the 7-10% range. Earnings in the next 12 month will be driven by volume growth in its retail businesses and lower loan provisions from better credit experience, but profit will be offset somewhat by lower margins.
If earnings growth remains strong (i.e. at 10% or more), a 5 cent increase may be warranted. One alternative scenario is a 4 cent move in Q1/15 but also add another $0.02 increase in Q3/15 if the earnings growth is strong. However, because TD's management has been conservative, my own projection is also conservative.
All in all, dividend investors should be grateful for TD's dividend growth potential. With a 11% CAGR in the past 20 years and a potential to increase dividend by another 8.7% next year, TD's investors are being paid while they wait. Investors also shouldn't be surprised if the bank increases the dividend by a higher rate than my estimate of 8.7% because TD's dividend payout ratio is only at 43.4% while the peer average is near 46%. Hence, the capacity to increase the dividend is much larger than at other Canadian banks.
Figure 3: Adjusted EPS, Dividend per Share and the Payout Ratio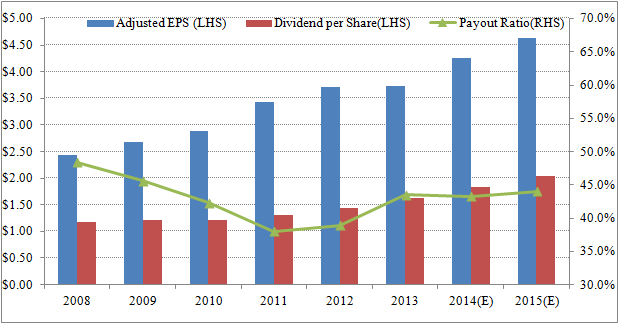 Source: TD Investor Relations. Adjusted EPS for FY2014 and FY2015 are based on my forecast of $4.25 and $4.63 respectively. The forecasted dividend payout ratio for FY2014 and FY2015 are 43.4% and 44.0% respectively.
TD's buyback program is another important channel for the bank to return capital to shareholders. In the latest quarter, TD has repurchased 4 million shares at an average price of $54.15 for $220 million. Its 24 million share buyback program, called Normal Course Issuer Bid in Canada, has expired in June. TD has the ability to introduce a new program since internal capital generation remains strong (see credit section below). Nonetheless, during the Q3/14 conference call, management has indicated that they preferred to reinvest capital back into the business such as enhancing its cost optimization initiatives. However, if the share price falls 10%, I believe TD's management may bring back a large repurchase program to take advantage of the price decline.
Canadian Retail Segment Overview:
The Canadian Retail division includes the following subdivisions: Canadian Personal & Commercial (P&C) banking, Canadian auto finance, insurance, and Canadian wealth management. This division continues to deliver solid results and free cash flow for the firm, allowing the bank to reinvest the proceeds back into the business or pay dividends/buy back stock.
In the latest quarter, this division had an excellent quarter, reporting an earnings increase of 54.5% Y/Y and 7.0% Q/Q. All three components of Canadian Retail performed well. Higher margins, good volume growth and a better operating environment for insurance all contributed to the record earnings in Canadian Retail.
Canadian P&C earnings managed to earn more than $1 billion for the third consecutive quarter. Insurance earnings rebounded to a net profit of $132 million from the disastrous net loss of $243 million in Q3/13. Wealth management earnings, which increased 13.9% Y/Y, continued to march higher as fee based income benefited from new accounts and higher balances due to market appreciation. Overall, financial metrics were quite robust with ROE jumping 11.0% to 44.7% and the efficiency ratio was down 150 bps Y/Y to 40.9%. It should be noted that the 40.9% efficiency ratio is a new record for the bank. The 2.6% positive operating leverage achieved in the quarter is impressive given the tough competitive environment in Canadian retail.
Earnings from Canadian P&C banking were driven by strong loan growth (5.7% Y/Y and 1.3% Q/Q). Loan growth was particularly strong for business lending (11% Y/Y) while personal lending also demonstrated modest growth of 5% Y/Y. Deposit growth was also healthy at 3.6% Y/Y and 1.1% Q/Q. Net interest margin or NIM increased 1 bps Y/Y to 2.98%.
Earnings from Wealth Management was driven by higher fee income. AUA increased 4.1% Y/Y while AUM increased 7.8%. Both AUM and AUA benefited from new accounts and higher balances due to market appreciation.
Earnings from insurance has rebounded since Q3/13 when the bank took a $418 million charge. During the last 2 quarters, insurance earnings have stabilized near $140 million.
While there is a constant speculation over a housing correction in Canada, the quality of TD's mortgage book remains healthy. Its LTV ratio on its uninsured mortgage book, the portion that is not guaranteed by CMHC (a government agency), is at 61% (slide 24 of quarterly presentation). This implies that housing prices need to correct more than 40%, an unlikely scenario, before the bank needs to write down its loans. The LTV figure is in-line with past performance, which ranges from 55%-65%. Moreover, the LTV ratio on newly acquired mortgages is also reasonable at 68%, according to page 24 of the Q3 shareholder report. The 68% is lower than the peer average at 70% for newly acquired mortgages. Overall, although housing prices are likely to fall in the future, the damage to Canadian banks may be overstated by the media. Given Stephen Poloz, the Bank of Canada Governor, has taken a more dovish stance on monetary policy (see July MPR report), interest rates are unlikely to move higher any time soon, which should be positive for the housing sector.
Looking ahead, management expects modest volume growth (mid single digit percentage growth) and slightly lower margins due to headwinds from lower rates and increased competition. Volume growth will be driven by the credit card business and business lending. Both areas experienced double digit growth during the latest quarter (credit card experienced 26% Y/Y growth and business lending experienced 11% Y/Y growth) and will continue to drive underlying earnings growth going forward. The emphasis on cost control is still key to delivering positive operating leverage in future quarters. Management has warned investors regarding negative operating leverage in the near term as the firm spends additional capital, booked as current expenses, to enhance long-term efficiencies. Given the flattening of the yield curve, margins are likely to remain under pressure. However, the bank's economies of scale in Canadian retail banking should mitigate the effect of lower margins.
While lower rates is a large concern, the long-term impact is not material. While near-term NIM may experience compression in the magnitude of approximately 10bps in the next few quarters, TD's ongoing effort to reduce cost and expansion in lucrative businesses (credit cards and business lending) will mitigate the impact of lower rates. TD's efficiency ratio reached a record low in the latest quarter and I expect the bank will reduce the ratio further as a result of new cost cutting projects. Finally, low rates won't be around forever. The Bank of Canada is expected to raise rates in 2015, which will have positive implications for the bank in late-2015. The rate hike will be gradual, which will limit the negative impact on the housing market while having positive impact on the bank's NIM.
Expect current loan growth to largely hold while margins to decline in Q4/14. Credit loss rates likely to remain relatively stable. Insurance results will continue to depend upon, among other things, the frequency and severity of weather-related events and a challenging environment due to regulatory reforms and legislative changes. Focus on increasing productivity continues. Quarterly expenses are expected to increase due to seasonality, timing of investment spend, and business growth.

TD Q3/14 Page 15 Report to Shareholders
Figure 4: Canadian Retail's Financial and Operating Data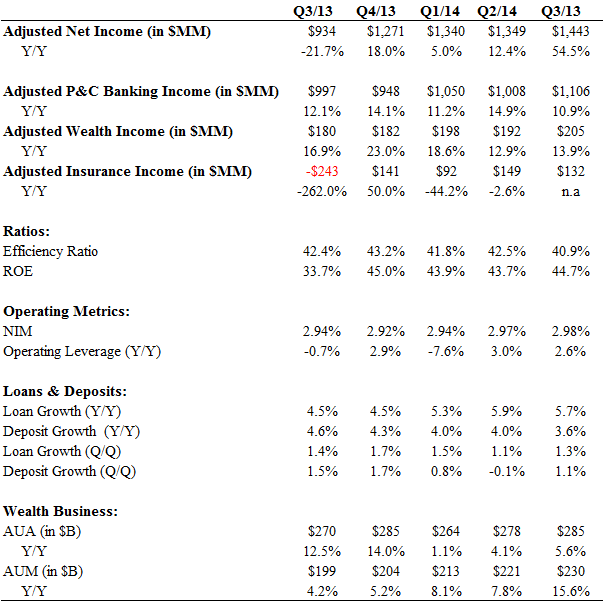 Source: TD Q3 Financial Supplement
Figure 5: Canadian Loan Book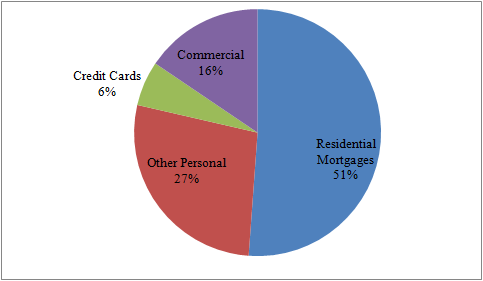 Source: TD Q3 Financial Supplement
US Retail Segment Overview:
The US retail division includes the following subdivisions: US Personal & Commercial (P&C) banking, US auto finance and US wealth management. In addition, this division also receives income from its 40.42% stake in TD Ameritrade (NASDAQ:AMTD). TD continues to grow its market share by providing excellent customer service and cross selling more products. TD's competition advantages in the US include its ability to connect with TD Ameritrade customers, longer branch hours to service customers (a tradition borrowed from its Canadian retail bank), and its ability to provide a comprehensive service to businesses in cross-border (US/Canada) banking services.
This division had a good quarter in the latest quarter, reporting earnings increase of 9.4% Y/Y and 2.4% Q/Q. The results under Canadian dollars benefited from a weaker Canadian dollar since the net income only increased 3.8% on a constant currency basis. Nonetheless, even a 3.8% increase is healthy in a competitive and low interest rate environment in the US. The trend in net income is positive and profits reached a record high in the latest quarter as shown in figure 6 below.
The 9.4% earnings increase was driven primarily by a weaker Canadian dollar. However, other important drivers include strong loan growth of 8.9% (constant currency basis), and robust double digit AUA and AUM growth in the wealth business. It should be noted that TD is growing faster than industry average. The US banks only had an average loan growth of 5% Y/Y and 2.3% Q/Q according to FDIC data while TD experienced loan growth of 8.9% Y/Y and 2.4% Q/Q. The outperformance was significant in business or C&I loans: TD's 12.7% Y/Y growth was much stronger than industry average of 9.5%.
Key financial metrics remained relatively unchanged. ROE was unchanged Y/Y and NIM decreased 4 bps Y/Y. However, expense control was still weak given the efficiency ratio increased 200 bps Y/Y and 20 bps Q/Q.
Its major investment in TD Ameritrade contributed $76 million to TD's overall earnings, representing a 10% Y/Y increase. Investors shouldn't overlook TD's investment in TD Ameritrade. The investment represents 7.5% of TD's market cap but only contributes 3.5% to its total earnings. The bank has the option to monetize a portion of its stake just like Bank of Nova Scotia did with its 38% stake in CI Financial. Although TD Ameritrade provides a good channel for TD to attract new clients in the US, there is a chance that TD may monetize a portion of its large stake if capital rules significantly penalize investment in associates. Management has not provided any plans for monetizing this stake but Bank of Nova Scotia also did not provide any plans to the public before it suddenly decided to monetize its CI stake in May. Judging from the positive market reaction when Bank of Nova Scotia announced its plan to monetize CI, the market should also welcome TD's decision to monetize its TD Ameritrade stake if management decides in the future to do so.
Looking ahead, US Retail will contribute meaningfully to the bank's long-term earnings growth but the short-term outlook is very challenging. Management has guided for a NIM compression of 5-8 bps in the next quarter and additional compression if rates remain low and competition increases. However, wealth management remains a bright spot for the US Retail division with AUA and AUM continuing to grow in the double digit range.
While margins remain depressed in the short term, rates should gradually increase after the Fed finishes the tapering process in October. With a potential rate hike in early 2015, higher rates should be a boon for TD. Since TD is growing faster than the industry average (as discussed above), the bank will benefit more when rates rise.
Modest earnings growth for FY2014 expected with net interest margin anticipated to decline due to continued core margin pressure and lower accretion on acquired loans. PCL is expected to begin to normalize driven by loan growth and expected slowing recovery rate. Control of expense growth remains a focus while investment in growth and regulatory compliance continues.

TD Q3/14 Page 18 Report to Shareholders
Figure 6: US Retail's Financial and Operating Data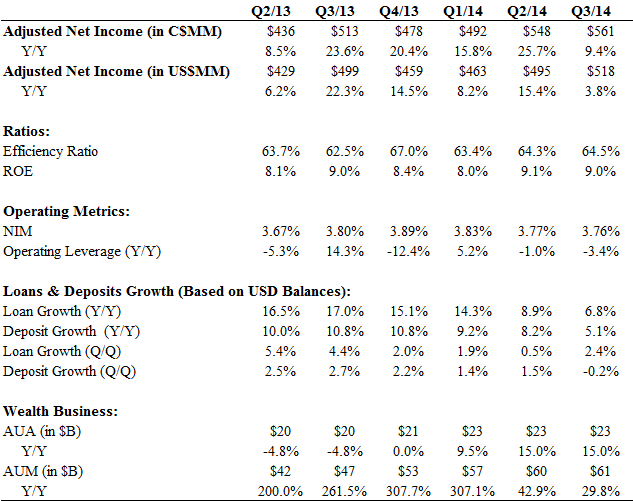 Source: TD Q3 Financial Supplement
Figure 7: US Loan Book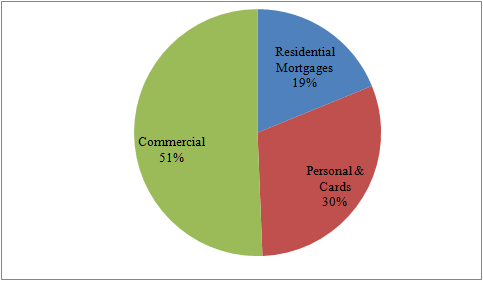 Source: TD Q3 Financial Supplement. Percentages based on US dollar balances.
Wholesale Banking Segment Overview:
Wholesale banking is TD's capital market division which provides trading and origination services for its clients. This division delivered strong results in the latest quarter although TD's wholesale segment has delivered weaker results compared to peers. Net income experienced a significant increase of 46.9% Y/Y and 4.3% Q/Q. Trading revenue,which increased 14.4% Y/Y and contributed to the large jump in earnings. The efficiency ratio has been trending down, decreasing by 470 bps Y/Y. ROE has been trending uptrends towards 20% and reached 18.4% in Q3/14, which was a 410 bps improvement over Q3/13.
Looking ahead, performance at TD's wholesale banking unit may improve in the future but that's highly dependent on its ability to control costs, which has been the Achilles' heel in the past. Higher M&A and origination activities may benefit the bank's wholesale banking segment. There was a great strategy question asked by an analyst on the conference call (August 28, 2014) regarding whether the bank is willing to commit more capital in its Wholesale Banking business. As shown in figure 2, Wholesale Banking's contribution to total earnings is only 10% at the moment and given the strong market environment for capital markets, putting additional capital to work in this segment will benefit the bank in terms of higher ROE and profits. Management's remarks echo my own opinion. They are willing to put additional capital but set a high hurdle rate of 15-20% for new initiatives. Since the hurdle rate is achievable in current environment, higher capital invested in the wholesale should add to profits in the next few quarters.
Figure 8: Wholesale Banking's Financial and Operating Data

Source: TD Q3 Financial Supplement
Credit & Capital Analysis:
Healthy credit conditions continued to provide tailwinds for the bank, which was evident in the latest quarter. Provision for credit losses (PCL) decreased 29.1% Y/Y to $338 million in the latest quarter. The PCL ratio decreased to 0.28% from 0.33% in the prior quarter and 0.43% in Q3/13.
The quarterly PCL was the lowest in 5 years. It was driven by good credit quality in its Canadian and US portfolio. In the US, there was a one time recovery in the commercial portfolio, rough $20-25 million, that should be treated as a one time item in the quarter. Even excluding that recovery, a low PCL ratio near 0.30% should benefit future earnings through lower provisions.
Gross impaired loans, also called non-performing loans, remained flat over Q3/13. Gross impaired loans represent 0.55% of the total loan portfolio, which implies credit quality remains stable. Gross impaired loan formations, the amount of loans deemed impaired, have started to decrease since Q1/14 and have fallen to $1,092 million, which represents a 6.4% Y/Y decrease over Q3/13. Overall, the credit data in the latest quarter shows continued improvement in the credit quality that has provided additional tailwind for the bank.
Figure 9: Credit Related Data

Source: TD Q3 Financial Supplement
TD's capital ratios continue to climb higher and remain healthy. Tier 1 common equity ratio, CET1, was up 0.4% Y/Y and 0.1% Q/Q to 9.3%. Capital levels increased despite a large buyback in the quarter. As the CET1 ratio moves near 9.5%, investors should expect further deployment of excessive capital, which may imply a renewal of the large share buyback program.
Figure 10: Capital Related Data

Source: TD Q3 Financial Supplement
Valuation:
TD is trading at 2.1 times book ($27.48) and 3.1 times tangible book ($18.52). Although these multiples are high compared to other global banks, TD's multiples are justified because its ROE of 16.8% is much higher than global peers. The improving trend in ROE will provide further support to TD's valuation. Unlike most other Canadian banks, TD has the strongest potential to boost its ROE because of improvements in its US retail business, which is operating at a sub-optimal level.
As shown in figure 11 below, TD's current price-to-book multiple of 2.1 is in-line with the 10-year average of 2.0. Although TD's multiple is above the 10-year average, the bank has been punished by the market during the last 6 years because of lower earnings visibility as a result of a large $20 billion expansion program in the US, which began in 2007 with the $8.5 billion purchase of Commerce Bankcorp. The bank has seen considerable multiple expansion, mostly attributable to the extraordinary performance in the Canadian Retail segment and better than expected growth in the US Retail segment. Looking 12 months out, the multiple should remain at current levels because the positive organic growth will be offset by margin compression and other headwinds from a low interest rate environment. Nonetheless, looking out 2-3 years, I believe the price-to-book multiple could expand by 0.2-0.3 to near the 2006 highs if TD can muster better growth in its US franchise.
Figure 11: TD's Price-to-Book Ratio (10-Years)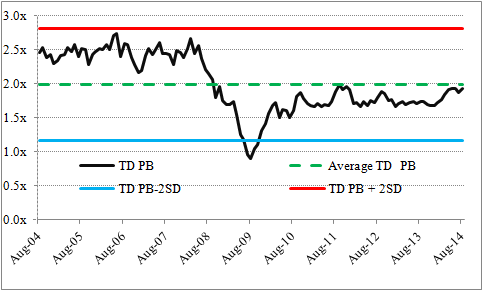 Source: Bloomberg and TD Q3 Financial Supplement.
Figure 12: TD's Price-to-Book Ratio vs. Peers (10-Years)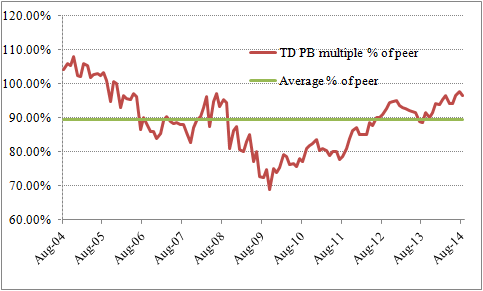 Source: Bloomberg and TD Q3 Financial Supplement. Peers include Royal Bank of Canada (NYSE:RY), Scotiabank (NYSE:BNS), Bank of Montreal (NYSE:BMO) and Canadian Imperial Bank of Commerce (NYSE:CM).
My intrinsic value estimate for TD is US$58.22 (C$63.17). The US$58.22 target is calculated by multiplying my estimated Q3/15 book value of US$27.72 (C$30.08) by 2.1. The 2.1 multiple is consistent with the outlook for the price-to-book multiple discussed above and is slightly above the bank's 10-year average of 2.0. The price target of US$58.22 (C$63.17) is 10% higher than today's closing price of US$52.94 (C$57.38) and the total return potential is 13.5% if the price target is reached in 12 month. The 10% price return potential is also consistent with my expected earnings growth of 9.5% next year. Figure 13 below provides a sensitivity of the valuation. Since there could be more positive development from TD, a multiple expansion to 2.2 or 2.3 could be possible in the medium term.
Figure 13: Sensitivity Analysis of the Valuation

Source: Author's own Calculations. The light blue shows the possibilities that are below today's price of US$52.92, while the light green shows the possibilities that are above today's price. For Canadian readers, multiply the figures in the table by the USDCAD exchange rate of 1.085.
Conclusion:
Although the bank has signaled a weak quarter in Q4/14, I am convinced that the bank can deliver medium-term earnings growth in the 7-10% range. TD's retail focus can deliver strong and stable results in the future, which will allow the bank to hike its dividend by 9% in Q1/15 although an 11% hike is also a possibility if the earnings outlook for FY2015 is stronger at that time. Given TD is expanding its ROE and is benefiting from the strengthening of the US economy, its shares should perform well in the upcoming quarters, especially vs. peers.
Disclosure: The author has no positions in any stocks mentioned, and no plans to initiate any positions within the next 72 hours.
The author wrote this article themselves, and it expresses their own opinions. The author is not receiving compensation for it (other than from Seeking Alpha). The author has no business relationship with any company whose stock is mentioned in this article.
Additional disclosure: This article is for informational purposes only and does not constitute an offer to buy or sell any securities discussed in the article. The stock mentioned in this article does not represent financial advice. The target price presented in this article is based on current information and is subject to change without further notice. Investors are recommended to conduct further due diligence before committing capital to any investment.