I believe that in my lifetime gaming has given me several things worth noting. My competitive nature, excellent hand eye coordination and killer instinct are all derived from marathon sessions of Mario Brothers, Goldeneye and Mass Effect. I felt the need to give something back to the gaming community, and have reviewed two of my favorite "gamer stocks." These stocks both stand out in my memory as providing some value to me as a gamer, and now they can provide value to you as solid fundamental investments.
GameStop (NYSE:GME): GameStop is ubiquitous with the gaming market, and holds a dominant 80% share of used games in particular. Companies like Best Buy (NYSE:BBY) and Walmart (NYSE:WMT) have tried to eat away at this share with little to no success. The strength of the brand combined with loyalty programs that offer discounts and rewards for consistent game trading have combined to put them in an enviable position in terms of their used games model. This is fortunate, as used games constitute 50% of their gross margin. Furthermore,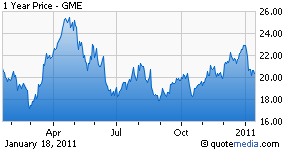 consider that GameStop is tied to an industry that should continue to rebound as the economy does. It is estimated that 190 million households will have a next gen console by 2012, and 80% of these will be connected to the internet (grabstats.com).
At first glance, this may look like a direct threat to the brick and mortar shops that GameStop has worked so hard to maintain. The problem is that online does not necessarily imply a slow and painful death for a company like GameStop. The trick will be leveraging a brand that is already synonymous with gaming to become a brand that is connotated with online game buying as well. One giant leap towards this end is their participation in Kongregate, which is a holistic online gaming experience designed to integrate free flash apps into one social network. Achievements, profiles, levels, chat, slick navigation and more differentiate Kongregate from imitators. The platform sports 35,000 games with more than 13 million unique hits and 23 million hours of playtime a month. As part of GameStop's network, this offers a unique entry into the mobile app gaming market.
Additional red flags include an enormous short interest in GameStop. The amount of shares shorted has increased from 28.82M to 36.97M over the last quarter. That represents about a quarter of the shares outstanding, or a 25% float. I think that this represents an overreaction on the part of the market. The fact of the matter is that online game delivery is in its infancy, and while the end game for GameStop includes a transition towards a more prominent online presence, right now their current brick and mortar form is generating huge cash free cash flows. Their expansion and cash flows also make me shrug off inventory concerns that seem to be permeating message boards and analyst reports. Their inventories have risen, sure, but the videogame market as a whole suffered in 2010. Look for those to decrease as new stores open and start selling that inventory. That is where their free cash flows will reflect the value of that inventory.
Another potential carrot on a string is the opportunity for buyout of GameStop. If the videogame market rebounds aggressively in the next 12-18 months, expect investors along with competitors to look at GameStop as a one stop shop for creating a presence in a booming industry. Players like Best Buy and Walmart have thus far failed when trying to enter GameStop's domain. If you can't beat them… buy them? It has happened before.
For a valuation I give GameStop a price floor of $22 and a ceiling of $30, which represents a potential 50% return on the current market price. This is using a very conservative growth estimate in the 2-5% range for the next five years. In 2014 the new consoles should hit the market, which will increase GameStop revenues while concurrently hitting their used game sales. The videogame market is set to rebound after a poor 2009 with the release of the Microsoft (NASDAQ:MSFT) Kinect and Playstation Move.
The financial ratios are also in good shape. As a relative value play, their PE of about 8.5 at publish is appealing, as is their PB of 1.2 and PS of 0.37. Declining debt ratios across the board since 2005 are a good sign, with a solid times interest of almost 14 tells me they can pay their short term obligations. FCF margin of greater than 5% is really mind boggling for a player in the retail realm, and their current ratio of 1.28 is well within accepted levels given their low amount of debt.
The thing about GameStop is that everyone is concerned about the story. They are worried about the masked harbinger of brick and mortar demise that doomed Blockbuster and will doom any other establishment with a media transferrable by bandwidth. The problem is that what GameStop lacks in story they more than make up for in value; they are a perfect investment. By the time the internet catches up with quick delivery for 8-10 gigabyte games, GameStop will have earned another billion or two in free cash flow. It doesn't matter if you think a company is the best thing since sliced bread, all that matters is that a company is a dynamite investment at the current price. In this regard, GME fits the bill.
Best Buy (BBY): Best Buy has been beaten down almost 11% in the past twelve months, and now stands at about $35. The reasons for this beat down are varied, including competition from low cost competitors like Walmart to exclusivity erosion of Best Buy offerings, the tendency for internet resources to reduce the necessity for Best Buy's educated sales people and the overall demystification of technology in general.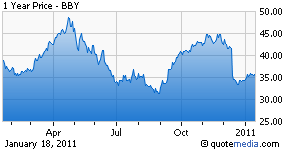 Ten years ago, as technologies were being unveiled and created almost in real-time, Best Buy was the place to be. The bright spacious stores with educated salespeople provided a stark contrast to Circuit City, which had a damper, darker atmosphere. This advantage has been well documented and Best Buy has been a leader in the field ever since. However, the bread and butter of their business model rests on two things that have come under heavy fire.
Educated sales staff make coming to Best Buy an experience instead of a chore

Exclusivity of items such as an Apple (NASDAQ:AAPL) Genius Bar or new TV have long made Best Buy the choice of vendors as a place to showcase their product
First, educated consumers can go to any number of websites and teach themselves about the products they wish to purchase. This is a lower pressure environment and preferable to some who think salespeople at box stores are too geared towards commissioned warranties and accessories. Secondly, as most technologies rapidly approach commodity status, their allure and mystery disappear. This is happening to the most exclusive of items including massive televisions, fancy phones and home theatre. People are simply no longer impressed.
So, why is Best Buy still among my picks for gamer stocks? The answer is simple: the price is right, and Best Buy will rebound. Plain and simple, BBY has been beaten down before and will reward investors by reaching previous heights. There has not been any material damage done to a brand that has been a leader in retail for many years, and no damage will be done in the short to medium term. There are several reasons for this.
First, global opportunities are abundant for a brand like Best Buy that knows how to tailor their offerings to local demographics and countries. Secondly, their Reward Zone system allows them to tailor offerings to loyal customers with an efficiency competitors envy. Best Buy Mobile is one of the fastest growing divisions in the company, and as phones become more complex, offerings from numerous providers can be perused at Best Buy locations under the guidance of educated staff. Additionally, their dividends and share repurchases historically have been very rewarding to investors. Another round would not be out of the question with the stock price so severely depressed.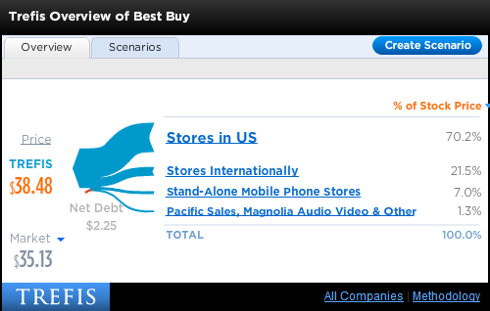 Created using the Trefis Pro Investing Tool on Seeking Alpha;

Most convincing to my argument, however, is the value in the stock. At this price, which is a full 28% decline from the high in April, I believe Best Buy is a fantastic value. I am setting a price floor of $38 and a ceiling of $53 for Best Buy, and I expect them to recover in the next six months. The shorts agree with me this time around, as shorts have decreased from 20.88M to 12.8M in the fourth quarter of 2010.

Their ratios are in good shape as well. From a multiple perspective, BBY looks very appealing with a PE of under 11. BBY historically has had a much higher PE and that trend should revert to normal this year. Their PB and PS are also both historically low. In terms of profitability, their margins have decreased over the last five years, but their FCF margin is still healthy at 2.7%. Although not as robust as GME in terms of cash flow, BBY continues to generate large cash flows in their own right and has the ability to pay off debts with a TIE of over 24.
Conclusions: These two stocks are a gamer's dream come true, and also a good value play for any contrarian fundamental investor. Strong cash flows, low levels of debt and brand loyalty differentiate these two retailers from competitors and could offer your portfolio exposure to retail. The prices are downright steals right now, and I expect the market to appreciate these undervalued gaming stops as "best buys" in the near future.
Disclosure: I have no positions in any stocks mentioned, and no plans to initiate any positions within the next 72 hours.