Let's face it: drones are here to stay. Military drones and delivery drones have been in the headlines day after day for the past couple of years. We're taking one step towards the future, including self-driving cars, wearable technology and now, flying drones that can deliver you what you order online. Just last week, reports of Google (NASDAQ:GOOG)(GOOGL) beginning to touch on Amazon's (NASDAQ:AMZN) territory surfaced.
A CNBC report said that Google's plans to develop their own drone system was going to be called "Project Wing". It also stated that Google was testing flights in Australia, the preferred place to do any type of beta testing that's going to likely involve being outside for 8+ hours a day. It has to be tough work. Google stated:
"We're only just beginning to develop the technology to make a safe delivery system possible, but we think that there is tremendous potential to transport goods more quickly, safely and efficiently," Google said, in emailed statement.
Seeking Alpha also made some notes last Thursday evening regarding a piece that was published in the Atlantic:
Add delivery drones to the list of products being developed by the Google X long-term R&D division. In an in-depth column, The Atlantic reports Google has carried out over 30 test flights for its drone initiative, known as Project Wing, and hopes its drones can eventually be used by its same-day delivery service to deliver products within minutes.

Google, whose effort has been ongoing for 2 years, has opted for an unconventional aircraft design called a tail-sitter. It's described as "a hybrid of a plane and a helicopter that takes off vertically, then rotates to a horizontal position for flying around." By contrast, Amazon's Prime Air delivery drones rely on 8 helicopter-like propellers.

Google's drones lower products to the ground using a tether featuring "a little bundle of electronics" at the end. The electronics detect when a package hits the ground, and then detach and are pulled back up.
If you recall, it was late in 2013 when the news first broke about Amazon's plans to utilize drones. We heard then what we're hearing about them now from Google - that they can deliver up to 2.3 kg and that they could be rolling out sometime over the next 5 years.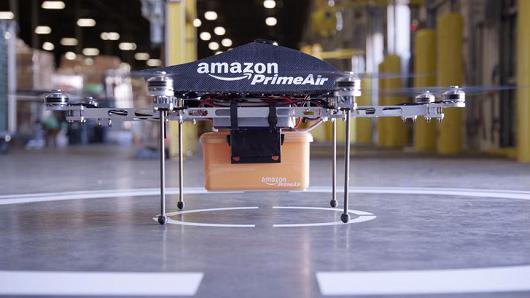 Both of these companies are very similar in the way that they are forward thinking. Google has the earnings to back it up, while Amazon remains the more speculative fundamental bet. Regardless, both stocks have delivered enormous gains since their respective IPOs and it likely does have a lot to do with the forward thinking mindset behind both companies. The growth at both companies has been enormous. This is why it doesn't surprise me that Google and Amazon are the two front runners to try and adopt this technology.
Google stock has been up 6.1% in the last 3 months alone as the tech giant continues its post-split move upward. Amazon, despite not trading with the utmost confidence all year, still has provided 10.5% returns in the last three months.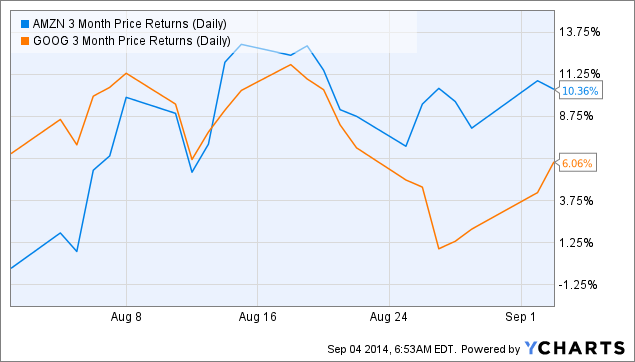 AMZN 3 Month Price Returns (Daily) data by YCharts
The two companies had also been competing to buy out Twitch, a live streaming gaming platform with 50M users. For Google, perhaps a worthwhile investment in continued R&D. For Amazon, one more reason to keep the bottom line from moving, which is seemingly starting to annoy its investors judging by last quarter's earnings. As investments, the two companies aren't exactly similar.
Should you want to stake an investment in drone technology, Google now offers you a totally different style of equity to invest in than Amazon. Google is valued at a far less speculative valuation, which doesn't necessarily mean that they shouldn't be valued higher. Ask a Google bull, they'll give you the rundown.
Fundamentally, from a valuation perspective, the companies are way different. Take exhibit one, for instance - each company's trailing twelve month P/E ratio.
GOOG PE Ratio (TTM) data by YCharts
When you think about it, we're likely to watch this evolution happen right in front of our eyes over the next decade. There's a good chance we will be used to seeing these delivery drones whizzing past us as we step out of the house to grab the paper, go for a run in the park, or drive around the city. And they're likely to have corporate logos pasted all over them.
There is no doubt that this talk has perked up the ears of companies like FedEx (FDX) who will likely lead the lobbying charge to ensure that drones are strictly regulated, when they're accepted.
Of course, we know there are obvious questions like:
- what will happen in major city airspace?
-what will happen during holiday and heavy gift buying times?
- who will regulate these drones and how they operate?
But, we'll leave the bureaucratic side of this to the bureaucrats. One way or another, as we evolve, we will legislate around and come to accept these drones.
It might not be the worst of times for this to take place. For years, the US Postal Service has been waiting for the death blow to put it out of its misery. Drones could contribute to that in a big way.
Or, perhaps delivery companies like UPS (UPS) will adopt drones themselves?
While no doubt a speculative reason to invest in Amazon or Google, there's no doubt that the first to monetize this space is going to be a pioneer. We prefer Google to Amazon in this situation, simply because we're a family office that likes to stay conservative and look at the fundamentals.