L Brands (NYSE:LB) reported August sales of $765m (+9% y/y) driven by a +5% SSSg. Fiscal YTD, the company recorded net sales of $5.832b (+6% y/y), and at the current run-rate we could see $11.2-11.4b in sales for FY15 given that a majority of sales are booked in F4Q. The +5% SSSg at VS is certainly a positive in that soft demand has generally been a concern for the company and that many wonder how LB can rejuvenate demand without heavy promotion, which ultimately hurts margins. August comp sales indicates that LB can not only maintain a rational pricing but also generate incremental traffic via new product lineup, which ultimately led to a solid SSSg profile.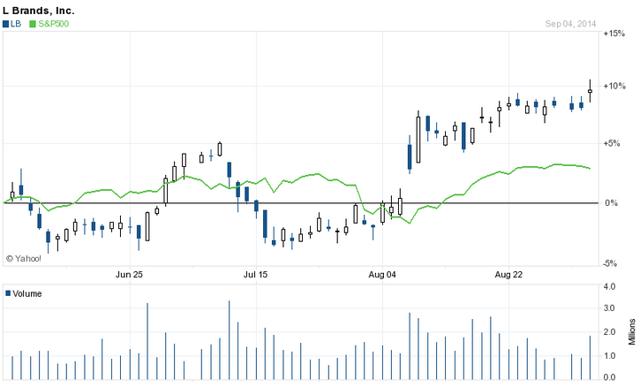 VS comps for August was +5% compared with +2% a year ago, driven mostly by the PINK brand amid the back-to-school sale. The Simple Sexy Collection and Incredible Sport drove the traffic and the new Leopard lace bra seems to be a hot seller, according to management. Positive margin impact compared with last year indicated pricing power. Going forward, I expect the new product launch including the Fearless Bra and fragrance to drive additional traffic as the company gears up for the upcoming holiday sales events.
PINK also started to focus on yoga apparel this month, which further puts pressure on lululemon (NASDAQ:LULU). The women's sports apparel is a fast growing segment and I am encouraged that LB is pursuing this vertical to offset potential weakness in the other product categories. PINK's yoga apparel could be attractive to its existing customers who are already familiar with the PINK brand, quality and price point. As such, those customers could potentially switch to PINK for their yoga apparel and that will likely to be another negative to lululemon.
BBW's +4% comps is also positive thanks to the demand for the Signature Collection, home fragrance and soap. I expect this segment to see a gradual comp recovery for the rest of the year, although it is worth noting that the key driver of the SSSg and sales for LB lies in the VS segment.
August 2014

August 2013

VS

+5%

+2%

BBW

+4%

+1%

LB

+5%

+2%

Direct sale

+8%

+3%

Source: Company data
One notable stat on direct sale comp of +8% was particularly encouraging in that LB operates in an environment of declining mall traffic and in order to offset the structural weakness, online will play an increasingly critical role. Core category sale was up in the high-teens driven by PINK, bra and sport. Margins were up significantly in all core category, which offset the weakness in the non-core segment according to management.
Overall, a solid month for LB and I continue to expect the company to see gradual SSSg recovery across its two major brands, but VS will likely to be the main driver as the segment tries to maintain pricing power and generate store traffic via new product cycle.
Disclosure: The author has no positions in any stocks mentioned, and no plans to initiate any positions within the next 72 hours.
The author wrote this article themselves, and it expresses their own opinions. The author is not receiving compensation for it (other than from Seeking Alpha). The author has no business relationship with any company whose stock is mentioned in this article.