By Angus Robertson
Media chatter about Apple (NASDAQ:AAPL) has reached fever pitch since the announcement Monday of another medical leave for CEO Steve Jobs.
We have captured 234 relevant media comments on the topic during the last 24 hours, the highest number since we began tracking such comments from around 3,000 traditional media outlet and bloggers.
For comparison, the next highest number was 19 mentions for BP. Mentions of Apple reached 200 in 24 hours almost a year ago amid anticipation of an iPad announcement and possible Verizon (NYSE:VZ) iPhone.
[Click to enlarge]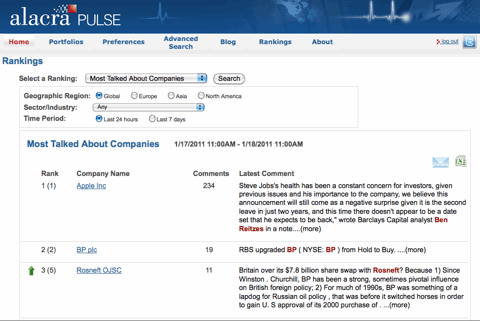 Abnormal Returns has a compilation of some of the top stories on the topic.
Stories tend to follow one of two narratives:
Steve Jobs is irreplaceable, raising concerns about Apple's long term future.
Apple survived Jobs' last medical leave without losing a step, and the management team led by Tim Cook has absorbed Jobs' mantra of perfectionism and focus -- so no big deal.
So far the more positive scenario is winning out with analysts, if not the market. No doubt many analysts were waiting for Apple's earnings to be announced later yesterday, but already several reiterated their positive ratings, including leading Apple analyst Gene Munster of Piper Jaffray (NYSE:PJC), plus analysts at Barclays Capital (NYSE:BCS), UBS, Needham, Ticonderoga, RBC Capital, Pacific Crest and BMO Capital.
Indeed, some analysts see the news as a good opportunity to buy into Apple. Morgan Stanley's (NYSE:MS) Katy Huberty wrote:
We are buyers on any meaningful pullback of Apple's share price. We expect the company to report strong December quarter results Tuesday night and continue to believe our bull case of CY11 $25 EPS (vs. consensus of $20.68) is increasingly likely on the back of stronger than expected iPhone/iPad shipments and gross margins.
We'll have a full update of Apple Price Targets later in the week, once analysts have reacted to Apple's results as well as Jobs' leave of absence.