We would not be surprised to see weakness today in the market; either a day that starts off red and remains so through the entire session or a situation where investors lower their exposure heading into the weekend which causes the market to get weaker into the close. We are expecting weakness because investors have shown little interest in pushing markets higher this week, as each strong move higher has been met with selling either the same day or the following session.
Heading into the weekend investors should look for a possible peace agreement in Ukraine, which could come as soon as this weekend. Talks are underway now, and any agreement will obviously have to be approved by Russia (either officially or unofficially) which could help European markets moving forward as the assumption is peace will keep Russia from cutting off energy supplies this winter.
the economic data today is a bit of a head scratcher as we had non-farm payrolls below 200k for the first time in months. August is a month that is prone to large revisions historically, so we could see that the numbers are more in line with the recent trend than the initial numbers indicate.
Chart of the Day:
The strength in the US dollar has not simply been limited to the euro, but has been across the board. The Japanese yen has also fallen in recent weeks versus the US dollar and this continues to tell the story of central banks around the world having to play catch-up with the US economy which is a year or two ahead of their domestic economies' recoveries.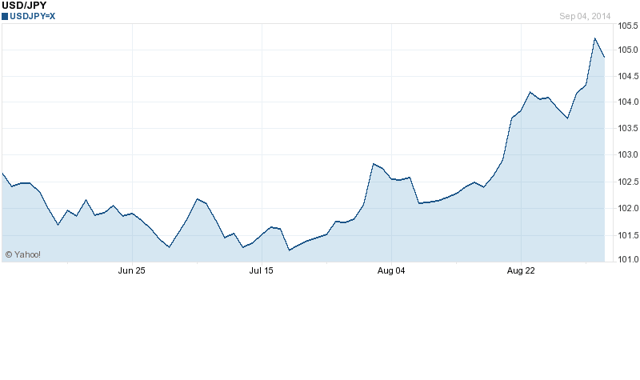 Source: Yahoo Finance
We have economic news today, and it is as follows:
Nonfarm Payrolls (8:30 a.m. EST): Est.: 223k Act.: 142k
Nonfarm Private Payrolls (8:30 a.m. EST): Est.: 200k Act.: 134k
Unemployment Rate (8:30 a.m. EST): Est.: 6.1% Act.: 6.1%
Hourly Earnings (8:30 a.m. EST): Est.: 0.2% Act.: 0.2%
Average Workweek (8:30 a.m. EST): Est.: 34.5 Act.: 34.5
The Asian markets are lower today:
All Ordinaries - down 0.58%
Shanghai Composite - up 0.85%
Nikkei 225 - down 0.05%
NZSE 50 - down 0.48%
Seoul Composite - down 0.33%
In Europe, the markets are lower this morning:
CAC 40 - down 0.39%
DAX - down 0.14%
FTSE 100 - down 0.63%
OSE - down 0.92%
Comcast To Face Tougher Scrutiny?
There have been numerous mergers over the years among cable and telecommunications companies that have eliminated competition within many states and left communities with just a few providers of voice, internet and television services. While many recent reports have indicated that the proposed merger between Comcast (NASDAQ:CMCSA) and Time Warner Cable (TWC) will gain approval due to AT&T's (NYSE:T) dealings with the Justice Department in regards to their purchase of DirecTV (DTV), it appears that the FCC might in fact exercise their right to throw up some road blocks. This article highlights some of the issues that the two cable behemoths are facing and comments made by Tom Wheeler, the FCC Chairman.
While these statements are in no way a deal killer, they do highlight the FCC's desire to have faster internet speeds across the US - especially in areas with noncompetitive markets or DSL lines which AT&T or Verizon (NYSE:VZ) do not plan on upgrading. If the commission is going to try to use the latest mega-mergers as a way to accomplish the goal of higher broadband speeds across the country, then we would not be surprised to see certain markets (or parts of large markets) divested to smaller competitors like Charter Communications (NASDAQ:CHTR) to spur local competition or requirements to upgrade networks in smaller metro areas and open lines up to competitors at fixed prices to lower costs for consumers.
With both of these large mergers requiring approval, a large portion of the country could be covered by agreements to boost competition and lower costs for consumers. This is a story that investors will have to continue to follow, but we do think that both mergers eventually are given the go ahead to close.
Systemically Important Insurers
MetLife is fighting the designation, but with the way they have dragged this out we think that their stock already reflects the possibility that the systemically important designation sticks.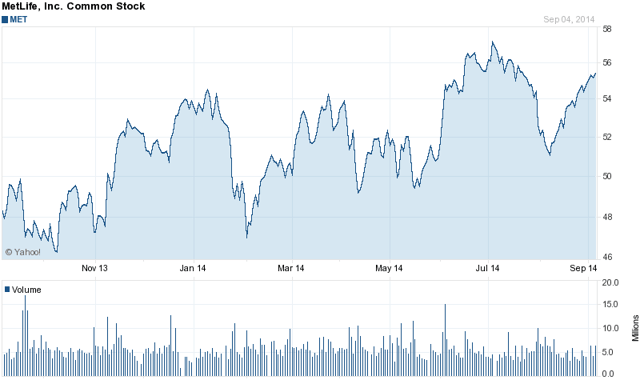 Source: Yahoo Finance
Investors can add MetLife (NYSE:MET) to the list of systemically important insurers after the latest ruling from the Financial Stability Oversight Council, or the FSOC. MetLife now joins fellow insurers American International Group (NYSE:AIG) and Prudential Financial (NYSE:PRU) on the list, but before it is official it appears that MetLife shall appeal the decision. Should MetLife's appeals fail, both the ones allowed under the FSOC's process as well as the court system's, then the company would face much stricter capital requirements and have added supervision from the Federal Reserve.
Disclosure: The author has no positions in any stocks mentioned, and no plans to initiate any positions within the next 72 hours.
The author wrote this article themselves, and it expresses their own opinions. The author is not receiving compensation for it (other than from Seeking Alpha). The author has no business relationship with any company whose stock is mentioned in this article.