One of the top trends in technology today is getting bigger...
Earlier this year, I told you about the Internet of Everything (IoE). In short, many of the devices we use every day - including cars, appliances, and thermostats - are already connected to the Internet. And every day, more "things" are being "connected" to make life easier for their owners...
For example, retail stores are using the IoE to tailor their marketing to customers' preferences and needs. As I told you in January, stores can place electronic devices on carts to track how much money customers spend, what they're interested in, and their favorite places to shop in the store.
Meanwhile, farmers are using devices on irrigation systems to turn them on or off based on rainfall and the level of soil humidity - cutting back on water costs and waste. Even cows are getting "connected" through collars that allow farmers to monitor their health through mobile phones, tablets, or PCs.
And now, the IoE trend is about to change the face of the energy industry...
On Monday, Rigzone, a news service for the energy business, singled out IoE as the next big driver of change in the energy industry.
The news service reports that IoE solutions will allow oil and gas companies to manage and gather data from operations in remote (and sometimes hostile) environments. This eliminates the need for workers in these environments.
IoE technologies will also help energy companies reduce costs and improve operational efficiency. They can better predict when equipment needs maintenance, track spare parts on rigs, connect remote workers to systems, and reduce health and safety risks.
For example, wireless sensors can be used to monitor pumps in oil wells located onshore and offshore. These sensors will detect problems that could potentially cause tens of millions of dollars in damage. They also reduce the number of accidents in the workplace by solving problems more quickly than the average worker.
According to Berg Insight, an IoE market research firm in Sweden, the global oil and gas industry used 423,000 "connected" devices at the end of 2013. Berg estimates that number will rise by more than 21%, to 1.1 million, in the next three years.
The biggest beneficiaries of energy companies joining the IoE trend will be the "nuts and bolts" companies that will help all these "things" get connected. This includes the semiconductor company I told you about in June, Skyworks Solutions (NASDAQ:SWKS).
We hold Skyworks in my Small Stock Specialist portfolio. It makes "chips" for some of the best-selling mobile phones, tablets, and electronic gadgets in the world - including Apple's (NASDAQ:AAPL) iPhone and iPad. Basically, its products help devices connect to wireless signals. And Skyworks has been benefitting from the growing IoE trend.
As you can see in the chart below, Skyworks has been on a tear over the past 12 months. Shares are up more than 110%.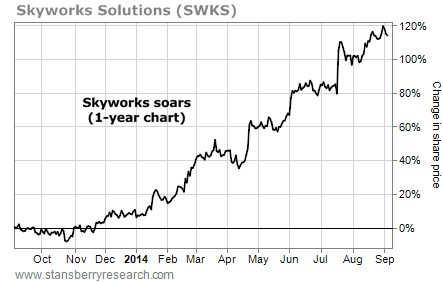 But there's more upside ahead.
Skyworks drastically beat expectations last quarter. And the company has raised its earnings and sales guidance for next quarter.
Management recently said:
Skyworks is capitalizing on the growing opportunity within the Internet of Things [Also known as the Internet of Everything]. We anticipate continued strength beyond the June quarter as our products continue to gain momentum.
In short, Skyworks is in the perfect market at the perfect time. I see shares going much higher over the months and years ahead as more industries embrace the IoE trend.
And despite the recent gain, Skyworks is trading at just 14 times forward earnings. That's an 18% discount to the S&P 500. Meanwhile, Skyworks is growing earnings at an incredible 35% rate year-over-year. That's three times faster than the S&P 500.
If you haven't already invested in the IoE trend, I recommend getting into Skyworks today. The IoE is only going to get bigger as more industries find ways to increase productivity, improve safety, and generate more revenue from being "connected." And companies like Skyworks are sure to profit in the months and years ahead.
Disclosure: No positions