This is an update to my article, "Sunshine Heart C-Pulse: A Paradigm Shift In Heart Failure Therapy".
It is provided to both inform and to facilitate discussion on two new matters of considerable interest arising soon after release of that article.
Readers unfamiliar with the Sunshine Heart (SSH) C-Pulse should refer back to that article for more detailed information on the therapy.
The first update item is about the first UK patient to be implanted with C-Pulse.
First UK Heart Failure (HF) Patient To Receive C-Pulse
Ross Swift has advanced ischemic HF, so serious he is on the Heart Transplant List at Harefield Hospital. It is estimated half his heart muscle has died, so his heart is likely beyond recovery even with C-Pulse (see here and here).
But C-Pulse is expected to keep him alive by acting as a bridge to transplant (BTT) without all of the potential dangerous side effects (blood clots, stroke and bleeding) of an LVAD used for BTT.
From a human interest angle, the story of Ross Swift is infused with both joy and pathos. Before the C-Pulse implant, his condition had so far deteriorated, he was resigned to being unable to walk his daughter down the aisle on her wedding day.
After the C-Pulse implant, he was not only able to walk his daughter down the aisle, but stayed on until 9.00 PM that evening, engaging in and enjoying the wedding celebrations (see video).
While all of the above might be anecdotal evidence, it is the same type of anecdotal evidence that will be used in the Revive-It Trial reviews to make a clinical assessment of Quality Of Life (QOL) improvements, to judge whether they are sufficient to offset the dangers of implanting an LVAD.
The second update item is about the potential mix in etiology of HF patients being enrolled in the C-Pulse Pivotal Trial being conducted for pre-marketing approval (PMA) application.
Implications arising from the potential mix of ischemic and non-ischemic HF patients enrolling in the Pivotal Trial
What is the likely mix of ischemic and non-ischemic in the Pivotal Trial?
A reader noticed, in this presentation by Dr William T Abraham on the 6 months post-trial results for the Feasibility Study, there were 12 (60%) of the 20 HF patient total whose etiology was non-ischemic, with the balance 8 (40%) ischemic. All Feasibility Study patients had an LVEF ≥ 35%.
This reader then referenced another quite unrelated study to suggest that the percentage of non-ischemic patients in the Pivotal Trial might be only 33%, compared to the 60% in the Feasibility Study.
I doubt the study referenced is at all suitable for making this comparison, due to definitional differences and differences in the characteristics of the two patient groups.
But for the purposes of further investigation, let us assume that the Pivotal Trial enrollments might be only 30% non-ischemic versus the 60% non-ischemic enrolled in the Feasibility Study.
What would be the concerns in the event of the ratio of Pivotal Trial enrollments of non ischemic patients being halved to only 30% of total enrollments?
Concern 1 - If the patients benefiting most in the Feasibility Trial were all from the 60% non-ischemic patients, then with only 30% non-ischemic patients in the Pivotal Trial, the positive outcomes would be halved.
Concern 1 is not justified - The outcome could only be positive; here is why -
At first glance, a lesser proportion of potentially better responders seems to be a potential negative, when in fact, it would be highly positive for Sunshine Heart C-Pulse. Let us assume the very "worst" case, that all of the 5 super responders who have become asymptomatic came from the 12 non-ischemic patients in the Feasibility Study.
That would equate to an amazing 41.7% "super responders" for non-ischemic HF patients implanted with C-Pulse. Now apply that 41.7% to the assumed 58 (194 X 30%) non-ischemic patients implanted in the Pivotal Trial, and we arrive at a total super responders number of 24.
Now, those 24 "super responders" would be only 12.5% of the total 194 patients receiving C-pulse implants, compared to the 5 (25%) "super responders" in the Feasibility Study.
But, even 12.5% "super responders" are still likely to be way more than enough to allow a successful early end to the trial.
But that is not the big issue here. The big issue is that it would enable Sunshine Heart to specifically target these non-ischemic HF patients and generate enormous economic benefits to all payers in the health system, due to the very high benefit-to-cost ratio from a 41.7% HF recovery rate.
Furthermore, if late-stage non-ischemic HF patients were able to anticipate a 41.7% chance of recovery and weaning with a C-Pulse, then enrollment growth could be expected to explode and grow exponentially very quickly.
And at 30% non-ischemic HF patients out of the total C-Pulse target market of 5.2M NYHA Class III and ambulatory Class IV HF patients, that would be a target market of 1.56M for non-ischemic alone.
Table 1 below provides projections of estimated Revenue, Net Income and Market Cap, based on achieving just tiny percentages of a reduced target market of an assumed 1.56M non-ischemic HF patients only -
Table 1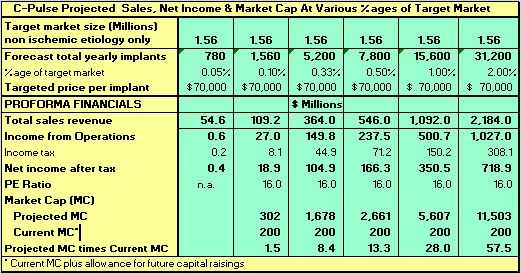 It can be seen, based on the table above, that just 0.05% of the assumed non-ischemic target market would achieve break-even; 0.10% would provide good profitability; 0.33% would give a market cap greater than the present market caps of either Thoratec (NASDAQ:THOR) or HeartWare (NASDAQ:HTWR); and at 2.0% market penetration, the market cap would exceed that of Edwards Lifesciences (NYSE:EW).
Concern 2 - If ischemic HF patients are not benefiting or only benefiting moderately from C-Pulse, and they comprise 70% of enrollments, this will drag down the level of advantage for C-Pulse overall, and could cause the trial to fail.
Concern 2 is not justified - The outcome should only be positive; here is why -
If the 30% of non-ischemic HF patients show much better results than patients on OMT alone, then the ischemic patients would only have to perform at least as well as those on OMT alone for the non-ischemic success rate to easily carry the day.
We already know the Feasibility Trial showed outstanding results, with only 5% re-hospitalization rate at 6 months, compared to expectations for OMT therapy of ~50%, thus a reduction of 90% in re-hospitalization rates.
That 5% is a calculation based on 1 patient being re-hospitalized out of the total 20-patient cohort.
If that particular patient came from the 8 patients in the ischemic group, the percentage of re-hospitalizations for ischemic patients would be 12.5%, and for non-ischemic, it would be nil.
Now apply that 12.5% to the assumed 136 (194 X 70%) ischemic patients implanted in the Pivotal Trial, and we arrive at total re-hospitalizations of 17 for the C-Pulse arm of the trial. That would equate to an overall re-hospitalization rate of just 8.8% for the total 194 patients in the C-Pulse arm of the Pivotal Trial.
The presentation by Dr Abraham, referred to above, indicates that hospitalizations at 6 months for the OMT arm of the trial would be expected to be in the order of 50% of the 194, meaning 87 patients re-hospitalized.
Based on 87 re-hospitalizations for OMT patients and 17 for C-Pulse patients, we have a prediction of better-than-80% reduction in re-hospitalizations for C-Pulse.
The Primary Outcome Measures for the Pivotal Trial are - "Freedom from worsening heart failure resulting in hospitalization, LVAD implantation, cardiac transplantation or death as compared to OMT."
Is it little wonder that Kim Oleson, senior vice president, Clinical Affairs, for Sunshine Heart, is moving for an interim review of trial results. There is every reason to believe the Pivotal Trial will achieve results at least equivalent to the Feasibility Trial; particularly as it has been reported that results are even better than Feasibility for patients in the EU trial, using the latest version of the C-Pulse device.
We also know from above that the C-Pulse has worked extremely well for the first UK patient implanted; he clearly has ischemic HF, and he was expected to suffer early death on optimal medical therapy alone.
Review and Conclusions
Should it be found that patients obtaining superior outcomes in the Feasibility Study are in fact from non-ischemic HF patients, and the proportion of non ischemic patients enrolling in the Pivotal Trial is significantly lower than for the Feasibility Study, then the effect on Pivotal Trial outcomes and future enrollment strategies is more than likely to be positive.
A similar review to the above could be carried out to show the potential effect, assuming benefits to patients in the Feasibility Study were totally skewed towards ischemic HF patients. But such an exercise would just come up with similar results and a positive conclusion.
Furthermore, there is every reason to believe that ischemic HF patients, implanted with C-Pulse will certainly perform far better than those on OMT alone.
If the proportions of non-ischemic and ischemic are similar in the Pivotal Study to the Feasibility Study, then the very excellent results for the Feasibility Study should be mirrored in the Pivotal Trial results, hopefully leading to early successful completion.
This concern about skewing of C-Pulse HF patient benefits towards non-ischemic or ischemic is really a non-issue. But the ratio of non-ischemic to ischemic is something of interest, and in certain circumstances, certainly could have relevance for enrollments, but only in a positive way.
Hopefully the peer reviewed paper on the Feasibility Study, due out in September, will reveal a further breakdown of positive results by HF etiology.
If not, then perhaps someone will ask the question and get an answer in the third-quarter conference call.
Finally, I do acknowledge the slow enrollment rate to date for the Pivotal Trial is concerning. But I do understand there are valid reasons for this, and have every confidence in actions being taken. Some patience might be required, but the potential reward for waiting is quite huge, as can be seen from Table 1 above.
Caution: The information above is not intended to replace the advice of a doctor. I disclaim any liability for any decisions you might make based on this information.
Additional caution: As always, please do your own research before any buy or sell decisions. Use of information and research in the article above is at your own risk.
Investing in micro cap companies is not suitable for all investors, and can be risky. It's important that investors thoroughly perform their own due diligence and analyze the potential risks. Due to illiquidity, share prices can fall despite strong fundamentals and possible inability to raise sufficient additional cash to continue to fund ongoing operations is always a serious concern. Fuller details of risks associated with Sunshine Heart as identified by the company may be found with their form 10-12B/A registration filing with the SEC and their other SEC filings.
Disclosure: The author is long SSH.
The author wrote this article themselves, and it expresses their own opinions. The author is not receiving compensation for it. The author has no business relationship with any company whose stock is mentioned in this article.
Editor's Note: This article covers one or more stocks trading at less than $1 per share and/or with less than a $100 million market cap. Please be aware of the risks associated with these stocks.