We visit Barnes & Noble (NYSE:BKS) at least once a month. It's the only place we can pick up the latest issue of Ellery Queen's Mystery Magazine and the encyclopedic Phil Steele's College Football Preview. For those with wider interests, though, the company is counting on its new tablet courtesy of Samsung (OTC:SSNLF) to increase traffic and revitalize the digital space ahead of Christmas and the planned spin-off of NOOK Media LLC early next year.
Once upon a time, Barnes & Noble Inc. was as fearsome to the independent bookseller as Wal-Mart (NYSE:WMT) is to mom and pop. But the company came late to the digital world, and its NOOK e-reader has waged an uphill battle with Kindle and iPad.
Some came running, though. In 2012, Microsoft (NASDAQ:MSFT) invested $300 million in NOOK for a 17.6% interest. That commitment valued NOOK at $1.7 billion, some $26 million greater than the market capitalization of Barnes & Noble at recent share prices. And in 2013, the education publisher Pearson invested $89.5 million for a 5% equity stake in NOOK for a valuation of approximately $1.789 billion.
Of course, there's no telling what the so-far profitless NOOK could fetch if a spin-off were accomplished, but losses in the subsidiary have been declining, with EBITDA going from negative $480 million in fiscal 2013 to negative $218 million in the just completed fiscal year. And we think the teaming up with Samsung to sell a NOOK tablet will make a spinoff, which Barnes & Noble hopes to see happen by the end of the first calendar quarter of 2015, more palatable to potential investors.
The co-branded device combines the Samsung Galaxy Tab 4 hardware with customized NOOK software. The partnership gets Barnes & Noble out of the device business, and the company hopes the new full-featured tablet will drive store traffic as well.
(Full disclosure: We are owners of a NOOK Glowlight, on which we have been delighting in the gimlet-eyed soap-operatic novels of Anthony Trollope this summer; click here for our annual summer reading update).
Meanwhile, on a trailing 12 months basis, Barnes & Noble stock trades at 5.8 times EBITDA by our math. Excluding the negative NOOK results, the P/EBITDA is just 3.8, a valuation we find attractive for a company that refuses to die. Despite much negative clamor, the share price is up some 60% year to date and is currently trading near a 52-week high.
In addition, shareholder interests are aligned with management. The largest shareholder is the company's founder, Executive Chairman Leonard Riggio, with about a 13% stake in shares outstanding. Insiders and entities with 5%-plus stakes hold 38% of the shares.
Fourth quarter consolidated revenues increased 3.5% to $1.3 billion versus the prior year. Consolidated fourth quarter EBITDA was $11.2 million, compared with an EBITDA loss of $124.6 million in the prior year. For fiscal 2014, consolidated revenues were $6.4 billion, down 6.7% vs. fiscal 2013. Fiscal 2014 consolidated EBITDA increased to $251 million from $7 million a year ago.
Fiscal 2015 first-quarter results will be released Tuesday, Sept. 9, and we would be buyers on any dip following the announcement, given our sanguine outlook for the Samsung tablet, potential spin-off of NOOK and reasonable valuation.
As always, risks are real, chiefly competition from Amazon (NASDAQ:AMZN) and Apple (NASDAQ:AAPL), the two giants of the device and content markets in which Barnes & Noble operates.
On a final note, we make no claims to be technical analysts, but for what it's worth Barnes & Noble's stock chart looks like it is tracing what we are told is a bullish "cup and handle" formation. Drink up.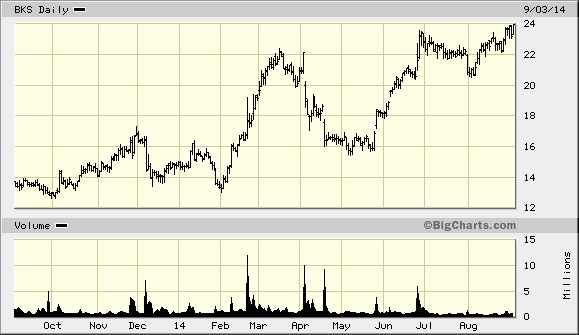 Source: BigCharts.com
Disclosure: The author has no positions in any stocks mentioned, and no plans to initiate any positions within the next 72 hours.
The author wrote this article themselves, and it expresses their own opinions. The author is not receiving compensation for it (other than from Seeking Alpha). The author has no business relationship with any company whose stock is mentioned in this article.