Ulta Salon, Cosmetics, & Fragrance (NASDAQ:ULTA), North America's largest specialty retailer of beauty products and accessories, has watched its stock underperform the overall market year-to-date despite two record-setting earnings reports. The stock has made a healthy move to the upside following its most recent earnings beat in June, but it still sits well below its 52-week high of $132.72 reached in November of 2013. Let's take a deeper look at the most recent report and the expectations for the upcoming release to determine if Ulta is well-positioned for another earnings beat and whether or not its stock represents a long-term investment opportunity today.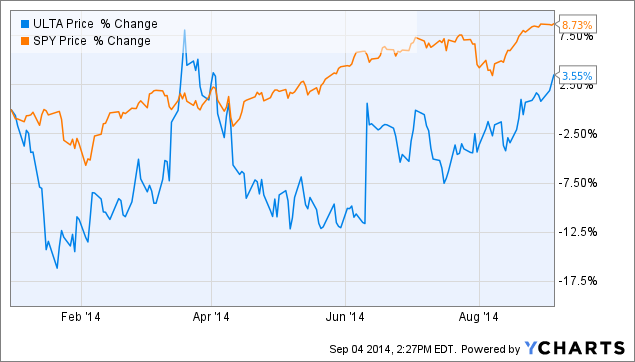 The Last Time Out
On June 10, Ulta released its first quarter report to kick off fiscal 2014's earnings season and the results exceeded expectations by a healthy margin; here's an overview:
| Metric | Reported | Expected | Year Ago |
| --- | --- | --- | --- |
| Earnings Per Share | $0.77 | $0.74 | $0.65 |
| Revenue | $713.77 million | $699.12 million | $582.71 million |
Earnings per share increased 18.5% and revenue increased 22.5% from the first quarter of fiscal 2013, driven by an 8.7% growth in comparable-store sales. E-commerce comparable sales increased a very strong 72.3%, which led to e-commerce making up 8.7% of total sales compared to just 6.8% a year ago.
Gross profit increased 20.6% to $245.95 million and operating profit increased 19.5% to $80.88 million, as the gross margin contracted 50 basis points to 34.5% and the operating margin contracted 30 basis points to 11.3%. The contraction of Ulta's margins can be attributed to a 23.5% increase in costs of sales and a 22.1% increase in selling, general, and administrative expenses, so the company will need get these expenses under control going forward.
Lastly, in terms of expansion, Ulta opened 21 new stores during the quarter, bringing its total store count to 696; this put the company just off the pace it needs to be on to reach its expansion goal of 100 new stores for the year, but there is still plenty of time to play catch-up.
In summary, it was a great quarter for Ulta and the company went on to reaffirm its full year outlook. All of this positive news led to its stock spiking more than 13.8% higher in the next trading session. Shares have continued higher, rising a little more than 2% in the weeks since, and a strong second quarter report could add fuel to the rally.
Expectations & What To Watch For
Ulta's second quarter report is scheduled to be released after the market closes on September 11 and the current expectations call for substantial growth on both the top and bottom lines; here's a breakdown:
| Metric | Expected | Year Ago |
| --- | --- | --- |
| Earnings Per Share | $0.83 | $0.70 |
| Revenue | $707.62 million | $601.00 million |
As you can see, the current estimates call for earnings per share to increase 18.6% and revenue to increase 17.7% from the same period a year ago; these estimates seem attainable and are within the expectations provided by Ulta in its first quarter report, which projected earnings per share in the range of $0.78-$0.83 and revenue in the range of $706 million-$717 million. Other than the key metrics, here's four other very important statistics and updates investors will want to watch for:
Third Quarter Outlook: It will be crucial for Ulta to provide guidance for the third quarter that meets or exceeds the expectations of analysts; currently, the consensus estimates call for earnings per share of $0.83 and revenue of $711.26 million, representing year-over-year increases of 15.3% and 14.9%, respectively.
Full Year Outlook: While providing satisfactory guidance for the third quarter, it will also be important for Ulta to reaffirm its full year outlook; this outlook, provided in its fourth quarter and first quarter reports, calls for earnings per share and revenue growth in the mid-teens percentage range, comparable-store sales growth of 4%-6%, and free cash flow generation of at least $100 million.
Margins: Keep a close eye on Ulta's margins and make sure the company has not had to engage in increased promotional activity to drive its sales higher. Margins have been one of the most in-focus metrics when analyzing retailers over the last few quarters, so it would go a long way if Ulta were able to show expansion of both its gross and operating margins.
Expansion: Watch for the number of new stores opened up during the quarter and make sure Ulta is on track to achieve its expansion goals for the year. Ulta had stated that it expects to open 100 new stores in fiscal 2014 and it opened 21 in the first quarter, so it would be ideal for the company to open 25-30 stores in the second quarter.
The Bottom Line
Ulta was once one of the market's most loved and talked about growth stories, but its growth has slowed in recent quarters and its stock has responded by stalling as well. With this being said, the company has exceeded earnings estimates for two consecutive quarters and the expectations for its upcoming report appear well within reach, and I believe another earnings beat could fuel a rally to its previous highs, which the stock sits more than 24% below today. Investors who are seeking a long-term investment, or are simply looking for an earnings play, should take a closer look at Ulta.
Disclosure: The author has no positions in any stocks mentioned, and no plans to initiate any positions within the next 72 hours.
The author wrote this article themselves, and it expresses their own opinions. The author is not receiving compensation for it (other than from Seeking Alpha). The author has no business relationship with any company whose stock is mentioned in this article.